Everything Else
Bone-headed attorneys sue wrong contractor over Canton Apartment blaze…
11:34 AM EDT on August 7, 2023
Outside of teachers and models, the one professional demographic that seems to love TLO the most is the Oklahoma legal community.
Thanks to our superior intelligence, cunning wit, and arrogant demeanor that rivals and exceeds their own, judges, lawyers, and paralegals just can't get enough of TLO.
Well, unless their name is Abby Broyles, Kelly Lynn, Rod Polston, Blaine Dyer, Bow-tie Pemberton, Jason Reese, TLO is Bad For Oklahoma Guy, Courtney Jordan, and/or Mr. Poopy Checkhole. They are all excluded.
Although lawyers are some of our biggest fans, it doesn't affect how we cover their loathed and, occasionally, honorable profession.
For example, whenever fancy attorneys from downtown law firms sue the wrong contractor in a high-profile, mega-million dollar lawsuit, we're always going to make sure to bust their balls over it.
A few weeks back, word came out that the owners and insurers of the Canton Apartment complex had filed a $60-million lawsuit against OG&E and Red Dirt Electric for causing the big apartment fire that was likely caused by an angry Dino Lalli or one of these other suspects.
The lawsuit generated big headlines when it was announced, with the only problem being the apartment owners, insurers, and their collective team of attorneys from Phillips Murrah and Goolsby Proctor sued the wrong contractor.
Via KFOR:
A one-man company in Kingfisher is recouping after being wrongfully sued for $60 million.

We told you about a lawsuit filed over the devastating fire at the Canton Classen Curve Apartments. However, it turns out it was filed against a company that had nothing to do with the project.

Spencer Struck is the owner of Red Dirt Electric, a company he started just this year. You can imagine the confusion and panic he felt when he saw he was being sued for $60 million for a fire that happened at the start of 2022.

"I just want the record set straight," Struck said.
That's terrible, but let this be a lesson to any non-creative entrepreneurs out there to never name your business after Oklahoma's red dirt. It's cliche, it's way too common, and – unless you're wanting to remind people why their home needs expensive foundation repair – it's a terrible name for any business.
Seriously, pick a name that will stick out from the crowd. Not one that blends in with all others and can get you sued for $60-million!
Here's more:
"The most important thing is that this fire happened in February of 2022, my company wasn't even formed until December of 2022, and I didn't even start operating it until until January of this year," Struck said…

"After repeated requests from my attorneys, I did get one of the plaintiffs attorneys to meet with me, and he apologized privately," Struck said. "Unfortunately, no one was willing to do anything publicly."

This is why he chose to go public in clearing his name, because he is worried of what this could do to his company.
Instead of trying to clear his name, Spencer should be using this as an opportunity to change the name of his business! You know, something new and different that doesn't conjure up nostalgic memories of sole erosion, power washing, and shitty country music!
Then again, knowing he picked Red Dirt Electric the first time, he'd probably go with something like Sooner Electric. Fortunately, it's already taken.
Bad business names aside, Spencer is the victim here. The real stooges in this are the attorneys at Larry, Moe, Curly & Associates who sued the wrong business for $60-million dollars!
How in the world does that happen?! Even if the client screwed up – which is always a possibilty – and gave them the incorrect name, I'd say it's the responsibility of the lawyers who will get 33% of the multi-million dollar settlement to make sure they're suing the correct entity.
Here are the two attorneys who signed off on this five-alarm gaffe:
G. Calvin Sharpe, Phillips Murrah
I don't know about you, but Sharpe should change his last name to Dull after that gaffe! And, yes, I know that's a dumb and lazy joke, but at least it's not as dumb and lazy as suing the wrong client for $60-million!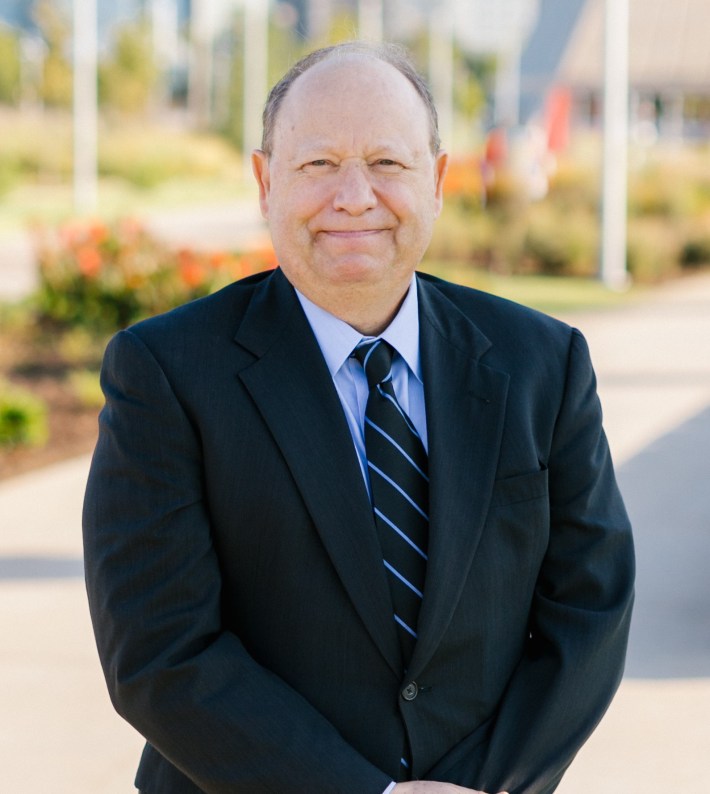 R. Todd Goolsby, Goolsby | Proctor
If you're wondering why Goolsby is covering his droopy balls in that photo, it's to prepare for the kick to the nuts he's about to receive from his clients for suing the wrong contractor for $60-million dollars!
Actually, I just made that up. Covering your nuts is apparently the preferred pose for all the prestigious partners at Goolsby | Proctor:

Yep, the competition will never score on a free kick with Goolsby | Proctor on your side in the courtroom! Well, that is if they sue the correct client.
Anyway, now that the correct corporate entities are being sued for causing the big blaze, I guess we'll watch it wind through the courts before being settled for an undisclosed sum that lets OG&E – the biggest assholes in this whole ordeal that I haven't even mentioned until now – not admit any liability and likely pass on the costs and legal fees to consumers via a rate increase.
When that happens we'll try to let you know. Until then, stay with The Lost Ogle. We'll keep you advised.
Stay in touch
Sign up for our free newsletter