Everything Else
Abby Broyles turns tween Valentine's sleepover into drunken mean girl roast!
9:02 PM EST on February 17, 2022
I guess we'll have something interesting to discuss with Abby the next time we have her on The Lost Ogle Show!
Earlier today, the honorable William L.P. Ambrose "Triumvre" Savage the VIIIth at Non Doc filed a bombshell report claiming that Abby Broyles – my former fake KFOR coworker turned Attorney and perennial Oklahoma Democratic congressional longshot – allegedly flipped an innocent pre-teen valentine's sleepover into a drunken roast that ended with hurt tears of shame and a ruined pair of vomit shoes.
If true, it would go along with this email I scored through the Ogle Mole Network on Sunday night:

Actually, that seems very fit for Congress. Also, is it wrong to show up intoxicated to a party and to continue drinking? Maybe that explains why I'm never invited to parties?
I emailed the Mole back asking for more info, pics, etc., and got this reply:

That email never came, but a few days later, after getting a similar tip from someone literally using a "Terd Fergeson" email address, I reached out directly to Abby Broyles. I asked if she had "crashed a high school valentines party, made fun of a teen's acne, and threw up on her shoes." She said it "Obviously wasn't true" and that "She'd been in California."
I was a tad skeptical of the denial, but it seemed like a dumb thing to lie about, because if true, it would eventually get out.
Then, the following day, someone tagged Abby in this Twitter thread. They also tagged us and a few other media outlets:
Just like with smoke and fire, when there's vomit on shoes, there's usually something going on.
With Bice's camp and the local news media now aware, I decided to let the professional gumshoes do their thing. Although it's admittedly fun to be first with this stuff and score the scoop clicks, for stories that actually involve advanced reporter work – you know, interviews and follow-ups and tracking down leads – it's actually more resourceful to just set back, let everyone else do the work, and then just break it down once they're done.
And boy, do we have a lot to break down.
Although the word "allegedly" is repeated often, Non Doc's report seems to back up the original Ogle Mole's claims:
A Valentine's Day weekend sleepover party for tween girls that included watching the film Titanic turned bizarre and tearful after parents say Oklahoma 5th Congressional District candidate Abby Broyles allegedly became drunk and berated some of the children in attendance.
The party, held at the home of a Deer Creek Public Schools parent on Feb. 11, included eight girls between the ages of 12 and 13. Broyles was allegedly at the home the night of the party at the invitation of the homeowner, who is the mother of one of the children.
According to multiple accounts of the evening, Broyles became intoxicated and spoke derogatorily to some of the girls. She allegedly called one girl an "acne fucker," which prompted the girl to leave the room in tears. Broyles allegedly called another girl a "Hispanic fucker" and another a "judgy fucker."
At one point, Broyles allegedly vomited into a laundry basket and onto one girl's shoes.
Geeze, leave it to the "Drunk Fucker" to ruin all the fun for everyone else. They're the worst. That being said, at least she didn't shit in the laundry basket. I had a friend do that at my house after he was roofied by a crazed KOKH reporter at The Speakeasy and – trust me – that's way more traumatic.
Just like she did with us, Abby denied to Non Doc that she was at the party. She did this despite Non Doc having photos of her at the party...
NonDoc also obtained two photographs of Broyles: A picture of her drinking wine in a kitchen next to two girls, and a screenshot of her in a TikTok video posing with four girls, three of whom are wearing matching pink pajama outfits adorned with hearts...Broyles said she was out of town Feb. 11. Asked if she could prove that she was out of town, Broyles hung up the phone. In a subsequent email exchange, she again declined to specify her whereabouts, instead criticized a "lack of evidence and facts of your possible reporting."
You'd think someone who worked in the media would be a little more media savvy – and maybe not lie to the media – but I'm not sure this is all that surprising.
Abby's been a friend of the show and appeared on the podcast. She's cool and fun to be around, but for a politician, she's also had her moments over the years.
She's a bit of a partier, and it's a well-known secret that she's the unnamed reporter who allegedly affair with a former US Attorney. She's also had some very public meltdowns. For example, remember back in 2015 when she left all the comments on her exes Facebook post, where she – ironically enough – questioned whether his new girlfriend was 12 or 13?
We remember...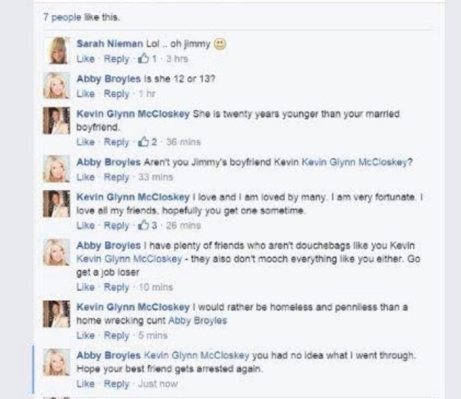 Not to go full therapist here, but what's Abby deal with tweens? If they ever see her at the – dated reference alert! – mall food court they should run the other way.
Now that it looks like Abby's been caught in a lie, and went full belligerent drunk on kids at a party, you have to think the clock is ticking on her political career. Democrats usually don't stand for stupid drunken behavior like this, and – in all honesty – I think some of the party's operatives are still wanting to coax Kendra back in the race. Now they have that chance.
Anyway, I guess we'll continue monitoring this story. Stay with The Lost Ogle. We'll keep you advised.
Stay in touch
Sign up for our free newsletter