OKC Bar Trivia, Singo & Bingo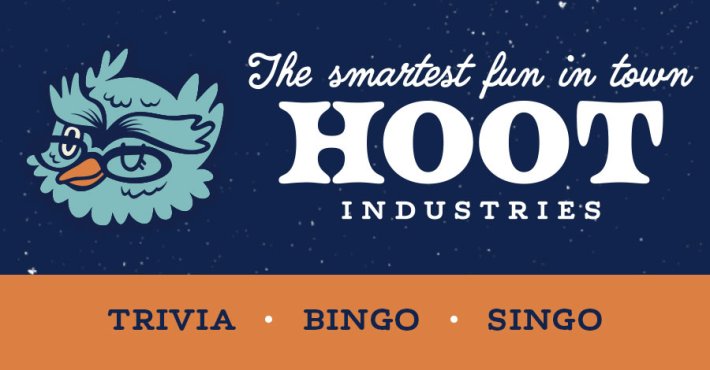 Presented by Wander Folk Spirits, Hoot Industries is the OKC metro's #1 local provider of FREE Team Trivia, Free Jackpot Bingo and Free Singo nights.
Grab your friends and join us for some fun at any of the following bars, restaurants, and watering holes below. Looking to book for a private or special event? Shoot us an email!
Oklahoma City Metro Trivia Schedule
We've presented over 4,000 Free Team Trivia nights in Oklahoma since 2010, so there's a reason people call Free Hoot Trivia The Smartest Fun in Town. Out weekly schedule is below. You can view rules and stuff here.
Monday:
Bar Cicchetti (Deep Deuce) • 8pm
Tuesday:
Fassler Hall (Midtown) • 8pm
Solo's Park and Pub (Chisholm Creek) • 7pm
Wednesday:
Cock O' The Walk (N. Western) • 8pm
McNellies (Midtown) • 9pm
Thursday:
Anthem Brewing Taproom (Downtown) • 7pm
JoJo's Bar & Grill (Yukon) @ 7pm

Friday:
Buffalo Wild Wings (NW Expressway) • 7pm
Oklahoma City Jackpot Bingo & Singo Schedule
Trivia not your thing? Don't worry! We host also FREE Jackpot Bingo and FREE Singo – a musical version of bingo where we play your favorite song and play songs, too! We have awesome prizes, and at the end of the night, each standard bingo location has its own progressive jackpot!
Sunday:
Bar Cicchetti • Noon (Singo)
Monday:
Fassler Hall • 8pm (Jackpot Bingo)
Tuesday:
Cock O' The Walk • 8pm (Jackpot Bingo)
McNellies • 8pm (Singo / Bingo Mix)
Wednesday:
Solo's Park and Pub • 7pm (Singo)
Thursday:
Solo's Park and Pub • 7pm (Jackpot Bingo)
Water's Edge Winery (Moore) • 7pm (Singo)
Friday:
Anthem Brewing • 5:30pm (Singo)