Everything Else
Joe Mixon's Attorney Thinks TLO "Is Bad For Oklahoma."
1:02 PM EST on January 5, 2017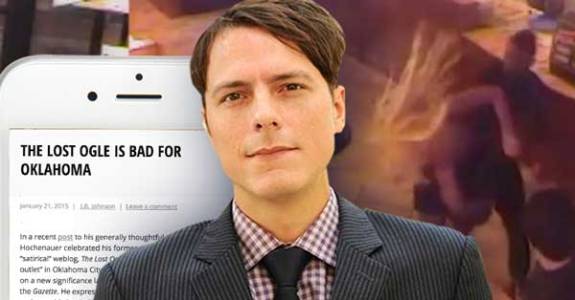 The guy who looks like he dreams of starring in "Dead Poets Society II: The Next Generation" is Crowe & Dunlevy Attorney J. Blake Johnson.
He is a college debate national champion, wannabe member of the Christina Fallin / Wayne Coyne inner-circle, and is still probably waiting for Post Secret to run one of his whiney little postcards. He's also the civil attorney / media handler / letter writer for prestigious OU football star Joe Mixon. You know, the young man who's done such a good job improving our state's image on the national level.
Before Blake was an attorney attempting to restore the reputation of a man who viciously assaulted a girl at a Campus Corner deli, he was your typical overly sensitive college kid who jacked off to Vampire Weekend album covers in his safe space. We know this thanks to his epic TLO takedown titled "The Lost Ogle is Bad for Oklahoma."
Yeah, that's right. Joe Mixon's attorney is "The Lost Ogle Is Bad For Oklahoma" guy. The hypocrisy is strong with this one.
Blake's article made the rounds on Facebook after it was published in January 2015. In case you never got to read it, my apologies for not bringing it to your attention earlier. His big complaints about this site were that we are talentless, syntactically challenged, sexist cyberbullies with no redeeming values or qualities, and a disgrace to the state we regularly cover, criticize and lampoon. All of that may be true, but at least we don't punch women in the face or stick up for the men who do.
According to some Ogle Moles, Blake's motivation for the hit piece was to stick up for his friends Christina Fallin and Wayne Coyne. I guess they're all regular pals and snort glitter and confetti together. Hell, Blake's even an expert on shady international online in-flight tribal casino poker! What a shocking coincidence!
Although he never disclosed this friendship with Hipster Boo Boo and Glitter Dick in his whiney manifesto, it probably explains A) why Blake specifically criticized our coverage of the celebs and B) why Wayne Coyne went emoji crazy on Blake's Instagram post about the write up.
Check it out:
Before we continue, I'd like to say that "The Lost Ogle is Bad For Oklahoma" is a pretty solid takedown piece. Yeah, it was slanted and unfair, but that's the point! Blake hit all the key buttons, used all the right words and came up with just enough out-of-context material to make us look as bad as humanly possible.
When you are a tier 2 law school-educated master debater like J. Blake, that's really not too hard of a task. We've published over 6,000 posts on this site over the years. Just like a rushed Russell Westbrook jump shot, sometimes the results are good and sometimes the results are bad. Whether you think TLO's the greatest blog in Oklahoma history or just a mean, talentless, poorly written, sexist cyber-bullying website that is bad for Oklahoma, there's plenty of source material out there to support whatever point you're trying to make.
J. Blake's editorial wasn't the first time he'd expressed his displeasure with The Lost Ogle. Because we live in a beautiful world where irony is served hot and fresh on crystal platters, he tweeted in 2014 about our coverage of the Mixon tape…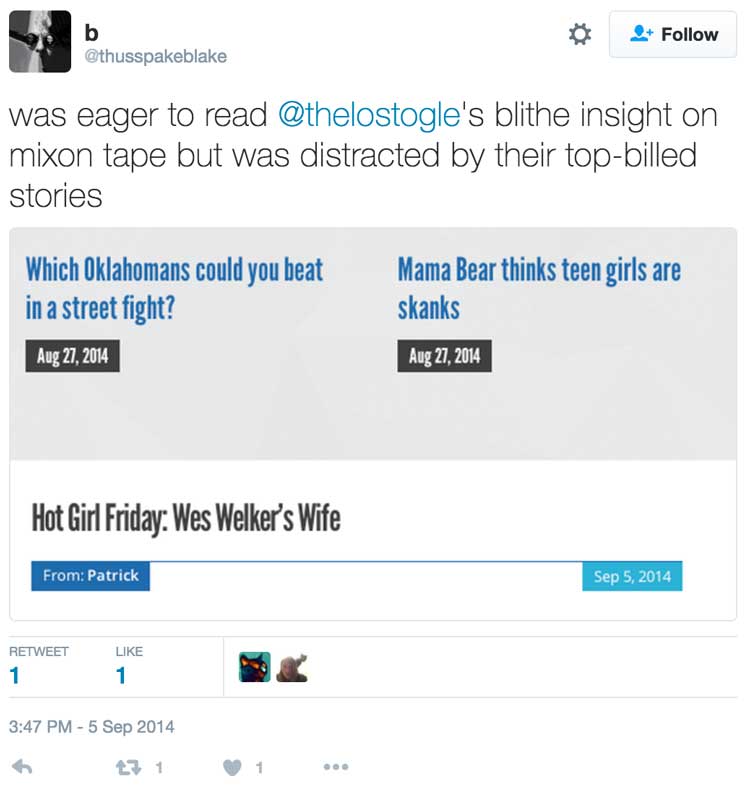 Yes, that's 100% real. Joe Mixon's future attorney wanted to read our "blithe insight" about the Joe Mixon tape, but was too distracted by "our top billed stories" to focus on it. I guess listing which Oklahomans you can beat in fight, roasting a teacher who called her students skanks, and appreciating the beauty of a former Ms. Hooter's Girl are a bit too sophomoric and juvenile for J. Blake's taste. If only we had been more classy, played football and broke a woman's face instead. Maybe then Blake would actually like and respect us.
A few months after that tweet, J. Blake Johnson came after us again and "cyberbullied" me...

I don't know about you, but I'd much rather live in a basement ranking girls and fantasizing about revenge on cool kids than blithely punching a woman and / or dreaming about defending her assailant in a court of law. Also, there's nothing wrong with living in your mom's basement. You never have to go far to do laundry.
You can read Blake's article here. You may notice he used the domain thelostogle.wordpress.com. He did that to improve the article's search engine ranking, and also trick and deceive less savvy Internet users like my Dad into thinking the article was published on our site. I considered contacting Aaron Tuttle's attorney to see if we have a copyright case, but I figured it would be more fun to register the name jblakejohnson.wordpress.com and repost this article on there.
To be very clear, I'm not 100% sure why I'm even posting this. I guess I figured it would be fun to let everyone know – from TLO haters to TLO supporters and the people considering using Crowe Dunlevy as a law firm – that the guy who so famously thought we're bad for Oklahoma because we occasionally post articles about hot girls and make fun of stupid people, will then turnaround and defend – for a hefty profit – a man who brought more shame and embarrassment to this state than this website ever will.
Seriously, obscure local social blogger making jokes on the internet with snark and antagonistic humor??? You're a misogynistic cyberbully who hates everyone and everything!!! Football star punching a woman at a Campus Corner deli??? Oh my God I love you now hand me your jock strap and let me be your lawyer!!! What a douche bag hypocrite.
Stay in touch
Sign up for our free newsletter