The hardest part of our year-end countdowns is figuring out which articles to highlight. This is especially true for July.
In addition to the normal Oklahoma news stories like men murdering their friends on noodling trips over fears of being fed to Bigfoot, we broke a wide variety of exclusive news stories about sicko politicians thanks to the Ogle Mole Network.
Plus, we had Sly Stallone claiming we're hell on earth and Kevin Stitt hitting a brown lake over the 4th of July...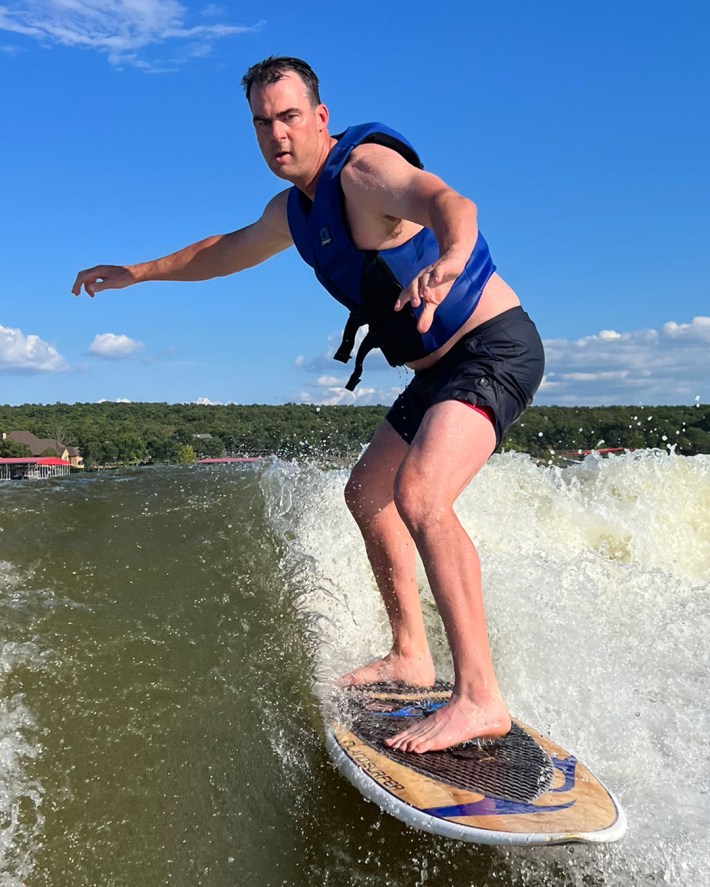 I wonder which lake that is? I'm going to guess Grand. Then again, knowing Ole' Stitter like we do, there's a decent chance he declared a state of emergency and jetted off to Lake Tahoe for the weekend!
–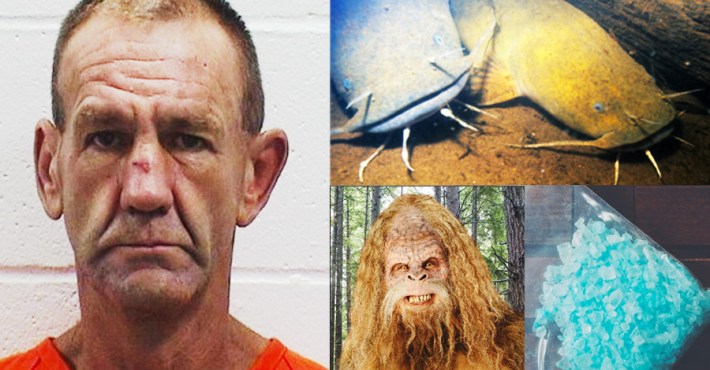 Oklahoma noodler kills friend to avoid being fed to Bigfoot…
Noodling. Bigfoot. Meth. Murder.
No, that's not the sub-plot to the next season of Tiger King. It's a real-life murder non-mystery unfolding in Southeastern Oklahoma!
As you may have seen or heard, Larry Doil Sanders – a methhead from Atwood – admitted to killing his noodling buddy Jimmy Glenn Knighten along the banks of the South Canadian river in Pontotoc County after Knighten threatened to feed Sanders to Bigfoot like he was a Slim Jim.
–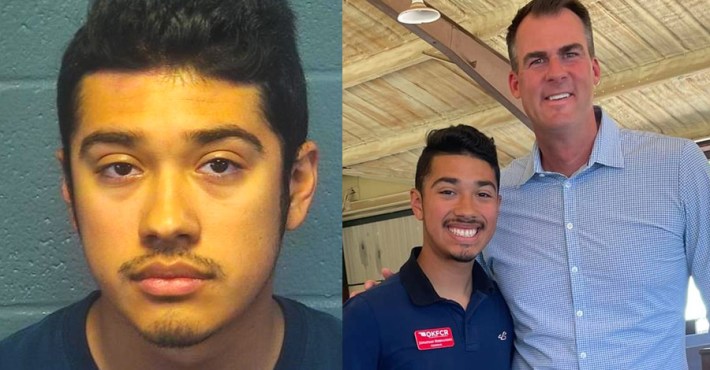 OK GOP wunderkind arrested on sex crimes charges...
It looks like things are back to a deviant normal at the Oklahoma State Capitol.
Last night, Johnathan Hernandez – an employee with the State Senate who briefly worked as a campaign manager for State School superintendent candidate Ryan Walters, and has volunteered his time for numerous political campaigns and the GOP College Republicans – was arrested on charges of sodomy and lewd or indecent proposals or acts to a child.
Related: We've acquired the arrest affidavit for Johnathan Hernandez…
–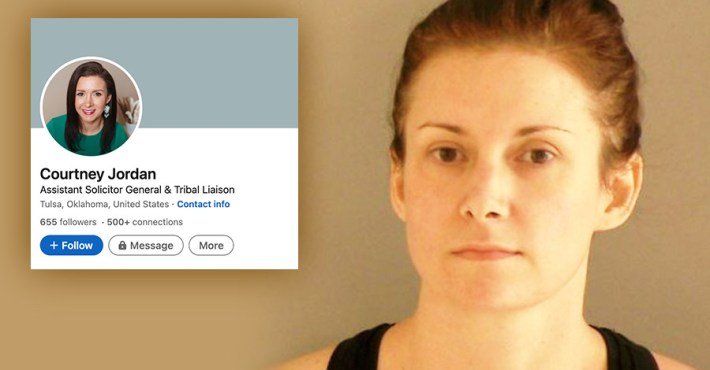 Oklahoma Asst. Solicitor General leads police on chase through Broken Arrow…
Give Stitt and Co. credit! They always seem to find the good ones.
Earlier today, the Ogle Mole Network let us know that Courtney Rae Jordan – an Asst. Solicitor General and Tribal Liason for the State of Oklahoma – allegedly was involved in a burglary, two hit-and-runs, and a mini-police chase in Broken Arrow on Tuesday afternoon.
Jordan – who also spent three years in the US Attorney's Office and teaches law at the University of Tulsa – apparently faces charges of assault with a dangerous weapon, two counts of leaving the scene of an injury collision, felony eluding, leaving the scene of a property damage collision, and larceny from a dwelling.
–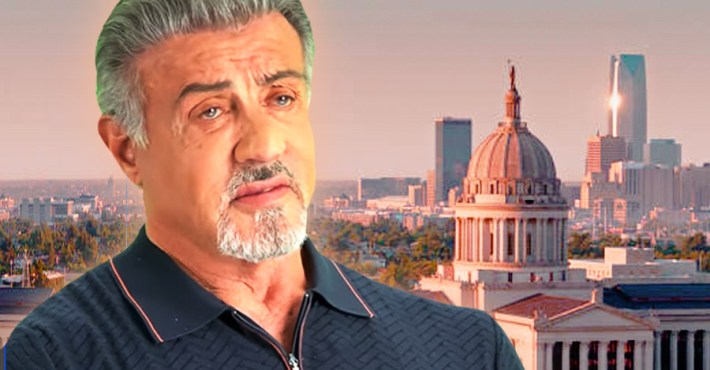 Oklahoma prepares Sylvester Stallone for life in Hell…
Yep, Sylvester Stallone thinks Oklahoma has prepared him for life in Hell... and the dude hasn't even made it to August yet!
I hate to break it to you Sly, but you still have a ways to go before you can claim you went the distance! When August 20th gets here, expect a sweaty, bruised, and melting Stallone to be wandering aimlessly around the OKC Cock Ring, yelling "Adrian! Yo Adrain! We did it! We did it!"
Well, at least I hope that's what happens.
–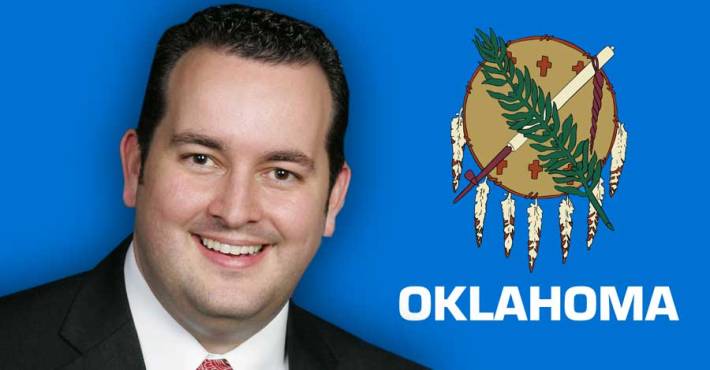 Sean "The Patriot" Roberts accused of abusing, stalking and tormenting ex-wife…
Thanks to the Ogle Mole Network, we've learned that right-wing Oklahoma Labor Commissioner candidate Sean Roberts – the term-limited State Rep. who makes "Let's Go Brandon" Christmas floats and goes by his self-appointed nickname "The Patriot" – is a bigger schlub than we thought!
Last week, an Ogle Mole emailed us a variety of public records – protective orders, divorce decrees, emergency orders – associated with Sean's first marriage, which ended in divorce in Tennesee in the early 2000s.
The contents of these public records are very disturbing.
–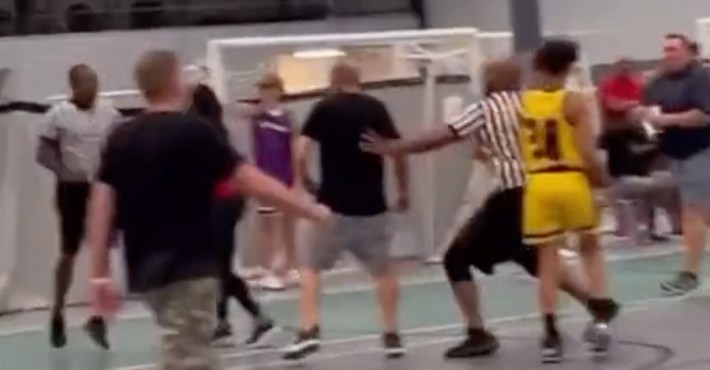 Ref levels guy during fight at The Score on Saturday night…
Over the weekend, an Ogle Mole sent me a Twitter clip of a basketball ref totally leveling someone who walked onto the court during a brouhaha at a youth basketball game at the Score indoor sports facility in far northwest OKC.
We've acquired a full video of the ruckus via The Ogle Mole Network. We can confirm the incident occurred on Saturday night and police were called.
Related: Oklahoma County Sheriff needs help finding video we shared last week…
–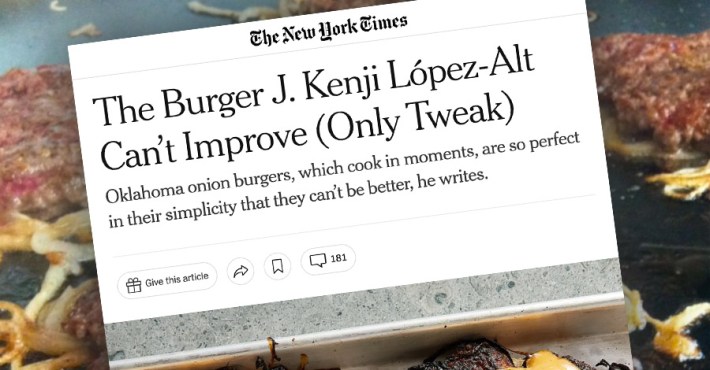 NY Times culturally appropriates Oklahoma onion burger…
Since I rarely get that chance to cry foul about appropriation, you can't blame me for taking the opportunity to wag my finger at the coastal elitists at the New York Times for writing a nice, friendly, 1,200-word salute to our state's #1 food staple – The Oklahoma Onion Burger – and not talking to an actual Oklahoman.
Instead, they talked to a guy from Long Island who hosted a burger show on the Travel Channel: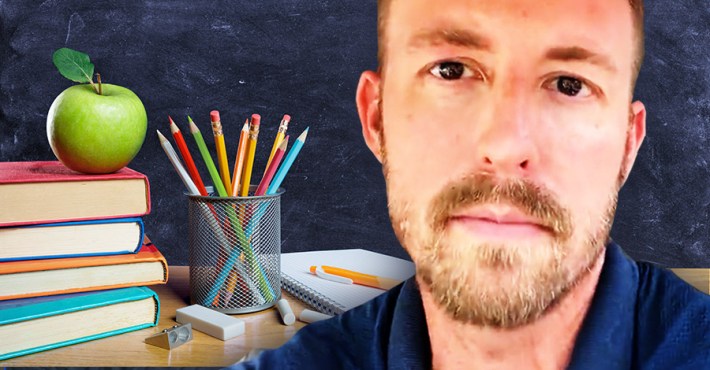 Oklahoma School Supply Checklist by Sec. Ryan Walters...
As the administrator of a super successful plan that used millions in public Covid-related funding to get important school supplies into the hands of private school students, I know first-hand how important it is for students to be prepared with proper school supplies to make the most of their education experience, especially while in the comfort of their family game room.
On that note, I worked with my friends at ClassWallet to come up with 7 essential school supplies for Oklahoma students as they return to the classroom...
–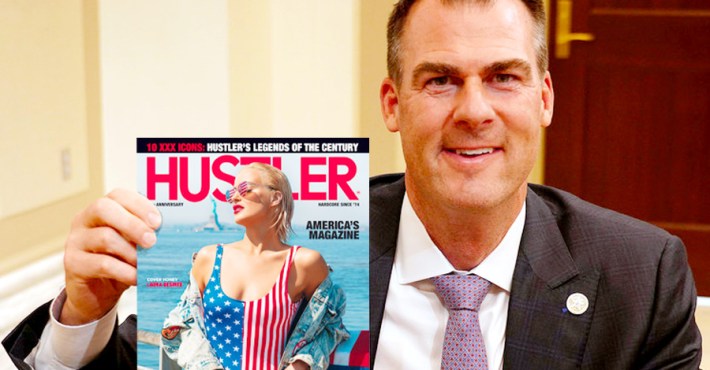 Kevin Stitt honored by Hustler magazine…
Oklahoma Governor Kevin Stitt's national profile continues to grow and grow and grow!
Thanks to a tip via the Ogle Mole Network, we've learned that Kevin Stitt was recently named "Asshole of the Month" in the July issue of Hustler magazine – a long-running monthly feature that sarcastically honors some of our country's greatest draconian assholes.
–
Stay in touch
Sign up for our free newsletter