Everything Else
Top 10 Emily Sutton Halloween Costumes…
12:43 PM EDT on October 31, 2023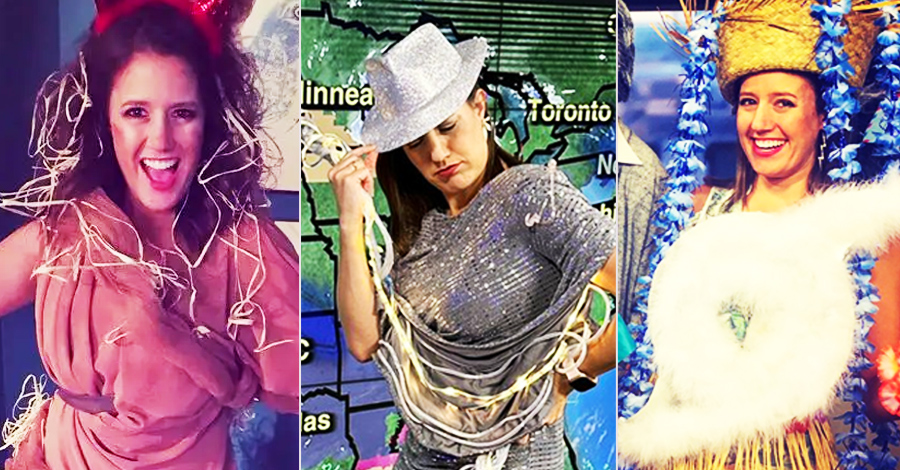 With today being Halloween and everything, I thought we'd take a break from our typical batch of divisive, outraged Oklahoma political content and instead focus on something everyone can enjoy:
Oklahoma Severe Weather Princess Emily Sutton!
Like any ball of hen-egg-sized hail adorableness, Emily loves to get dressed up and celebrate Halloween with cutesy creative DIY weather and science-themed costumes.
For example, this year she's something called "Jet Stream Johnny:"
That's pretty cool.
Based on my decades of watching local weather on TV, I'm aware that some mysterious force called the Jet Stream – along with its evil nemesis The Dry Line – have a big role to play in Oklahoma weather, so that's cute, current and topical. It kind of feels like the Emily Sutton version of David S. Pumpkins, only less annoying. 
Although that costume would likely win any local costume contest, it's not even one of the 10 best Halloween costumes Emily has worn and created over the years.
I took a look back through Twitter and our own TLO archives to find the 10 Best Emily Sutton Halloween Costumes of all time. 
You can view all of them below:
10. Puddleducky (2018)
I guess Puddleducky is a generic piece of school bus stop forecast clipart that is commonly used by TV channels all across the country. In fact, he's used so often that he (or she or they) have their own Facebook page celebrating it. 
Although Emily's interpretation is spot on, she looks a bit too much like Big Bird vacationing in Seattle.
–
9. HAILoween (2021)
Obviously, this costume is making fun of Damon Lane's famed retweet of a hail pic that included a pic of a man's flaccid penis. I mean, why else would the costume include a tape measure? I've watched weather coverage in Oklahoma for a long time, and they generally only bring out the rulers and yardsticks for live shots during the snow coverage. When there's hail, the chasers and reporters are usually out chasing tornadoes and shooting footage of destruction, so they don't have time for such stale shenanigans. 
Either way, that costume is just too simple. Plus it's built around a bad pun, so it can't rank any higher. 
8. Hurricane (2016)
The drunkest I've ever been in my life was due to a Hurricane from Razoo's in New Orleans in 2008, so just looking at this thing makes my stomach want to hurl. 
Also, where does Lucas Ross dressed as Jim Henson holding Kermit the Frog rank on the "Dear God, Lucas Ross is annoying" scale? I'd say it's a 3 without the banjo, 7 with the banjo, and 10 when he's playing the banjo while Kermit sings "It's not easy being green."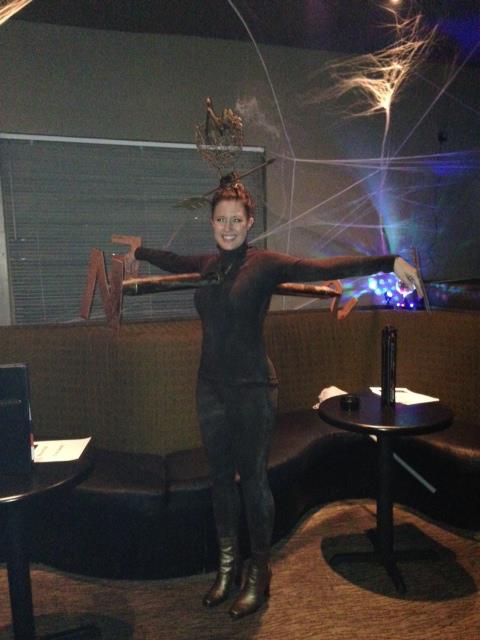 7. Weather Vane (2012)
This pic was taken at the height of Emily's "Single and Looking for a Hunky Fireman" era – a time when she and JoJo would hit up trendy restaurants, watermelon festivals and, uhm, Baker Street: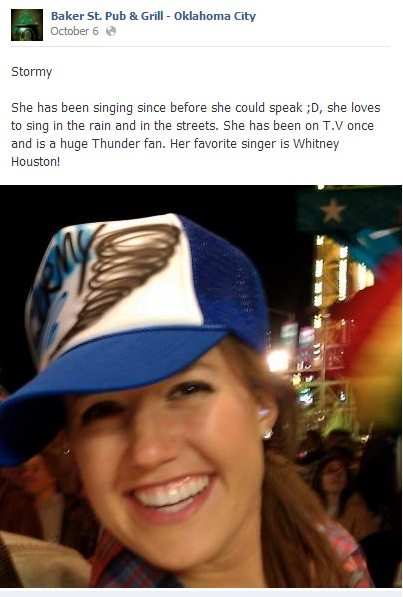 Much to the chagrin of Superfeak, I wrote about Baker Street – The T-Bar of Oklahoma aughts – back when it quietly closed in 2017, leading to thousands of people in their 30s and 40s saying "Baker Street was still open?"
When Emily's Weather Vane pic made the Internet in 2012, it got everyone's barometric pressure flowing and broke the Oklahoma Internet. Since then, it's been topped by a variety of other costumes including…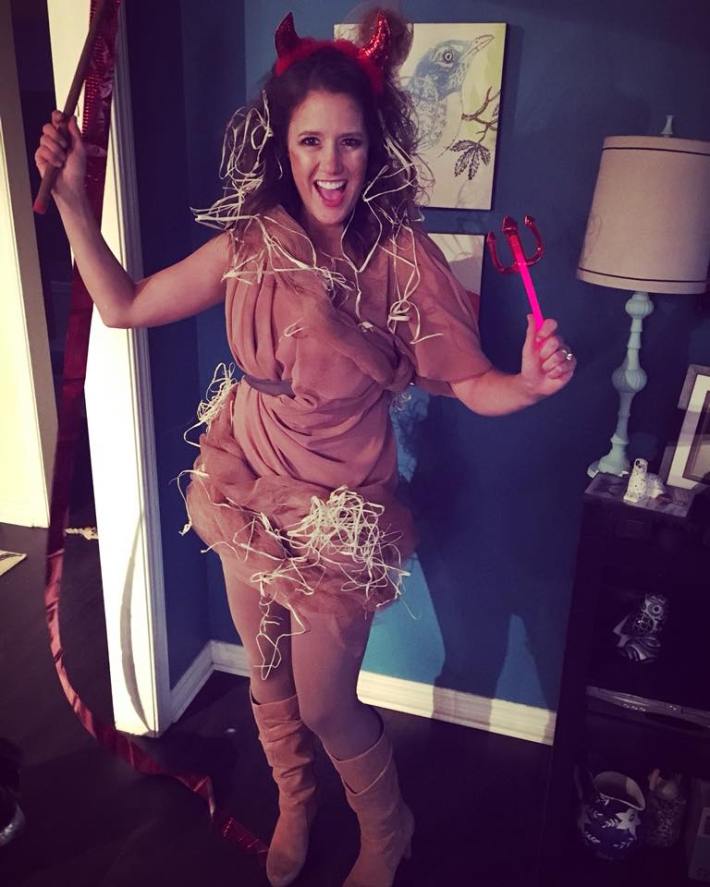 6. Dust Devil (2017)
That costume is simple, and creative and just reminded me that I need to buy a new Dust Devil because mine broke a few months ago. It's one of those small gadgets you don't know you need until you need it. 
Also, I know Emily's costume was more of a homage to the weather phenomenon than the handheld vacuum, but I just felt like sharing. 
–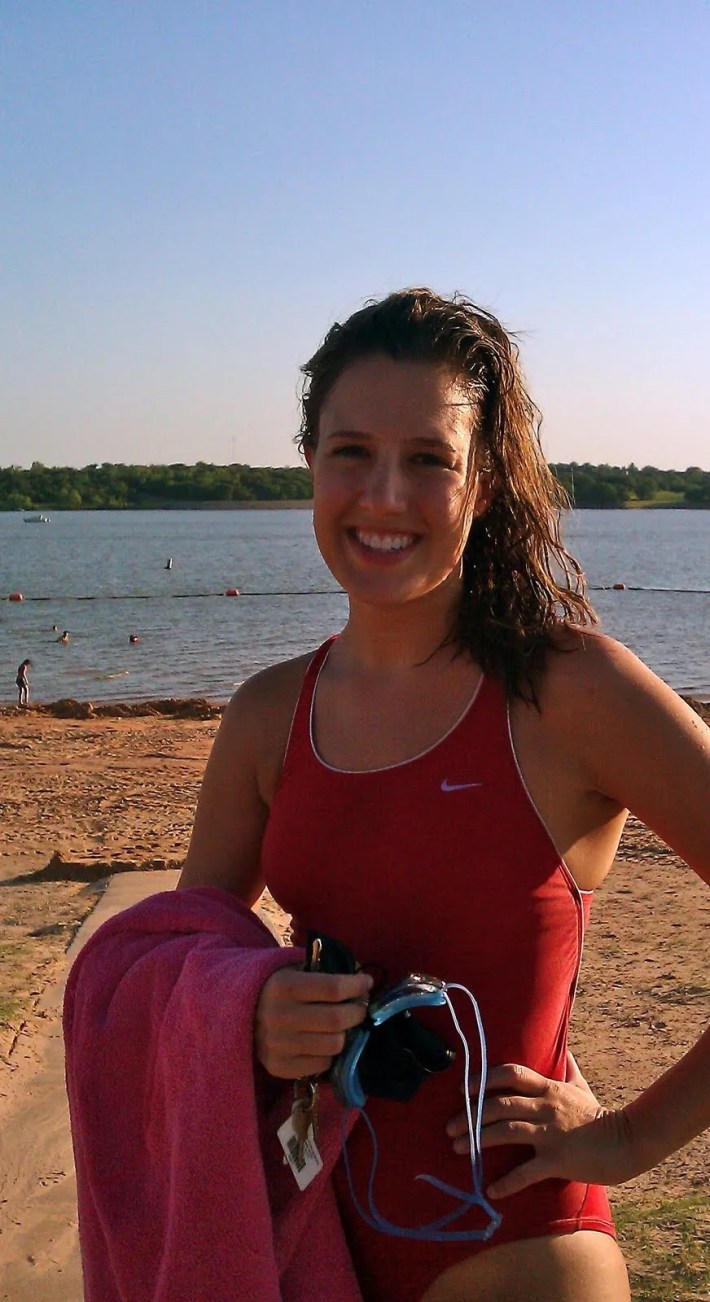 5. Baywatch Actress (2013)
Honestly, I'm not sure if this is a Halloween costume or something Emily wore when she went through her triathlon stage, but it looks like a Baywatch actress costume so we'll roll with it. 
4. Solar System (2022)
This costume is well done! Sure, the planets may not be proportional to size, but it's science-themed and, based on my quick Google search, beats other third-trimester Halloween costumes such as a gumball machine, Winnie the Pooh, and Princess Leah holding a BB-8.
–
3. Twister Cow (2019)
Emily Sutton is a die-hard Twister fan, so this costume of the famed Twister cow pays excellent homage to the movie and Oklahoma weather culture. 
Also, where does Lucas Ross dressed as Simon and Garfunkle rank on the "Dear God, Lucas Ross is annoying" scale? I'd say it's a 3 without the banjo, 7 with the banjo, and 10 when he's playing the banjo singing "Bridge Over Troubled Water."
2. Mammatus Clouds (2020)
Sure, to the untrained eye, Emily may look like a robotic version of the Fruit of the Loom grapes, but outside of a double rainbow or Marty Logan getting stuck in a tornado, no meteorological phenomenon captivates Oklahoma social media and weather nerds like a field of a soft and droopy Mammatus – a.k.a boob clouds – filling up the Oklahoma sky. This awesome and creative costume can only be topped by one thing…
–
1. Tigernado (2015)
Way back in 2015, before the phrases "Tiger King," "That Bitch Down in Florida" and "I'm never going to financially recover from this" became part of the American pop culture vernacular, a tornado outbreak hit central Oklahoma, and struck the Tiger Safari wildlife refuge near Tuttle. 
Before Mike Morgan could warn residents in the area to fall south to avoid tigers and other big cats on the prowl in the area, a pre-murder-for-hire Joe Exotic called the news stations to notify them he was on his way from the GW Exotic Animal Park in Wynnewood to lead the search and rescue efforts, and TLO header images like this were born…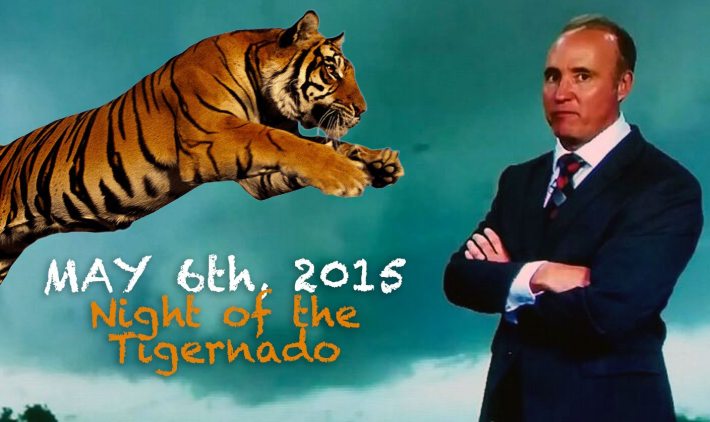 As it turns out, Tiger Safari only suffered a few broken tree limbs and no tigers escaped, but for Oklahoma Weather nerds of all ages, the Night of the Tigernado will only be topped by the famed Battle of Pawnee in 1988 – the night Gary England, Ross Dixon and Wayne Shattuck teamed up to battle and defeat a viscous F5 super multi-wedge grinder sent by the dark side of the severe weather force to destroy all of Oklahoma.
Emily Sutton's costume not only commemorates the Tigernado, but pays homage to Joe Exotic before he was in federal prison on murder-for-hire charges, so it deserves the top spot in this countdown. 
–
Anyway, I guess that concludes this countdown. We'd like to thank Emily Sutton for giving us over 10 years of costumes to fill our internet content quota. We look forward to seeing what enters the top 10 in 2033. 
Stay with The Lost Ogle. We'll keep you advised. 
Stay in touch
Sign up for our free newsletter