ICYMI
Suction Spots, Floods and Tigernados: Recapping Yesterday's Severe Weather Coverage
1:16 PM EDT on May 7, 2015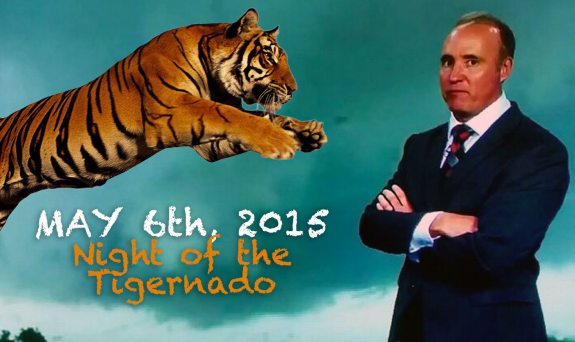 What a night...
As I mentioned on Twitter, I've been a hardcore severe weather porn addict for over 20 years. I've never seen a weather event quite like yesterday. It wasn't the most destructive storm we've ever had, but it sure was the weirdest.
But I guess I shouldn't be too surprised. We all should have known something was up when this image hit Twitter yesterday morning: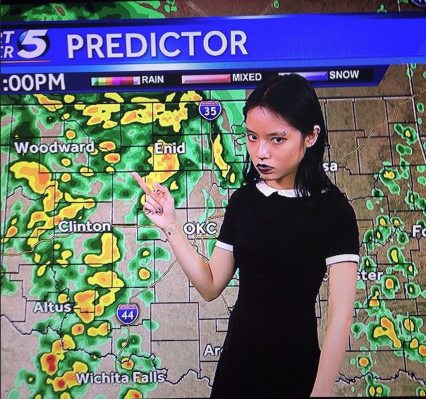 Yep, it's official. There's something really evil and scary taking place on the Dark Side of the Severe Weather Force. Since the May 20th, 2013 tornado, Mike Morgan instructed people to head south, Lord England retired, and Aaron Tuttle googled the term "copyright attorney who practices copyright law." Now all of sudden we have this Dark Weather Priestess of Shadows appearing out of nowhere and flipping off Weather Predictor 5. That had to hurt Damon Lane's feelings. $100 says she's the same person responsible for David Payne's Shadow Weather Dong.
Then again, I'm probably overreacting. The Weather Priestess isn't even a meteorologist (of course, neither is Mike Morgan). Her name is actually "Plaaastic." She's a blogger, dancer, and Instagram star with a huge following. Apparently, she was visiting Channel 5 on some sort of "foreign exchange tour." She's not an evil demi-god sent to destroy us all.
Actually, I think it would be really cool for a channel or two to hire an evil weather girl. Plaaastic would be a good fit at KFOR Channel 4. She'd be the perfect rain cloud to Emily Sutton's sunshine. Mike Morgan will probably name her chief storm chaser and put her on a speedy motorcycle named Bob Moore Crotch Rocket 4! We'd all watch. Admit it, the dark side is kind of fun.
Anyway, a lot happened after Plaaastic creeped on the scene. At first, May 6th, 2015, seemed like your typical May severe weather day in Oklahoma. Storms fired up near Chickasha and slowly moved their way east/northeast up I-44 into the Moore / Norman area. When the tornado went through Norman, the whole storm stalled and small tornadoes either popped up out of nowhere, or reformed in the exact spots they were an hour earlier. This caused Mike Morgan to drop fancy new tornado words like "Multi-Vortex Suction Spots" and "Sink Drain Effect."
The random twisters that popped from the sky were scary. One formed in the middle of the storm near Will Rogers World Airport. The tornado slowly skipped and danced east through south Oklahoma City and into Valley Brook, where it got a quick lap dance before turning south to grab some drugs at a motel on I-35 and SE 44th. Stormchasers called it The Methnado.
While this was going on, the southern half of the Oklahoma City metro was literally caught in a torrential downpour. It was so insane the Hobby Lobby family got out their huge boat and started loading animals on it just to be safe. Highway medians looked like the Lazy River at White Water. Streets flooded, idiots drove into them, and news cameras were on hand to film it.
The flooding led Oklahoma City to declare the first ever Emergency Flood Disaster in the city's history. Apparently that's a big deal. It caused Damon Lane to jizz in his pants on live TV. He was so excited you would have thought he had just given birth to a tornado. His excitement even carried over to Twitter:
His loyal co-workers decided to play along:
For the next 30 minutes or so, flash flooding and tornado damage dominated the news. And then our worst fear came true... The Tigernado.
As if tornadoes, flooding and lightning weren't dangerous enough, we now had to watch our backs for blood thirsty, angry tigers. Only in Oklahoma, right?
At this point, the Internet lost its mind and Tigernado became a thing, but we weren't too worried. Our state is equipped with the right people to deal with such emergencies. After reports surfaced, Gary England hopped on his Pegasus "Grinder" and flew to Tuttle to help. We also called upon the services of Joe Exotic, our own resident Tiger King...
14 minutes later...
Yep, Joe Exotic was on the scene to "rescue" the tigers... and he wasn't alone. Good old boys from all corners of the state sped to Tuttle to help, and in the process, possibly add to their taxidermy collection. Kelly Ogle pleaded with them to stop...
Sadly, the Tigernado lasted about as long as your typical twister. The whole thing was a big false alarm. Reports are conflicting, but apparently none of the animals escaped. Damon Lane hopped on Twitter to calm all fears:
Once again, it was a crazy night. Our meteorologists were seriously tweeting about tigers as strong winds, mild tornados and insane floods assaulted our city. I never thought I'd see the day.
Anyway, here are my grades for each station's severe weather coverage...
KFOR Channel 4: A
Once again, say what you want about Mike Morgan, his weather tie, goofy tornado terms, and past mistakes, but I think KFOR had the best overall storm coverage of the night. Mike was able to maintain his energy and focus for the entire storm – something the young guns at 5 & 9 struggled with. And when the South Oklahoma City tornado strengthen over SE 44th and I-35 at around 8:45pm, Mike flipped out and warned viewers about the tornado. Meanwhile, Damon Lane was attacking a village in Clash of Clans and David Payne was focusing on some storm in Shawnee.
-
KOCO Channel 5: B-
When the storms first materialized, KOCO was on top of their game. The chopper provided some great aerial footage, but as the night wore on, you could tell it was taking its toll on Damon. He was exhausted. At one point he disappeared briefly for a bathroom break and Jonathan Condor filled-in. It was a disaster. Jonathan was about as animated as a rock. He spoke in a low, mumbled, cautious tone. You could hear fear in his voice. It was all kind of funny. Jonathan acts like some ice bandit badass whenever snowy weather hits our state, but when tornados and floods appear, he hides underneath a blanket in the comfy confines of the KOCO weather center. Why wasn't he out lecturing people about driving into flood waters and wearing gardening clogs? He wasn't so tough last night, was he?
-
KWTV Channel 9: C+
As always, KWTV had some good footage from Jim Gardner, Val and their 50 other storm chasers, but David Payne seemed off his game. This image speaks a thousand words...
Throughout the night, David bickered with storm chasers and his producers and was very slow to act on tornado warnings. At times it looked like he wasn't even paying attention. As the southside storm appeared over Will Rogers, David didn't even notice it on the radar. Someone off-screen had to tell him about it. It wasn't good.
This kind of makes me wonder if David is in the right role at News 9. He pulled an Uncle Rico and reminisced about his old days as a storm chaser many different times. Is that what he wants to go back to? It wouldn't surprise me. Just because you're a great player, doesn't mean you'll make a great coach. David really needs to work hard this off-season on improving his game and trusting his teammates. Maybe Channel 9 should hire Scott Brooks to work with him?
-
KOKH Channel 25: S
Once again, I'll stick with an S. They tried, and for KOKH that's all that matters.
By the way, did you know the Sports Animal and their sister stations now simulcast Channel 25 during severe weather outbreaks? Uhm, no wonder so many people drove into the floods! As if their continued employment of Regular Jim Traber wasn't enough proof, I think it's safe to say The Sports Animal doesn't value their listeners all that much.
---
Here are a few other notes and observations from last night...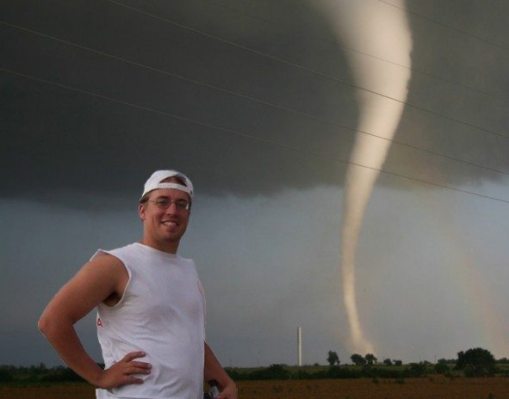 Reed Timmer is in Mike Morgan's dog house. The Dominator Captain was rarely seen or heard of throughout the night, as Mike Morgan sent him to cover the boring storms in NW Oklahoma. This resulted in Marc Dillard assuming the role of Mike's trusted storm chaser. I kind of liked it. Marc stayed cool, calm and collected and had the courage to drive into a tornado without the protection of some gimmicky tricked up weathermobile...
-
It's time to update the names on local weather maps. Although Mike was strong, at times he reverted to 1998 and talked about Crossroads Mall and Sooner Fashion Mall. He also thought Mt. St. Mary's moved to 59th and Western.
-
This...
-
Update: And this....
-
Do that Oklahoma Standard stuff. As a result of yesterday's storms, many Oklahomans are in need of some help. Be good Ogle Moles and help your neighbor, donate to the Red Cross or anything else that can help people who need it.
-
Anyway, that concludes our May 6th, 2015 Severe Weather Coverage Recap. Once again, we make light of the Severe Weather Media Circus in our state, but they actually do a great job keeping us safe and informed. If you see a TV Weather Head out somewhere, buy them a beer. If it's Emily Sutton, Lacey Swope or Shelby Hays, buy them three.
Also, there's more severe weather predicted for this week. Stay weather aware, watch out for tigers and follow us on Twitter and Facebook. We'll keep you advised.
Stay in touch
Sign up for our free newsletter