Everything Else
OU to host CEO who tried to suppress University's earthquake research…
9:44 AM EDT on September 1, 2023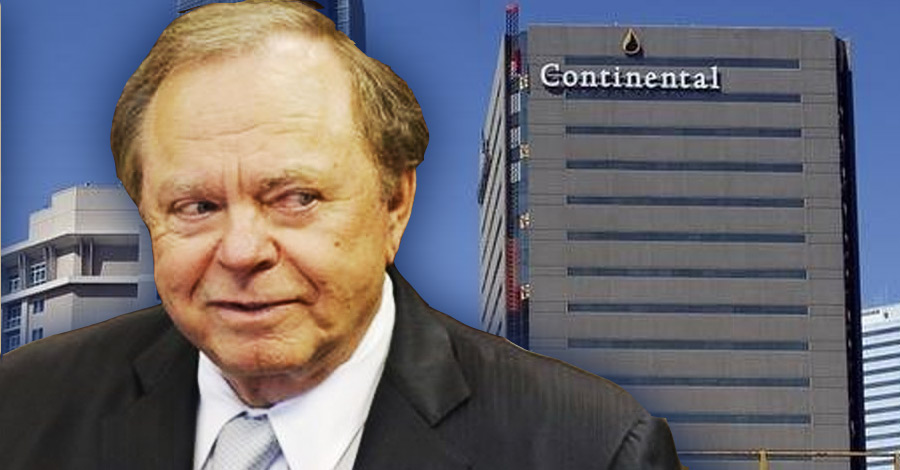 When he's not been preoccupied with taking his company private, dumping Trump, or waging a scorched earth campaign against aspiring young oil overlords who dare cross him, Continental Resources founder and chairman Harold Hamm – Liege Lord of the Bakkan and Viscount of the Permian – has apparently been diligently working on a set of royal memoirs for future generations of oil and gas disciples to study. 
The first volume in this series is titled "Game Changer: Our 50-Year Mission to Secure America's Energy Independence."
A biography of sorts, it will apparently portray Hamm's ruthless quest to get as rich as humanly possible by plundering our country's resources, polluting its environment, and lubricating its ancient fault lines as nothing more than a selfless, charitable endeavor designed to make our country less dependent on foreign oil. 
Because the University of Oklahoma values money more than anything, OU president Joseph Harroz – David Boren's bumpkin who took control of the school in 2020 – will help Hamm spread that manufactured PR message at a fireside chat on the University campus on Wednesday, Sept. 6.
Via OU:
OU will host Harold Hamm, founder and executive chairman of Continental Resources, to discuss his new book exploring his journey to help restore America as an energy superpower at OU next week. 

According to a university press release, Hamm, a national leader in promoting health, education and energy advocacy, will discuss his new book, "Game Changer: Our 50-Year Mission to Secure America's Energy Independence," with OU President Joseph Harroz Jr. 

"Throughout his trailblazing career of over five decades, Harold Hamm has earned widespread acclaim as a giant in the energy industry, distinguished by his dedication to higher education and invaluable contributions to medical research," Harroz said in the release. "We look forward to this engaging conversation and the many lessons we can learn from his storied career."
That's interesting. 
I wonder if one of the lessons Hamm will discuss is his "trailblazing" effort to use his money, power, and influence with the university to suppress University research that connected Oklahoma's earthquake swarms to fracking of wastewater disposal, and the media firestorm it created way back in 2015? 
The state's former top seismologist says he felt pressured by University of Oklahoma leaders to take into consideration the perspective of the petroleum industry amid heightened public concern over earthquakes associated with oil field activity.

In an Oct. 11 sworn deposition, former state seismologist Austin Holland testified that, at one point, the dean of OU's Mewbourne College of Earth and Energy and the director of the Oklahoma Geological Survey began altering the wording of his public statements on earthquakes associated with oil field activity…

In his testimony, Holland also described an odd meeting with Boren and Continental Resources founder Harold Hamm, a major donor to the university, after Holland wrote a paper discussing hydraulic fracturing as a trigger for some earthquakes in Oklahoma…

Holland testified that Hamm told him he should be careful how he said things, that hydraulic fracturing is critical to the state's economy and that he was nervous about "the war on fossil fuels."
Yeah, something tells me Harroz will not have time to ask Hamm about his attempt to kill taxpayer-funded research into how his company's pioneering extraction tactics may have awoken ancient faultlines hiding deep underneath our state.
I bet he won't have time to ask Hamm about his effort to eliminate Oklahoma's gross production taxes either, which helped lead to the state budget crisis and teacher walkout in 2018.
Instead, Harroz will probably just ask Hamm about how he throws his money around to charities:
Throughout his career, Hamm has become a national leader in promoting health, education and energy advocacy. With the goal of finding a cure for diabetes, he has donated more than $65 million to the world-renowned OU Health Harold Hamm Diabetes Center at the University of Oklahoma. The OU Health Harold Hamm Diabetes Center is at the forefront of diabetes research – inspiring progress toward a cure, education of health care professionals and families, optimal care for those living with diabetes and effective prevention strategies. He also established the Harold Hamm International Prize for Biomedical Research in Diabetes, a $250,000 biennial award celebrating the scientific achievements of an outstanding researcher, team of researchers or research institution.

Hamm is a member of OU's "Lead On" campaign committee. With a historic goal of raising $2 billion, "Lead On: The University of Oklahoma's Campaign for the Future" builds upon OU's core traditions while striving to reach new heights of excellence, and is the largest philanthropic campaign in the history of Oklahoma higher education.
I don't want to be too critical here. If Hamm was helping me raise $2-billion dollars, I'd also look the other way, ignore his unscrupulous effort to kill University research, and help promote his self-aggrandizing book. Hell, I'd probably just give him the whole website! Make me an offer, Hamm. Let's secure Oklahoma blogging independence together!
Stay with The Lost Ogle. We'll keep you advised. 
Stay in touch
Sign up for our free newsletter