Everything Else
Reuters exposes Energy Industry overlords for role in Oklahoma budget crisis…
10:57 AM EDT on May 18, 2016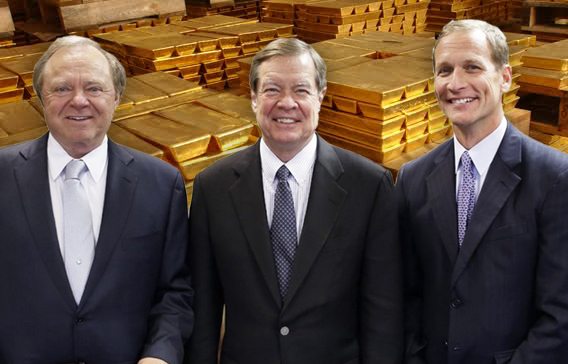 The state's most trusted news is at again!
Normally when I write an intro like that, it's a sardonic swipe at the oil and natural gas industry's local trade publication The Oklahoman, and the cheesy, polar-opposite-of-reality-slogan the paper went with for so many years. This time around, though, I'm being serious.
In case you didn't see it, Reuters – which has sadly grown into our state's most trusted news source – released an epic, must-read take down on Oklahoma's oil industry overlords, and how their greedy thirst for money and power has helped create the dire financial clusterfuck Oklahoma now finds itself in.
If you haven't already done so, I'd encourage you to read and share the entire article on social media. It's important that people read it. Here are three reasons why:
1. It debunks the energy industry/ GOP sponsored myth that low oil prices are the only reason why our state is dealing with an educational funding crisis.
2. It highlights the real life struggles that educators, parents and students are facing throughout Oklahoma courtesy of the ridiculously friendly tax cuts and subsidies our bought and paid for legislature has given to the oil industry.
3. It reminds us why we should vote every incumbent politician out of office.
Let's take a look at snippet or three from the piece:
After intense lobbying, Oklahoma's oilmen scored a victory two years ago. State lawmakers voted to keep in place some of the lowest taxes on oil and gas production in the United States - a break worth $470 million in fiscal year 2015 alone...
Before the recent 60 percent decline in oil prices, a drilling bonanza minted millionaires and billionaires in Oklahoma. The boom turned sleepy Oklahoma City into a thriving hub for drillers like Devon Energy, Chesapeake Energy and Continental Resources - the troika that lobbied hardest for the tax-break extension. The rebuilt downtown hosts top notch dining, hotels, arts venues, and a top NBA basketball team.But as private oil wealth created these emblems of prosperity, public services have come under severe strain. In contrast to other energy states, Oklahoma didn't fill state coffers during flush years.Oklahoma taxed new oil and gas production from its prolific horizontal wells -- the big money-makers of the fracking industry -- at rates as low as 1 percent throughout the shale boom. In North Dakota's giant Bakken oilfield, the going rate was 11.5 percent....
Maddening, huh? While other states were taxing their valuable natural resources at a fair rate, we were essentially giving ours away. If only there was someone out there who could have warned us about how stupid this was two years ago. Oh wait. There was. That guy is smart.
The best part of the expose is when Reuters stopped by Continental Resources for comment. You can tell the spokesperson for Continental got an A in Corporate Spin 101:
Kristin Thomas, a spokeswoman for Continental, said the industry and its employees are the state's largest bloc of taxpayers, while drillers pay billions more in royalties to landowners. She said tax breaks for other industries, such as wind energy, have hurt education funding."We don't have a revenue problem in Oklahoma," Thomas said. "We have a spending problem."The wind industry received tax credits and exemptions worth $306 million from 2004 to 2015, the Oklahoma Tax Commission said. State revenue data reviewed by Reuters show the horizontal-drilling tax breaks topped $1 billion between fiscal years 2012 and 2015 alone.
Wow. Way to take one for the team, Kristin Thomas! You may come across as an absolute fool and oil industry shill, but I'm sure those big paychecks from Uncle Hammy totally make up for it. Hell, maybe you can get a job spewing big business propaganda on Fox News some day. You have the hair for it.
If you think Kristin's comment was ridiculous, check out this poster hanging from the Continental Resources lobby: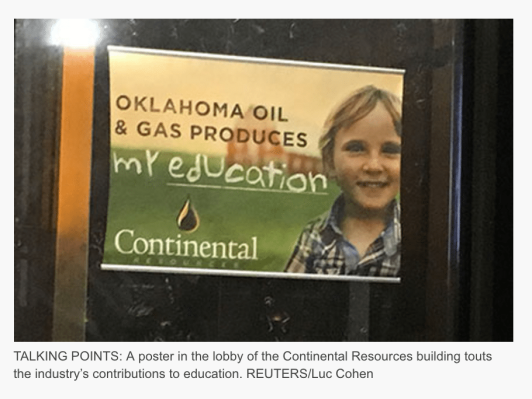 Yeah, Oklahoma oil and gas produces that kid's education.. well, at least the four days a week he now goes to school. Is that supposed to be taken seriously, or is Continental getting in the satirical news business? I wonder if they also have posters in the offices bragging about how they fund Oklahoma's roads and bridges, rural hospitals and Enes Kanter's defense.
Also, did you know that OU president David Boren sits on the board of Continental Resources and was paid over $400,000 by the company in 2014? We were reminded about that a year or so ago when he arranged that totally innocuous meeting between Harold Hamm and our old State Seismologist. Knowing that, I should probably point out that instead of campaigning for rich energy companies like Continental to pay a fair production tax to help fund education, Boren is asking for Oklahomans to pass a 1% sales tax increase that disproportionately affects the young, old and working poor. Interesting, huh?
Anyway, enough with that relevant information. Let's get back to Reuters:
In 2014, the three big drillers [Continental, Devon, Chesapeake] made a lobbying push for lawmakers to make permanent the favorable tax treatment on early production...To help win over lawmakers, Devon hosted dozens of them in its Oklahoma City skyscraper before the 2014 floor vote. The company had several talking points, according to state legislator Pat Ownbey, who attended the meeting. Among them: Higher taxes would only hurt state revenue, by prompting frackers to abandon Oklahoma for other states."While some may think that raising taxes on the oil and gas industry could provide additional funding for education, drilling less wells in the state will end up decreasing total revenue traditionally designated for education in the long-run," Devon wrote in a later public statement.
Boy, I wish I could have been in the room to see those talking points! I wonder if they were as accurate as the earthquake talking points Devon once provided to Mary Fallin. Should I ask Devon's Derek Albro to send them to us? I'm thinking about it, but for some reason he never replies to my emails. Maybe I should run for office and accept campaign donations so they'll take me more seriously.
===
Anyway, those are just a few out-of-context snippets of a very well done piece. You can read the whole thing here. I'd like to thank Reuters Josh Snyder and Luc Cohen for a job well done, and taking an interest in the oil industry oligarchy we call Oklahoma.
Stay in touch
Sign up for our free newsletter