ICYMI
Surprise! Oil Overlords don't want the people to set Gross Production Taxes
12:01 PM EST on March 6, 2018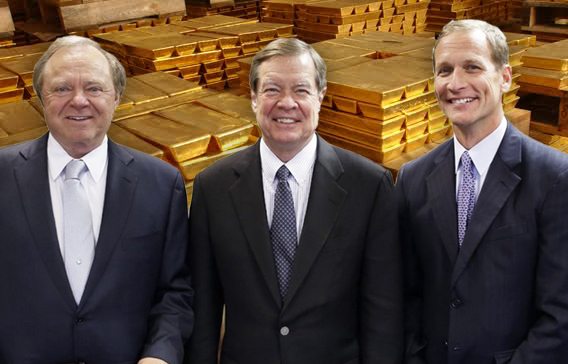 Earlier this year, a vagabond group of social misfits, deviants and outcasts filed an awful intit....oops... sorry... for a second I thought I was writing for Continental Resource newsletter – The Fracker. Let's start over...
Earlier this year, a group of socially conscious rogue oil industry leaders – we'll call them The Oil Slickers –announced they were launching an initiative petition that would raise Oklahoma's insanely low and vehemently protected gross production taxes from 2% to 7%. The money from the tax increase would then be used to fund pay raises for greedy, selfish teachers.
Naturally, our Oil Overlords think raising taxes to reasonable, regional averages to help fund education is wrong. They're now fighting the petition in courts.
Via NewsOK.com:
The Oklahoma Supreme Court on Thursday heard two challenges to a proposed ballot initiative that would raise taxes on oil and natural gas production to provide a pay raise for teachers.Led by oil and natural gas industry representatives, the challenges centered on the clarity of the proposal and its description, and on whether the initiative would violate the state's constitutional requirement that state questions embrace only one subject.An attorney for the initiative proponents, however, said the language is clear and legal and that voters should have a chance to decide on the issue.If approved by voters in November, State Question 795 would set the gross production tax on oil and natural gas at 7 percent. The tax rate currently is 2 percent for the first three years of production before it increases to 7 percent. The additional tax revenue would be used to pay for a $4,000 teacher pay raise.Proponents are facing a tight deadline because they first must gain nearly 124,000 legal signatures in time to begin the process of getting the initiative on the ballot.
FYI – One of the lawyers fighting for the oil industry is our old pal Glenn Coffee. He's the official Hand of Oil Overlords and the right man for the job. During his time in the Oklahoma Senate and Mary Fallin's cabinet, he helped craft and push all the disastrous Oil Overlord-approved legislation and tax policies that have turned Oklahoma into a national laughing-stock. He was also a key member of Step Up Oklahoma. It's so nice to see the people who created the problems in our state working so hard to fix them!
The fact that our Oil Overlords are aggressively fighting this ballot initiative in the courts isn't surprising.  In fact, it seems like it's just one part of a well orchestrated plan to prevent the Oklahoma people from having their say, and implementing fair reforms on taxation on their state's resources.
For example, remember a few weeks ago when some goober lawmaker from Enid introduced legislation that would make it more difficult to get a state question put on the Oklahoma ballot? The bill – HB 1603 – would require petitioners to not only collect 124,000 signatures from registered voters during a short time period, but also mandate that a certain percentage of signatures come from each of Oklahoma's 77 counties.
I think it was called the "Give The Wackos In The Panhandle Even More Power" Act.
The bill was introduced by Rep. John Enns, R-Enid. He claimed the motivation behind HB 1603 was to get ahead of efforts to legalize recreational marijuana, but as an astute TLO commenter pointer out, that seems like nothing more than a convenient scare tactic. More than likely, "Recreational Weed" serves as the boogie man excuse behind an ulterior motive – making it even harder to get a GPT tax increase on the Oklahoma ballot.
Just connect the easy to follow dots. Enns is from Enid, which is also the original home of Harold Hamm and Continental Resources. Not surprisingly, the top contributors to Enns election campaigns are Continental Resources and the Oklahoma Independent Petroleum Association (OIPA.) And double not surprisingly, Continental Resources and OIPA are the ones leading the court fight to challenge the language in the petition:
In a challenge filed by the Oklahoma Independent Petroleum Association, attorney Robert McCampbell said the initiative is unclear as to which wells would be affected by the increased tax rate and that the issue is further complicated by a typographical error in one of the descriptions."The people are entitled to make an informed decision," McCampbell said. "It is important, as this court has said previously, that the potential signers be given accurate information and be allowed to make an informed decision."McCampbell argued the initiative proponents should be required to rewrite and resubmit their proposal, a process proponents say could delay the effort and cause it to miss this year's ballot.
Yep, "the people in Oklahoma are entitled to make an informed decision." I think McCampbell forgot to add "as long as it's approved by the oil industry. They know what's best for all of us."
Anyway, it will be interesting to see how all this plays out. If oil industry lawyers are able to convince the Supreme Court to strike down the petition, or at least delay it, that would give Republican lawmakers time to pass HB 1603 and make it even more difficult for The Oil Slickers to gather enough signatures, circumnavigate the dysfunction and cronyism of our legislature, and put a vote to raise gross production taxes to reasonable levels on the November ballot.
Stay in touch
Sign up for our free newsletter