Everything Else
Catholics score first taxpayer-funded Oklahoma Christian school!
8:42 AM EDT on June 6, 2023
We'd like to congratulate everyone who follows the Catholic interpretation of the Christian God!
Yesterday afternoon, Oklahoma, once again, made national news for all the wrong reasons after a freshly stacked Statewide Virtual Charter School Board narrowly approved an application by the Catholic church to create a Christian public charter school, setting up a long and costly legal showdown to see if right-wing conservatives, theocrats, and other education grifters have compromised the American judicial system enough to finally knock down the sacred wall between the church and the state.
Obviously, the move doesn't come without controversy. 
To make sure they had enough votes to hammer the proposal through, Oklahoma politicians had to make a last-minute switcheroo to the Statewide Virtual Charter School Board, forcing out one long-time board member and replacing him with a Kevin Stitt / Ryan Walters crony named Brian Bobek.
Via The Tulsa World:
Long-serving member Barry Beauchamp, a retired school superintendent from Lawton who had been allowed to continue serving on the Statewide Virtual Charter School Board after his term expired some months ago, was replaced abruptly on Friday with Oklahoma City businessman Brian Bobek by Oklahoma House Speaker Charles McCall.

At the start of Monday's special meeting, Board Chairman Robert Franklin asked Bobek to abstain from voting Monday to "avoid the appearance of political manipulation."

But when it came time to vote, Bobek said it was his duty as a board member to vote, and reading from a written statement, said he believed it would violate the U.S. Constitution to bar a religious entity from state sponsorship on the basis of religion.

He voted "yes" alongside Nellie Sanders of Kingfisher, appointed earlier this year by Oklahoma Senate President Pro Tem Greg Treat; and Scott Strawn, appointed recently by Gov. Kevin Stitt.
Stacking the State Charter School Board with ruling class footsoldiers who comically misinterpret key foundational elements of the U.S. Constitution wasn't the only controversy.
First of all, allowing state-funded Christian schools to set up shop seems to contradict the will of the Oklahoma people, who in 2016 voted against allowing public money to be spent for religious purposes by a 15% margin.
Oh well, like the thoughts and wishes of the Oklahoma people matter. 
Additionally, who would have thought the Catholic church would be the first Christian denomination to get a state-funded school in Oklahoma?! If you were to write a Power Poll ranking of the Top 10 Oklahoma Christian denominations, they'd probably come in 5th or 6th, right?
Seriously, this really has to rattle the Oklahoma holy roller quo.
I bet the Southern Baptists are holding an emergency meeting at this very moment to figure out how they let this opportunity get away from them, all while the Nazarenes are drawing up plans to organize a hostile takeover of the Bethany Public School District.
Also, who's ready for some Life.Chuch.Edu bumper stickers to overtake the metro, or to get stuck in the Hobby Lobby Elementary School pick-up line on May and Memorial.
Naturally, the move has been championed by the right-wing grifters who run our state. They're super proud to see their effort to destroy public education from the inside (and have it replaced by a state-funded right-wing private school theocracy that indoctrinates kids with religion and patriotic American history) is finally coming to fruition.
Check out what Ryan Langston-Walters had to say:
I know you can't argue with a mindless idiot, but as I mentioned, the ruling actually contradicts the will of the Oklahoma people.
Also, as a dad who has a daughter that attends private school partly because a guy like Ryan Walters runs public education in this state, I already thought school choice existed. Who knew?!
There is one Oklahoma conservative, though, who actually thinks state-funded religious schools are a bad, very unconstitutional idea. 
Gentner Drummond – our buckwild Oklahoma Attorney General – had this to say about the news:
When Geneter first burst onto the Oklahoma political scene like a fighter pilot dropping smart bombs over Iraq, he didn't strike me as the type of guy who would have reasonable thoughts on an issue like this. It's nice to see at least one Oklahoma conservative respect our state's laws.
Anyway, I guess we should all grab a tub of popcorn and see how this plays out. 
In addition to the legal drama, there's a good chance we'll now get to see the Satanic Temple or Oklahoma Chapter of Pastafarians try to set up their own religious charter schools, and then get to laugh at the right-wing moral outrage over it. As the infamous Black Mass hysteria from 2016 taught us, at least that will at least be fun to watch.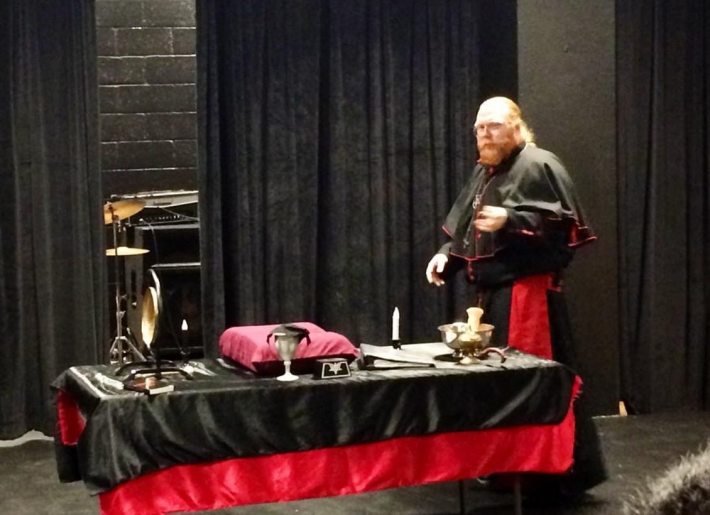 Stay with The Lost Ogle. We'll keep you advised. 

Stay in touch
Sign up for our free newsletter