Everything Else
Stitt's Communications Bro Scores Sweet Lobbyist Gig!
7:24 AM EDT on June 7, 2022
There's been a major shake-up in Stitt's Ministry of Propaganda!
Yesterday afternoon, Charlie "The Chaz Man" Hennema – the Tulsa weekend sports anchor turned Stitt Communications Chief – announced he's relinquishing his $110,000 a year state job for a lobbyist gig in the private sector.
The news was announced on social media:
I'm not 100% sure why Charlie is leaving Stitt's communications trolling center. I've heard he's taken some internal heat for his infamous Foggy Bottom tweet. He also apparently tweeted some stupid, tone-deaf thoughts following the Uvalde school shooting. I don't have screenshots of the Uvalde tweet (if you do, send it our way), but the now-deleted Foggy Bottom tweet is an all-timer and scores a 10/10 on the stupidity scale.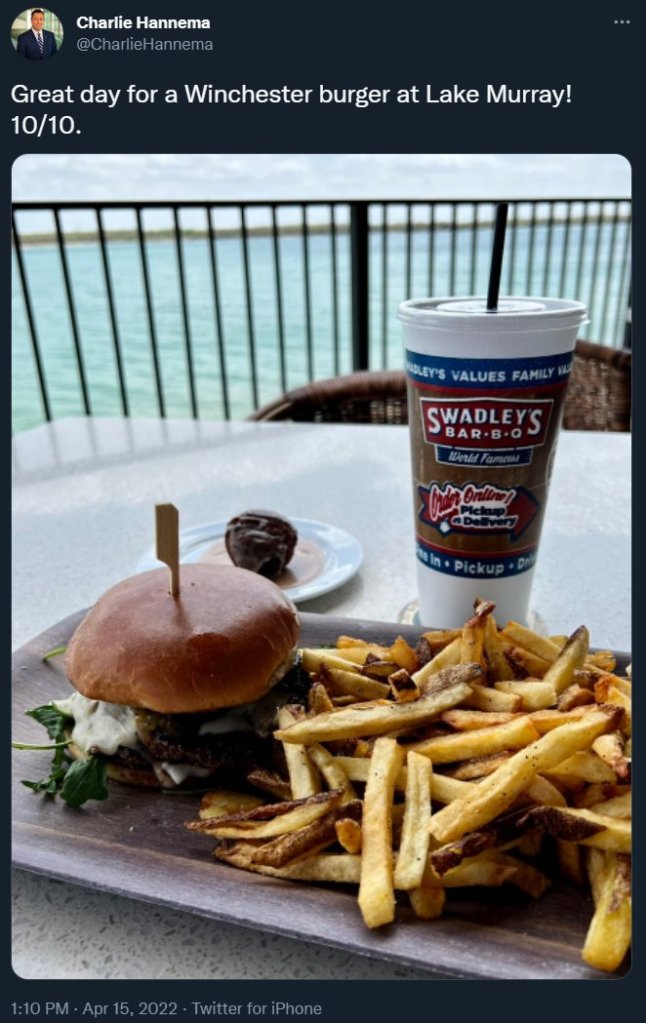 Regardless of why Charlie left his six-figure government job, we'd like to congratulate him. I think the goal of any in wide-eyed government PR flack is to either A) become a lobbyist or B) become a cable news pundit, so it's nice to see him accomplishing at least one of his dreams. I bet Brent Swadley personally makes him a Foggy Bottom Winchester burger to celebrate.
The news was mourned/celebrated by Charlie's co-workers on social media. Carly Atchison – Stitt's Director of Digital Trolling and Lib Sticking – sent this tweet:
Wow. That felt about as sincere and heartfelt as Charlie's interaction with Julius Jones's family! Carly should have just been herself and tweeted her true thoughts – "Thank God and good riddance! Your job is mine!"
Seriously, I bet Carly celebrated Charlie's departure by downing some Liberal Tears shots at Redneck Yacht Club. You can't blame her. According to Stitt's digital content manager, it looks like she is getting Charlie's job.
Look at that! We have a rare sighting of Carly Atchison in the wild! For a pretty, 20-something communications blonde who specializes in sharing polarizing Internet content, there are not a lot of pics floating around of Carly online. I guess this once and for all disproves that Internet conspiracy that she's not a real person, and is simply a sophisticated Russian Twitter bot that the Stitt campaign rents from Donald Trump.
Anyway, I guess the other news here is Carly is getting Charlie's old job. Can you imagine having Carly as a boss? That sounds ultra-intimidating. I feel sorry for the new interns who have to go out and catch Dalmatian puppies for her new coat.
In all seriousness, we'd like to congratulate Carly, too. I'm sure she gets high marks on her employment reviews, so you can't argue with the promotion! Oklahoma is likely just one small pit stop on her path to trolling and propaganda superstardom. We can't wait to see everything she accomplishes for the right during the second American Civil War.
Stay with The Lost Ogle. We'll keep you advised.
Stay in touch
Sign up for our free newsletter