Food
Finger Lickin' Great: Feeling Alive at Granny's Fried Chicken
9:08 AM EST on January 27, 2022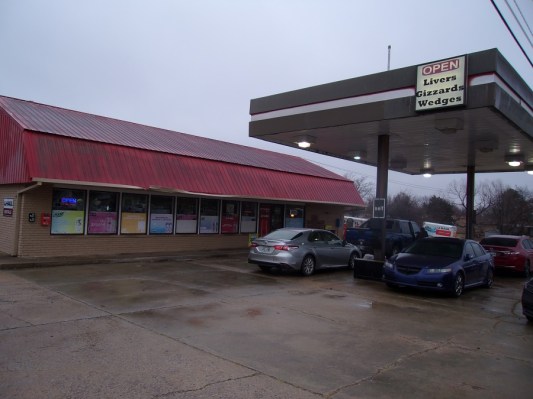 The day was cold, gray, and full of death as I was headed to a small graveyard in a small town, somewhere outside Tishomingo. I was helping a friend clean up a few family plots and, really, we couldn't have picked a better day for stereotyped dreariness.
There was one light ahead, however: I asked my friend if we could stop in Tecumseh because I had recently heard about this convenience store called Granny's Fried Chicken, 617 W. Walnut St., a little-known place that, apparently, had some of the best chicken in Oklahoma. But, then again, they all do, right?
We pulled up into the parking lot on a Saturday around lunchtime. The line was already about four or five cars deep, arranged like they were going to fill up at the non-existent pumps. Locals were briskly coming and going out the front door, usually loaded down with a bag or two of probably chicken, maybe a six-pack for the road.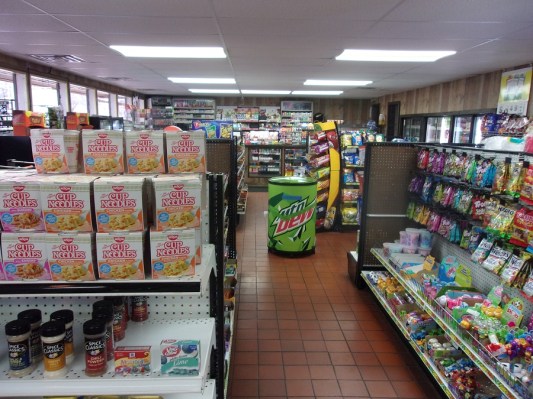 The inside of Granny's—and just about everything else associated with it—looked like a typical country superette, receiving plenty of help from the obscure chips, off-brand energy drinks, and the refrigerated bait to make it all the more authentic. It was all the things a Tecumseh resident would need for the weekend and then some.
But I needed that chicken. I headed to the register, towards the back of the store, and noticed a large glass display that was filled with eats like corn dogs, pizza pockets and plenty of other deli-case regulars. But it was on a separate shelf along the bottom where the oily trays of freshly fried chicken sat, the grease dripping down, down, down.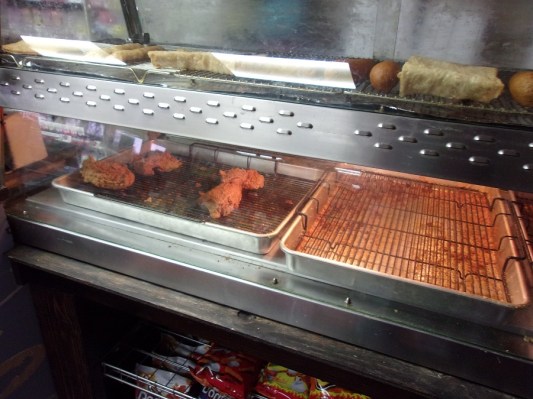 I ordered the four pieces that were left after the last rush, as well as a couple of drinks to wash them down. As there was no place to sit in Granny's, we sat in the car, completely understanding those that were doing the same thing, despite the long puffs of pot smoke out their window. I'm not that cool.
As I opened the bag, the greasy smell was lush and lovingly filled the automobile. Despite the searing oil minorly burning my hand, I reached right into there and pulled out one of Granny's pink, meaty breasts; overtly large and defiantly succulent, these were far more seductive than any feathered mummeries I've suckled in a long time.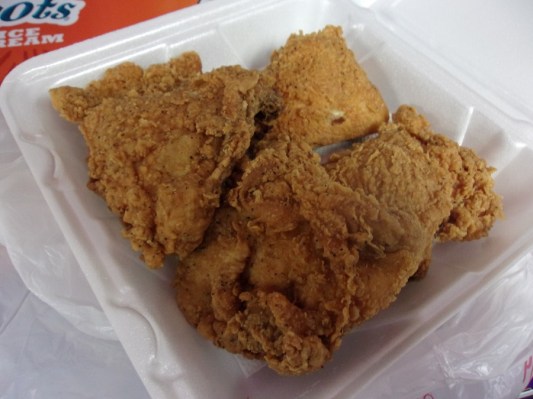 My quivering teeth dug into the hot chicken, and it was a perfect bite. This time, there was little to no splash-back from said oil that you'd typically find when you chomp into plump pieces this; the bite itself was far larger than I could really handle, with half of it hanging out of my mouth like a hungry animal. With a fair amount of force, I pushed that half deep inside my mouth.
I'm not sure how it was cooked and fried, but, at this point, I didn't know and I didn't care. As far as I was concerned, this was some of the best fried chicken I've ever had the pleasure to taste. Taking a couple more bites before we headed on the cemetery, I had forgotten about Kentucky Fried Chicken altogether. From now on, for me, it was all about Granny's and her Oklahoma fried chicken.
_
Follow Louis on Twitter at @LouisFowler and Instagram at @louisfowler78
Stay in touch
Sign up for our free newsletter