events
A Sort of Homecoming: Celebrating St. Patrick's Day in Oklahoma City
8:47 AM EDT on March 18, 2019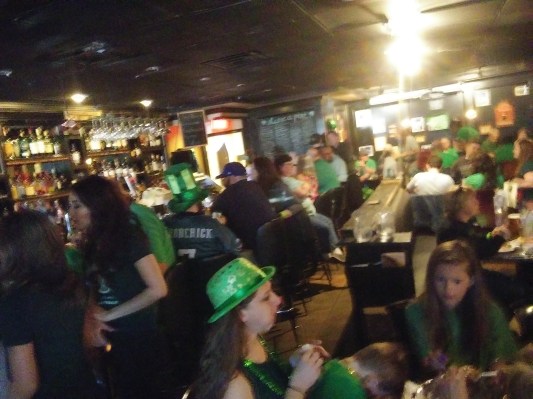 With discount DNA tests all the rage online these days, I recently took a 23 and Me and, jumpin' Jehoshaphat, found out that my grandmother was an Irish princess!
I'm kidding, for the most part. My grandmother, on my father's side, was nothing more than the dirt-poor daughter of Irish immigrants who came to this country with empty pockets and, thankfully for me, she eventually wedded a full-blooded Choctaw living in Indian Territory, my grandfather. So yakoke and go raibh maith agat, Grandma Ethel.
Probably because she died in 1948, our Irish lineage has never been something that my family has really ever celebrated, the memories and traditions lost to times long forgotten. That being said, the one holiday that has always fascinated and perplexed me—now more than ever—has always been Lá Fhéile Pádraig or, as it's better known by, St. Patrick's Day.
While I get it—celebrating the patron saint who drove the "snakes" (read: pagans) out of Ireland—I never completely understood how getting absolutely fluthered on the black stuff and picking a fight with your landlord honors this heathen-hating holy man. But, then again, as I think deeper about it, I realized I never participated in it and its festivities before either.
So this year, I've decided to appease whatever Irish rumblings I've had stirring in my soul these many years—this St. Patrick's Day, I was going to get out and about, even if just for a few hours, to become mildly entrenched in the shamrocks and shenanigans of the Irish culture, or, at the very least, an Americanized version of it.
I could really think of no place more Celtic in Oklahoma City than Sean Cummings Irish Restaurant and Pub, 7628 N. May Ave. to get me ready for a fierce afternoon of ethnic frivolity. Regardless, I still decided to go early in the day, mostly out of fear—after all, it takes just one mishandled tiki torch to turn a friendly European celebration into an ominous white pride rally—not that that's going to be a problem here, I reckoned pulling into the parking lot.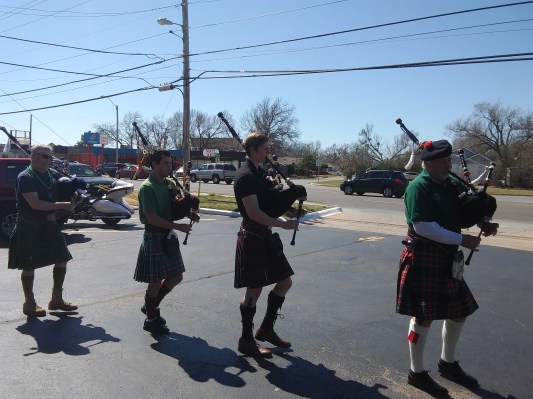 Apparently most of Oklahoma City's Irish populace and their fandom must've had the same idea, with a large contingency of stew-mongers and beer-drinkers waiting out front, having a gay old-time as a cadre of bagpipers came marching down the street—you never really appreciate the sheer intricacies of the bagpipes until you see one up close—playing an old folk-song whose name I really couldn't tell you.
I had invited my long-time pal Jodie along, but I have a stinging feeling she was celebrating the memory of the other saint today is marked for, St. Gertrude of Nivelles, the patron saint of cats and cat-lovers. As I gave the frazzled doorman my name, the crowd behind me continued to grow; instead of waiting around there, we headed to the lonely beer garden behind the restaurant, waiting for our table to be called the old-fashioned way: by hollering.
While a group of men, decked out in green from head to toe, stood around clutching the clear Solo cups and telling wild tales of roguish adventure, I asked the bartender what's the most Irish drink they got; without thinking twice, he saddled me up with a pint of Guinness and shot of Jameson—two lusty spirits I have never had before. "Cheers!" I said as I downed the fine thing.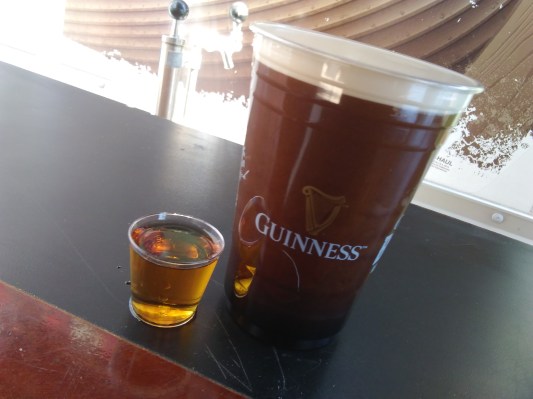 Having taken my morning meds just about an hour or so earlier, they combined quickly with the booze to give me a nice warm feeling, like I was wading in a foggy bog, somehow giving birth to a small group of Sluagh babies. Actually, it turns out I just had to use the restroom, forgetting how fast liquor runs through me. Luckily they had portable-loos in both the back and front.
Obligatory alcoholic beverage imbibed, our table was called and walking inside, it was an easy sea of green derbies and shamrock beads. As I was quickly brought a water to diffuse any remaining alcohol in my body—that how it works, right?—I ordered from their special St. Patrick's Day traditional menu, a mór-sized bowl of corned beef and cabbage ($13.00), delivered quickly over the singing and clapping of the live band and the audience participation that followed.
As I slowly partook in the tender corned beef and the wonderfully tart cabbage—and hey, two fat potatoes that were buried underneath—it felt like, to me at least, that Jodie and I probably had probably the most Irish conversation of anyone there, talking about our troubled histories and delicate families, from stark alcoholism to parental violence, and how it's affected us, as now, forty-year olds and, more positively, how we got mostly past it.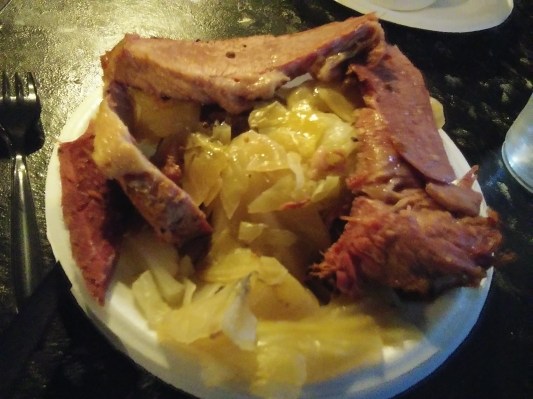 As the folk band finished their set with that one tune that goes "Hum-die-hum-die-hidy-ho…" I realized it was probably time to hit the high road and let the true Irish who've been waiting outside in the invisible mists of Oklahoma City to take our table. Sobered up just enough, there was beautiful music in the air to walk us out, told in a sweet language we could all understand.
If I wore a cap, I definitely would have doffed it to Sean Cummings Irish Restaurant and Pub and the joyous celebrants of this holiday and their love of their heritage—I believe I understand St. Patrick's Day now and it felt good to celebrate it with others. So good, that when I got home, I looked at a picture of my long-gone Irish grandmother and thanked her for this sort of homecoming.
_
Follow Louis on Twitter at @LouisFowler and Instagram at @louisfowler78.
Stay in touch
Sign up for our free newsletter