Everything Else
Ctrl+Alt+Delete: Sellout Crowd pulls Tramel article linking Stoops to A&M job…
11:46 AM EST on November 21, 2023
It looks like selling out may not be as fun as some people thought.
Thanks to the Ogle Mole Network, we have learned that Sellout-Crowd.com – the new Bob Stoops / Toby Keith-funded Oklahoma sports media outlet – mysteriously deleted a Berry "Boomer" Tramel column that suggested Bob Stoops as a possible candidate for the Texas A&M head coaching job. 
That news is kind of interesting and relevant because as I mentioned about 30 words ago, Bob Stoops is one of the main investors in Sellout Crowd. He's also the primary driver of YouTube page views and eyeballs for the fledgling "How is any of this sustainable in the long term?" sports media outlet. 
The article was published on Thursday, November 16th with the headline "Berry's college football buffet: Hey, Texas A&M, hands off Stoops, but give Lincoln Riley a call." 
I guess the food on that buffet went cold, because the article was soon deleted.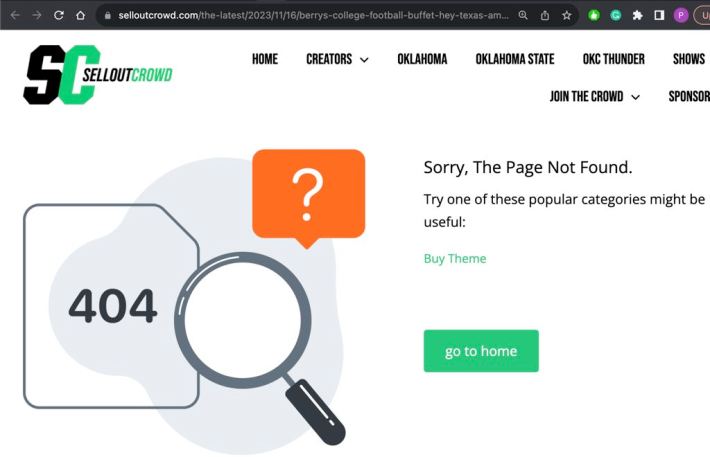 Fortunately, Internet cache is a cool thing so an archive of the column remains up for now. In it, Berry rattles off an innocuous list of possible candidates for the Texas A&M coaching job. He listed Stoops Number 8.
Check this out: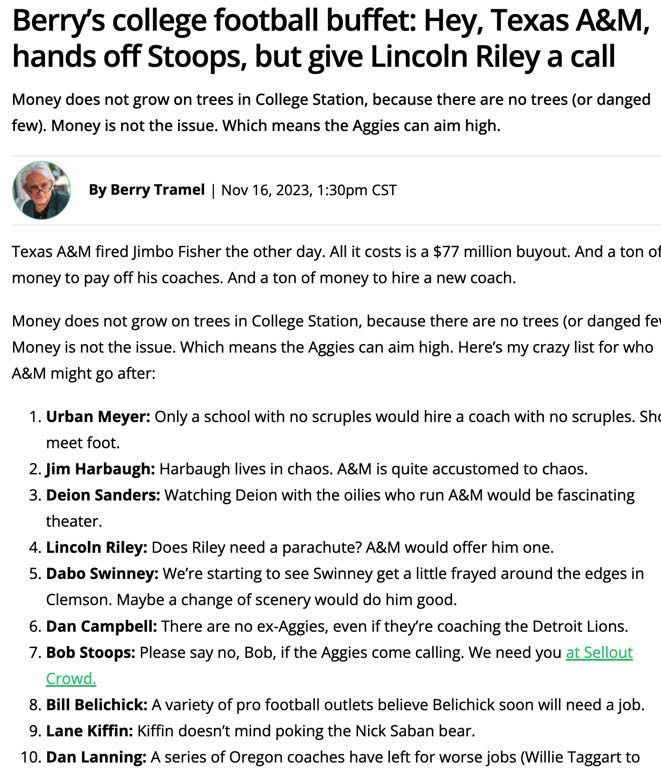 In all honesty, that seems pretty harmless. 
Well, unless you're a highly sensitive, image-conscious, overly-aware former college coach who funds the platform the article was published on and you're either A) interested in the job or B) don't want your friends, colleagues and coaching buddies to perceive that you're lobbying for the job.
In either case, I could see you saying to hell with journalistic freedom and asking for the article to be taken down, especially when you're name is the clickbaity part of the headline.
Okay, okay. I'm just kidding. 
I'm sure it's just a massive coincidence that the one article on Sellout-Crowd that suggested Bob Stoops as a candidate for a big-time head coaching job was removed. No conspiracy here at all. I bet Ed Murray accidentally deleted it while trying to figure out the WordPress editor.
Also, if you buy that excuse, I have a $ 7,500-a-month Berry Tramel website banner ad I'd like to sell you.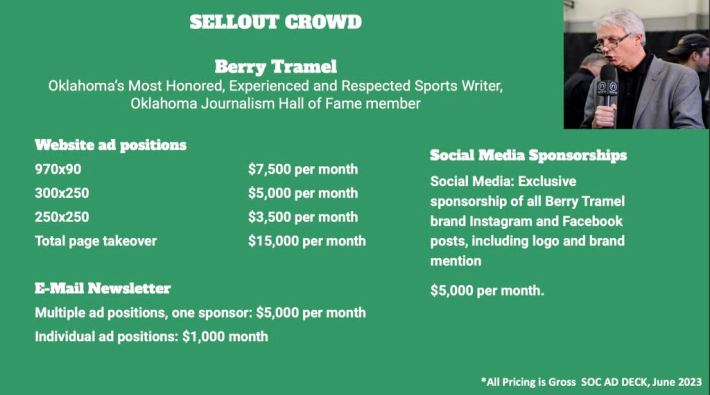 Regardless of how or why the column was taken down, you can't argue with Tramel on one thing – Sellout Crowd really needs Bob Stoops!
Not only is Stoops helping subsidize the website that I can't imagine is anywhere close to bringing in the revenue required to cover its expenses, but he's also carrying most of the content. 
Outside of an article or two when the site first launched, the only Sellout-Crowd content I've really consumed since August is Bob's YouTube interviews with former and current players, coaches and media personalities. Now it looks like that well is already starting to run dry. 
I wonder how many times Mike from Chickasha watched that video? I'm going to guess around 5,000.
Every now and then, people ask me – a sap who's survived as an independent media publisher for 16+ years – for blogging or content advice. 
One thing I'll tell them is that creating the first 10 or 25 or even 50 pieces for a blog or podcast or parody Twitter account is easy. It's the 100th or 500th or 5,000th that shows whether you're made for this medium or not.
I think Stoops could be realizing that. It's fun and easy to scroll through your contacts and have Venables or Baker Mayfield or Matt Leinart or Kirk Herbstreet come on your show as a favor and and get some Internet eyeballs, but who's going to be guest #86 in mid-May of 2025 when all the newness wears off? 
"Hey, Coach Stoops here. Happy to be joined today on the show by Bubba Moses. Bubba? How are you doing?"
Seriously, will Stoops still be as interested in this little project when that burnout wall hits, or does none of that matter because he'll be coaching on the A&M sidelines instead?
It would be interesting to get Berry Tramel's thoughts on that, but something tells me that may not be allowed.
On that note, I wonder how Berry feels about his article being taken down for some – clears throat – unknown reason.
I'm sure one of the selling points of Sellout Crowd was that he'd have more freedom, flexibility, and control over his content, so having an article mysteriously disappear like the Ghost of Wimgo had to hurt his feelings.
Then again, this isn't the first time Berry's had his thoughts and opinions mysteriously removed from a website. 
During his 2015 feud with Russell Westbrook, The Oklahoman published and then deleted a Tramel column where the scribe claimed Russ disliked Thunder fans simply because the feisty MVP didn't want to talk to an old newspaper columnist. The column was eventually republished with that claim removed.
I thought the censorship was silly then, but considering The Oklahoman's business relationship with the Thunder, I could at least see how it happened.
This feels different. 
The Stoops mention was a throwaway line in a throwaway piece. It was also relevant. Would anyone be shocked if A&M backed up the truck for a popular coach with a national championship on his resume?
If the article was removed simply because a site investor (a.k.a. Stoops) didn't like a logical assumption, Berry must be wondering if being a sellout was worth the price.
Stay with The Lost Ogle. We'll keep you advised.
Stay in touch
Sign up for our free newsletter