Everything Else
The real reasons why Tulsa King ditched Oklahoma…
The ruling class is blaming Oklahoma film incentives for the show's departure, but there's more to the problem.
11:21 AM EST on February 22, 2023
Farewell, Tulsa King. We hardly knew thee.
Last week, Brandy "BAM!" McDonnell with The Oklahoman reported the worst kept secret in the Oklahoma film industry. 
Tulsa King – the Sylvester Stallone mafia dramedy that was set in Tulsa and filmed in Oklahoma City – will not shoot Season 2 in Oklahoma, abandoning this Paris of the Southwest turned scorching Hell on Earth for (possibly) Dallas.
The people at Prarie Surf Media – the Oklahoma Ruling Class-backed film studio where most of the first season was filmed – put on their acting faces and tried to spin this disappointing news into a positive.
Here's what actress Rachel Cannon – a former TLO "Hot Girl a Day in the Month of May" and BFF to Rick Walker – told BAM! about Sly Stallone's punch to the local film industry's gut.
"We loved hosting this incredible series for its first season and wish them the best wherever they land," Rachel Cannon, founder and Co-CEO of Prairie Surf Media, told The Oklahoman Wednesday, confirming that the production won't be returning to Oklahoma to film its second season.  
"As we continue to grow this industry into something that competes with states like Georgia and California, we can't be disappointed if productions need to go somewhere else to fulfill their financial needs. This was a win for Oklahoma. Full stop."
Yep, don't be disappointed, Oklahoma. We just had a popular prestige series that's set in Oklahoma skip town like a mafia hitman on the run after only one season. This is a win for Oklahoma. Full stop. 
Or is it?
I asked around the Ogle Network, and although more easily accessible, less complicated film incentives from other states definitely have something to do with Tulsa King and other productions not choosing to film in Oklahoma, there are other reasons, too. 
In fact, there are so many that it begs the following question:
What's the point in trying to compete with the Georgias and Californias of the world if we can't compete with them?
Not only can these states offer better incentives, but they also have other built-in advantages, like fully equipped and accessible studios, access to more crewmembers, better weather, and not as many batshit crazy politicians. 
For example, according to one Mole, Prairie Surf wasn't fully prepared to handle a production the size of Tulsa King. I've heard the studio was selected by Tulsa King producers site unseen, something they later regretted after touring the site and seeing how hastily it was put together. That wouldn't happen in places like California or Georgia, would it?
Staffing is an issue, too. 
Although we have a lot of good, hardworking people who work in the Oklahoma film industry, one knock on our state is that it's hard to find enough locals who are qualified to work on multiple large-scale productions that are taking place simultaneously. We have some talented folks, but not enough of them. As a result, lots of productions have to bring in workers from other states to fill the roles that you'll see quickly scrolling by in the end credits. 
Update: I received this email after the article published: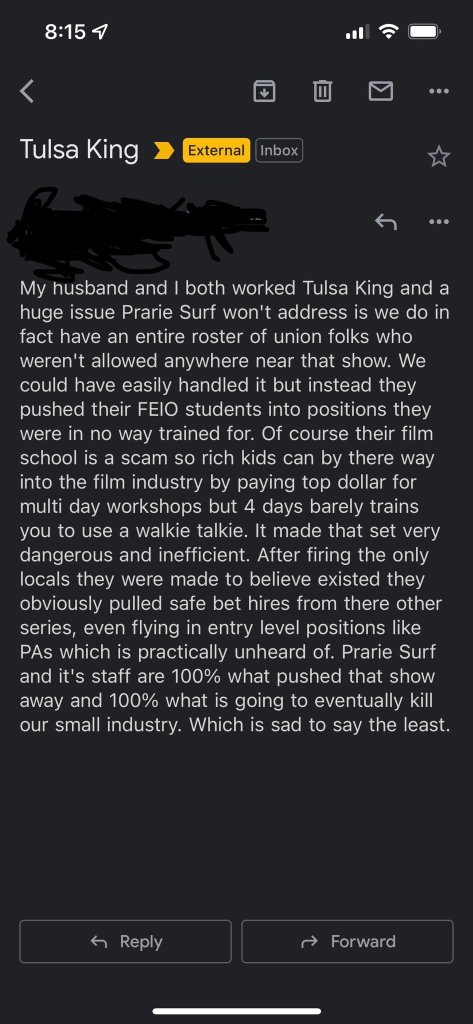 Now, let's talk about the weather. 
As we noted last August, Sylvester Stallone – an executive producer of the series – was so traumatized by the Oklahoma heat that he complained about it to Andrew Dice Clay in an Instagram thread. Remember that?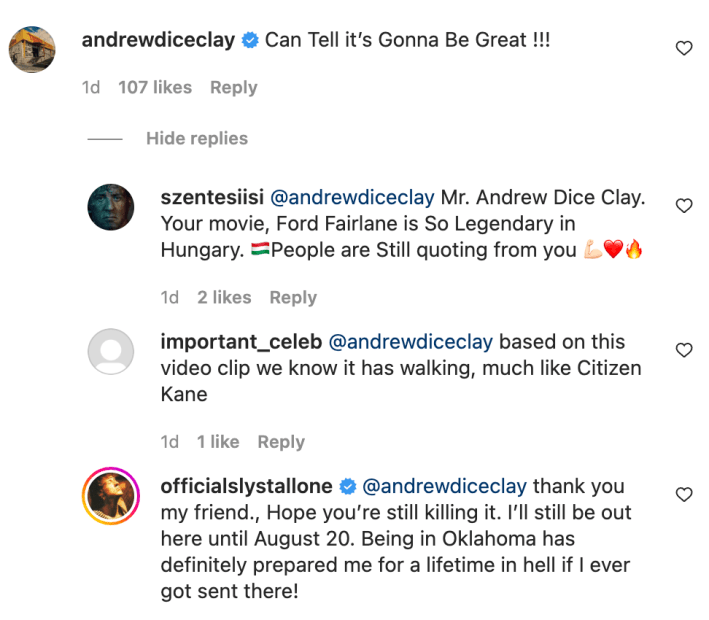 Sly wasn't the only executive producer of the series to bitch about the heat. In an interview with the Tulsa World, series showrunner Terrance Winters complained about it, too:
Winters said filming in Oklahoma was challenging and wonderful at the same time.

"I had no idea how hot it would be," he said. "I don't think anybody did. When we first got there, it was freezing and then, within days, it was 106 degrees and then stayed that way for like five months. You guys are probably used to that, but we were like, 'What the hell just happened?'"
Let's be honest. If you were Sylvester Stallone – or any sane human – would you rather film a rooftop scene on the top of a building in Bricktown in July while your make-up bakes to your face like a cake, or on a studio lot in California where the cool breeze from the Pacific daintily blows through your hair? 
It's not a difficult question to answer. 
Lastly, let's not forget how Oklahoma's right-wing authoritarian political complex could have played a role in the decision.
Around the same time Tulsa King was being filmed in Oklahoma, California Governor Gavin Newsome was placing ads in magazines encouraging storytellers to "take stock of their values" and boycott Oklahoma: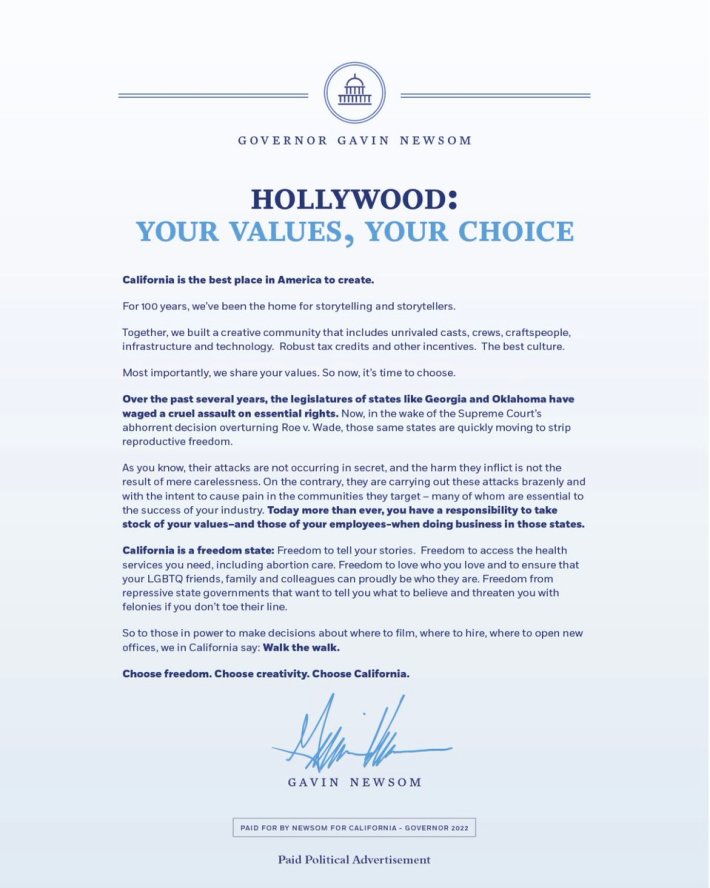 I have no clue if Gavin's anti-Oklahoma campaign had anything to do with the decision of Tulsa King producers to pull out of Oklahoma. With so many other strikes already against the Oklahoma film industry – complex incentive process, small worker pool, insane weather – it probably didn't matter. 
Although it sucks that Tulsa King isn't going to film in Oklahoma and give a boost to the local catering industry, there is one big positive: 
We no longer have to pretend to care about Tulsa King!
The main reason Louis wrote about the show was to see what OKC sights and sounds snuck their way into the series. With that fun angle now gone, we can forget about Tulsa King and toss it in the "Set in Oklahoma but Filmed Elsewhere" trash heap, along with Saving Grace and Watchmen.
Actually, Watchmen was really good, so I take that back.
Anyway, if you have any details about Tulsa King, the Oklahoma film industry, and/or if Twister 2 is going to be filmed here, shoot us an email on the Ogle Mole tipline. 
Stay with The Lost Ogle. We'll keep you advised. 
Stay in touch
Sign up for our free newsletter