Everything Else
Gavin Newsom asks film industry to boycott Oklahoma…
4:54 AM EDT on August 5, 2022
For the most part, I'm a fan and supporter of the local film industry, especially when it involves getting drunk at DeadCenter.
Sure, it's overly subsidized and generates lots of tax breaks for the local ruling class – and it gets annoying to see "David Holt: Celebrity Hunter" in action – but I have a lot of friends and colleagues who've worked on local productions, and for the most part, it's been good for them.
Plus, let's admit it – it's fun to have something filmed in Oklahoma being streamed onto your TV screen and it not involve a tornado. Well, unless you're watching Twister... or Reservation Dogs.
Anyway, I bring this up because California governor Gavin Newsom is now asking Hollywood studios to boycott Oklahoma.
I guess he's mad that Oklahoma's controlled by regressive right-wing politicians who want to trample on people's rights and limit their personal freedoms based on the interpretations of a 2,000-year-old book of myths and fables.
Here's a full-page ad he placed in Variety. Check it out...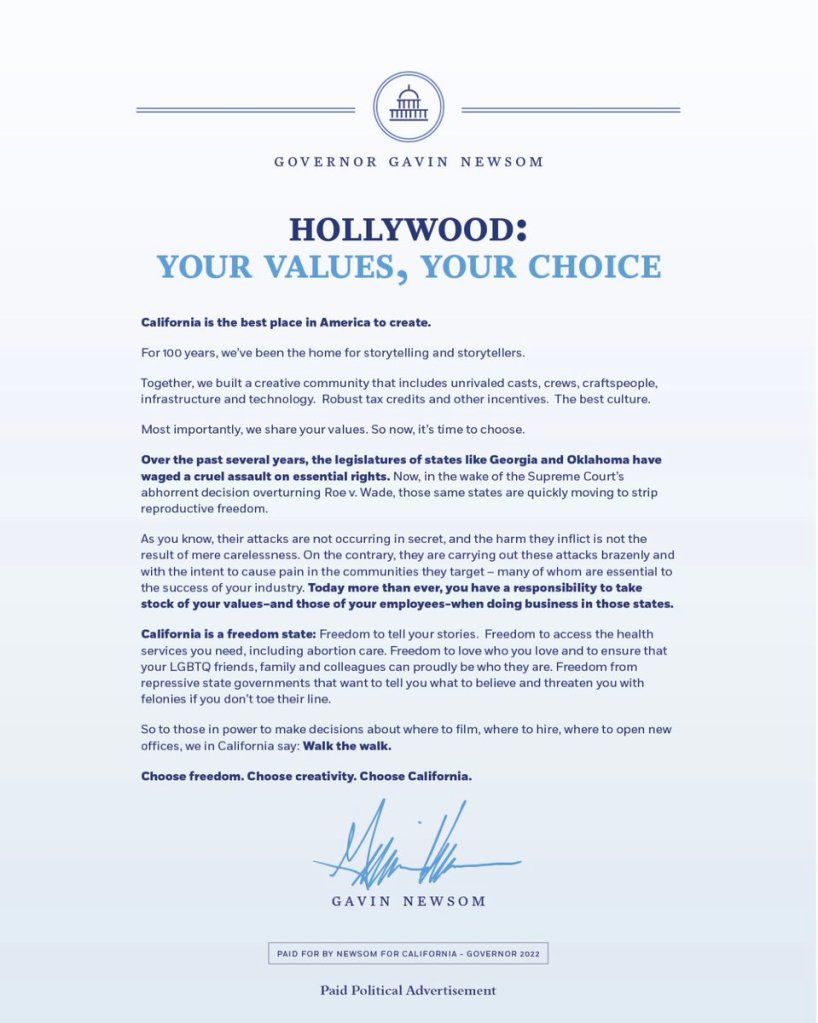 Yep, the Governor of California is now imploring the film industry to abort Oklahoma over abortion. You have to love that irony.
For what it's worth, I kind of like Gavin Newson. He seems like a fun guy to have a conversation with at something like the Catalina Wine Mixer, but I disagree with him on this.
First of all, I would guesstimate that 80% of the people who work in the Oklahoma film industry are pro-choice and all in favor of LGBTQ-ETC rights and freedoms. As if these folks weren't being punished enough for living in Oklahoma this summer, now you want to take away their employment? If you do that, how will they be able to afford to drive to Kansas for an abortion?!
Also, I think boycotting a state is stupid and sets a weird precedent.
Although it's not my thing, I can see why people may want to boycott businesses like Hobby Lobby, Chick-Fil-A or – in James Lankford's case – Ben and Jerry's over cultural wedge issues. But those are corporations! Worst case scenario, it goes out of business and the innocent employees who chose to work for the dumb corporation find new jobs.
It's not that simple when it's a state. Lots of people in Oklahoma, me included, think our dystopian laws are insane. Why should we be punished because we just happened to be born here, have friends, family, and a life here, and for whatever reason, never escaped? What are we supposed to do? Flee to California and live in poverty. We know how well that worked out last time around...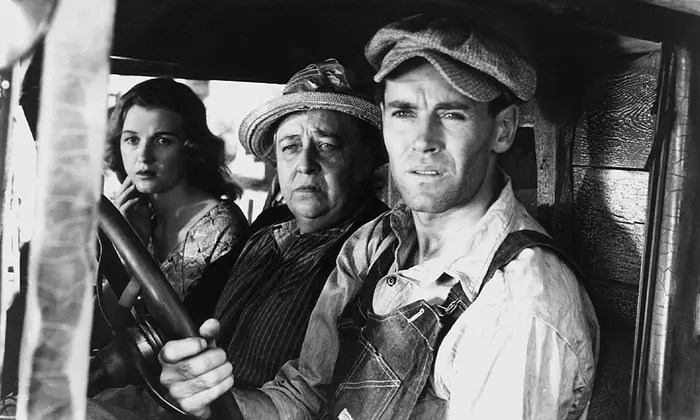 The national media covered Newsom's letter, but primarily focused on the Georgia aspect.
The New York Times, however, did go to Governor Stitt's office for a comment. This is what Carly witched up for him:
"I was happy to name Gavin Newsom Oklahoma's Economic Developer of the Year Award in 2021 and I'm glad to see he's making a run for two years in a row," Gov. Kevin Stitt of Oklahoma joked in a statement on Wednesday. Mr. Stitt took a similar jab at the California governor last year in reference to the state's pandemic shutdowns, which Mr. Stitt said drove business to his state.
Hey, at least there's one Governor out there bringing business to Oklahoma! Kevin Stitt can't even beat out Kansas for a battery plant.
For what it's worth, Carly was proud of her slam. She took a break from leaving a trail of bread crumbs at Martin Nature Park to fire off these tweets:
You know, maybe Carly should spend less time attacking Governors of blue states and more time addressing her boss's desire to strip people of rights and cement Oklahoma's place in the Bottom 10? Just an idea.
Anyway, I guess we'll continue to follow this story and provide any relevant updates. If you work in the film industry and know of any productions packing up shop over Oklahoma's regressive and draconian laws, shoot us an email.
Stay with The Lost Ogle. We'll keep you advised.
Stay in touch
Sign up for our free newsletter