Food
TLO Restaurant Review: Cotton Patch Cafe
10:08 AM EST on December 6, 2022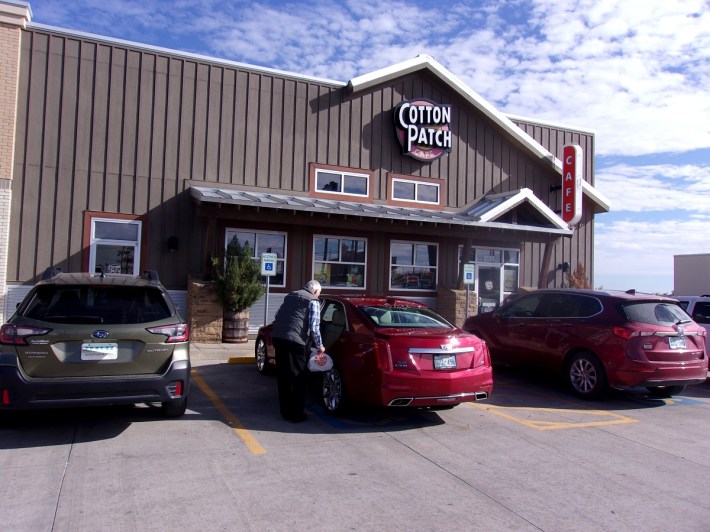 After a rousing chorus of "You'll shoot your eye out kid!" for the people in the back—more on that tomorrow—I recently decided on lunch in Chickasha, looking forward to what I figured would be the quiet sounds of an old-time restaurant named Cotton Patch Cafe, only to discover it's a Texas-based chain establishment rockin' hard country and even harder arteries.
But it was not the signage I was worried about—instead, it was surviving my meal!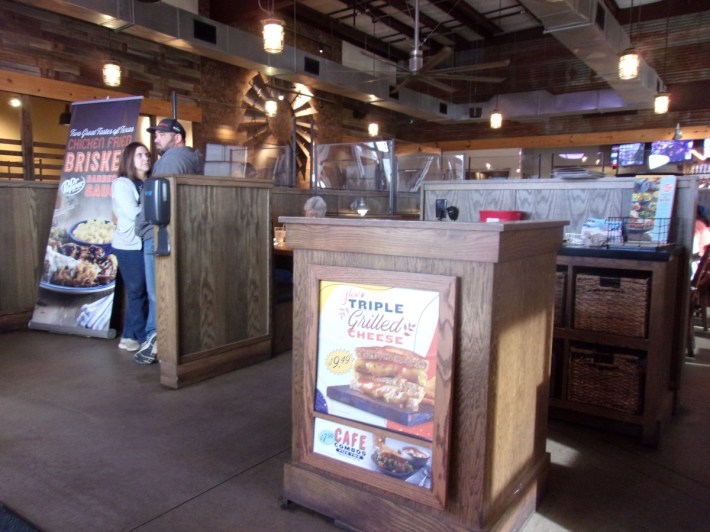 The Cotton Patch Café, 2135 S. 4th St., is like an Oklahoma restaurant run-through the Texas machine, perverting the fried culinary treasures of both states for artery-clogging enjoyment.
Featuring "scratch-made, Texas-inspired food" (a.k.a. deep fried), it proudly features one of the most unhealthy menus on either side of the Red River. Sure, they offer some salads and typical veggie sides like broccoli for city-living socialists who care about their health, but they're best known for chicken-frying anything and everything for any hungry boot-strapped family...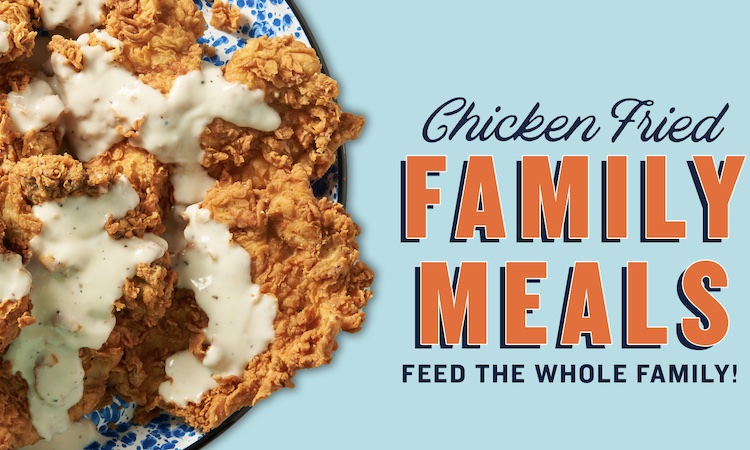 When in Rhome, Texas, I guess, I figured I would start my meal and sign my future heart scan with a Texas-sized appetizer – chicken-fried bacon.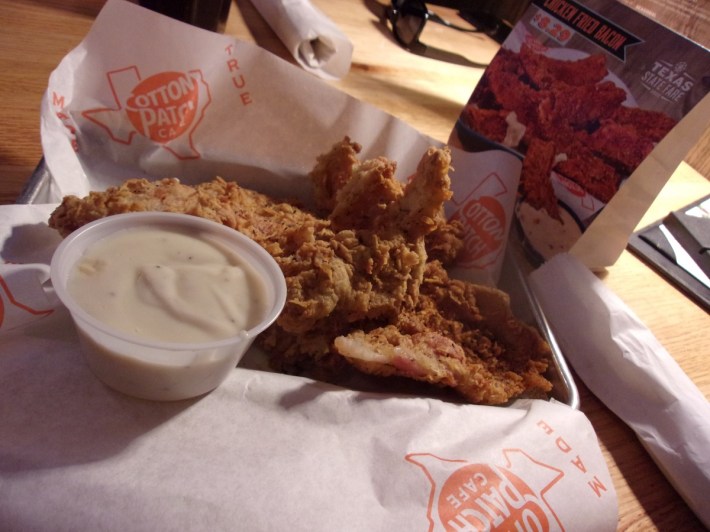 Caloric debasement engaged, I knew my fate was sealed when the appetizer came out and hit my quivering lips. Basically, thick strips of bacon are hand-breaded and Southern-fried, served with creamy gravy or ranch dressing. It's everything you think it is, and sadly, it is.
I know it is an appetizer that most people side-eye with amazing confidence, but, truth be told, it's really good. God's wrath as a starter meal, every strip is comparable to one-hundred lashes with delicate bacon and its flavorful casing—this meal is very salty, very greasy, and very porky.
After that starter, I guess anything would compare to diet food.
Stay in touch
Sign up for our free newsletter
My main dish was the Chicken Fried Brisket ($15.29), comprising of two cuts of smoked brisket – yes, brisket – once again, hand-breaded and Southern-fried and topped with Dr. Pepper barbecue sauce, creating a Frankenstein's monster of bad choices.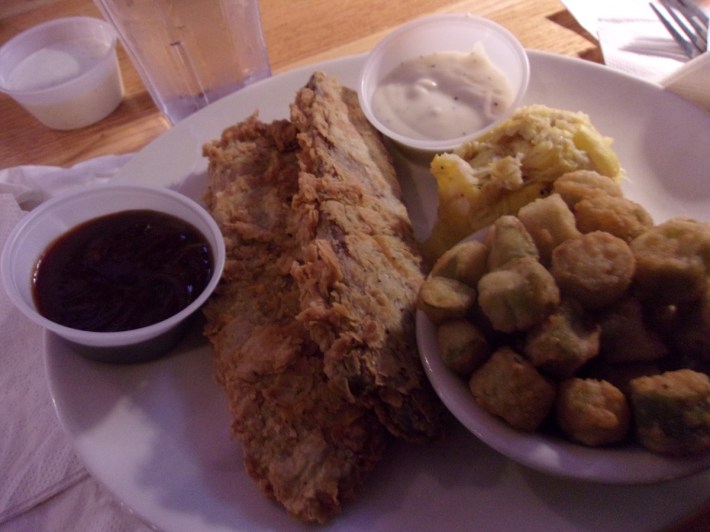 I went with the sweet Baked Squash and Fried Okra for my sides. They were quickly put to shame after a few bites, because this brisket was, sad to say, wholly incredible.
As my incisors ripped into the flesh, the golden crust hung tight to the meaty muscle, sending a rush of flavors (and plaque) to my body's inner veins. It was animalistic, carnal, and other descriptors, as I stopped at a belabored breath.
Pushing the meal out of my way, I tried the extraordinarily rich Dr. Pepper Chocolate Cake ($6.49). After a bite or two, I realized I had to exorcise the demon of gluttony…no more, I cried!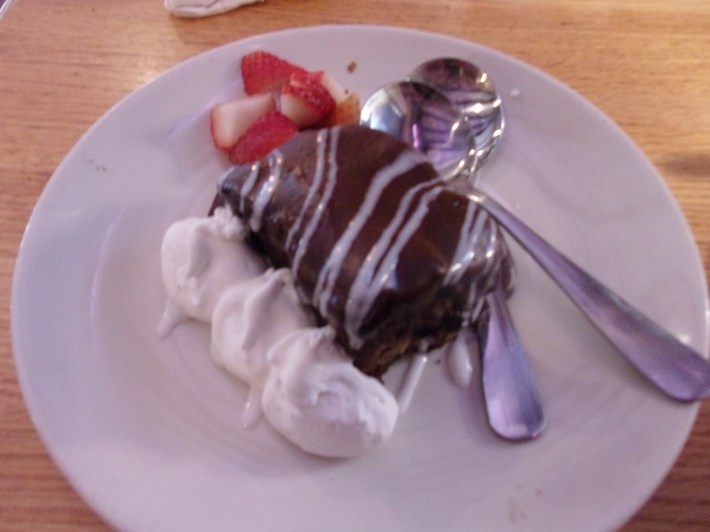 At that moment, I needed a salad, stat – preferably one that wasn't chicken-fried. Maybe I'll try that the next time I'm in Chickasha at a Texas-based chain restaurant with an old-time name.
Cómpralo ya!
_
Follow Louis on Twitter at @LouisFowler and Instagram at @louisfowler78.
Stay in touch
Sign up for our free newsletter