Food
TLO Restaurant Review: Sean Cummings' Irish Pub
3:54 AM EST on December 14, 2021
Editor's Note: As Louis Fowler continues to recover and rehabilitate from a stroke, we're going to republish – per his request – some of his favorite TLO Restaurant Reviews from over the years.
With St. Patrick's Day around the corner, today we're featuring his December 2021 write-up on Sean Cummings' Irish Pub on N. May. If you'd like to donate to Louis's stroke recovery fund, please do so here.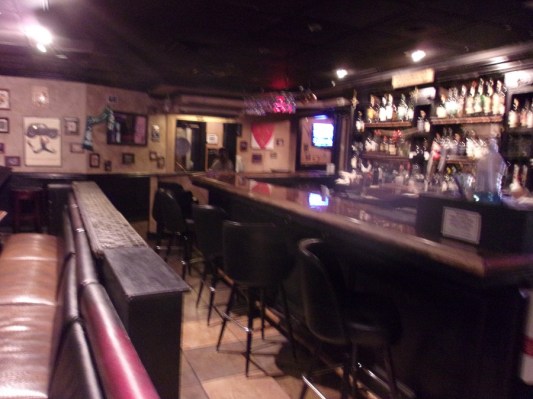 TLO Restaurant Review: Sean Cummings' Irish Restaurant
I've become as well-acquainted with Irish food as a person living in the middle of Oklahoma possibly can be, capping the year off with a hungry-eyed trip to see the lads and lasses of Sean Cummings' Irish Restaurant, 7628 N. May Ave.
While, over the past few years, I've celebrated St. Patrick's Day out there—a cabbage-heavy first!—as well as cook a somewhat stellar dinner from Cummings' own cookbook, I have always wanted to have my own private dinner there and, as I crept in last weekend, the darkened pub welcomed me with open arms as my friend and I found a poorly lit spot somewhere in the corner.
Even though I've never been to an Irish pub before—Bennigan's doesn't count, right?—Cummings' place is the closest thing I can compare to what I think the real thing might be like; until the day comes when I'm in Ireland knocking back a few pints, I think this place'll do just fine, I thought to myself as I ordered the night's illustrious supper.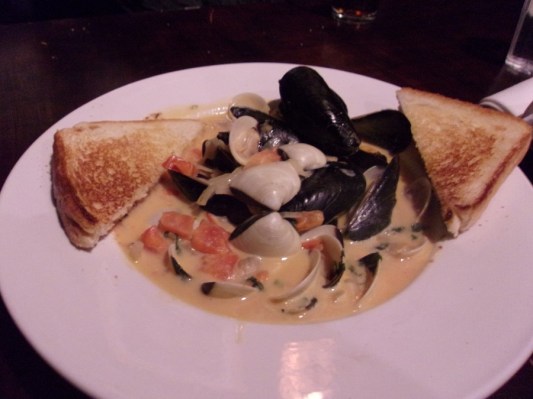 We started with the Harp Steamed Mussels and Clams ($11.99), an appetizer that, honestly, I had no idea was Irish. Regardless, a bowl was brought out containing the two different prized sets of mollusks, absolutely swimming in a rich yellow sauce, which I quickly learned was a Harp beer cream sauce, with bits of garlic, tomatoes and shallots mixed throughout.
Once I got started on the bowl, it was very hard to stop. As I cracked open one clam after another—or mussel, if you will—though I was supposed to take them out with the wee fork provided, like a seafaring beast I ripped out the tasty viscera, stopping only to dip in the rich cream sauce. I had never had this kind of seafood before and was already obsessed.
Sadly, they were all gone long before our main dishes showed up.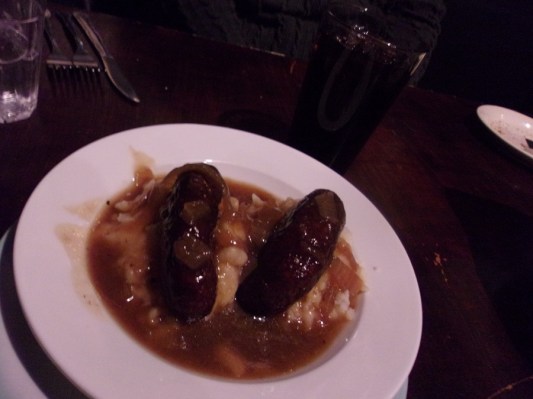 Choosing wisely from the Traditional Foods section of the menu, my friend partook in the classic Bangers and Mash ($11.99). While it sounds like an American euphemism for cockney-derived intercourse, it is actually a pair of well-cooked Irish sausages, plenty of mashed potatoes and, what else, brown onion gravy for the masses.
While I've had so many piss-poor variations of this dish, here was the first time that I feel it was truly done the way it should be; on a bed of homemade mashed potatoes covered in that slick brown gravy, the two bangers were pieced up by a sturdy fork, eaten up with delicious gusto in an emerald whirlwind of hunger, repeatedly banging my mouth into submission.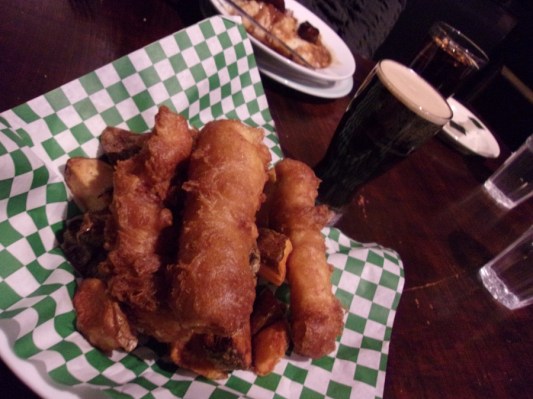 After I took a sip of my strong-enough Guinness beer—just a small one though, for private reasons—I dove my fork headfirst into the blessed Galway Fish and Chips ($12.99) and brought up a perfectly coated bite of beer-battered cod, stopping only to dip the tender fish in the beautifully malted vinegar, one of my favorite condiments.
It was everything that I was hoping it would be, as the full bite of malted vinegar tightly held the cod in place as I cut up the whole filet, bathing it in the blissful tartar sauce maybe once, possibly twice. Adding tangy insult to tasty injury, the large hand-cut French fries were the perfect respite between bites of cod.
It doesn't get much better than that, I thought to myself, brining another bit of fish to my lips.
While I thought about mildly foregoing dessert, the Bread Pudding ($8.00) was the perfect ending to the perfect dinner, with every bite melting away in my loving mouth. As I pushed the remaining eats away and paid the check, I shockingly started to realize that Irish cooking might be one of my favorite culinary disciplines. Sláinte!
_
Stay in touch
Sign up for our free newsletter