Food
See Ya Later, Alligator: A Birthday Dinner at Trapper's Fishcamp
8:44 AM EDT on September 9, 2021
All I typically want for my birthday is for someone to take me out to a moderately pricey dinner. It's the one wish I tell multiple friends when they ask, resulting in, typically, multiple delicious dinners to write about. Ain't I lucky?
This year, one of the first I received was an all-expense-paid trip to Trapper's Fishcamp, 4300 W. Reno, to edibley exploit one of my absolute favorite dishes – Alligator.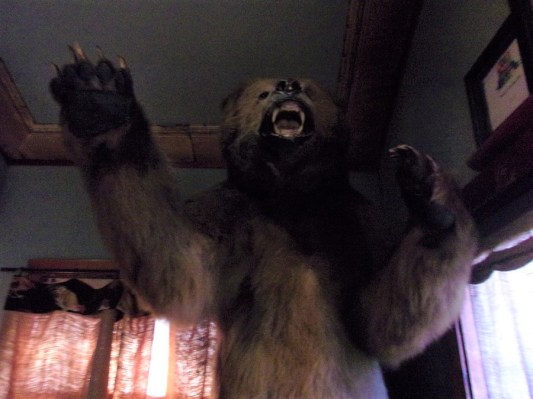 The last time I had this carefully cooked dish at a restaurant was some 25 years ago on a date at the late and lamented Kodiak on Memorial Rd. I'll never forget it because it was a rather memorable high school set-up where I fell in love not with the girl, but the forbidden food that I had been warned about repeatedly by multiple Baptists because, apparently, it was a sin against God to eat a reptile.
While God—or their odd interpretation of Him—might not have liked my culinary choice, I truly became an impassioned craver of these large lizards and their expressed cookability. Sadly, it's a role I didn't take all that seriously, because shortly thereafter I forgot about my new direction in life and, instead, got really into some other new pre-internet food delight.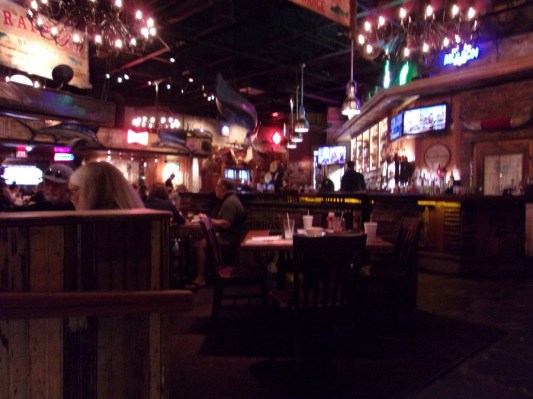 But it was my birthday this week and here I was at Trapper's, a bayou-esque eatery that I have been wanting to try for an embarrassing amount of time due to an embarrassing lack of cash. However, for this personal holiday, I was going to return to the swamp and reclaim that leathery bounty, in this brazenly full den of fish and other seafood.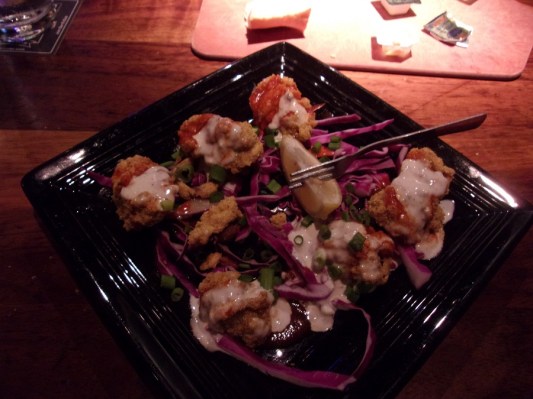 But, before sampling the belly-flopping mud-creature, I couldn't help myself and ordered an appetizer of Buffalo Oysters ($15.00). Trapper's signature dish, it was a half-dozen flash-fried oysters gurgling on Louisiana buffalo sauce and then dipped momentarily in their homemade bleu cheese dressing and, even though I dutifully craved the alligator, it was a tangy treat that warmed my belly most suitably.
Before the oysters were even gone, however, our main entrees arrived, complete with a salad. With whiplash ferocity, my dark, black, beady eyes aimed for the Blackened Alligator Dinner ($21.00). Served on a bed of filling dirty rice with a helping of zingy Creole Meuniere sauce ladled over the top for the desired effect, I dipped my fork deep into the cast iron skillet and took out a hearty helping.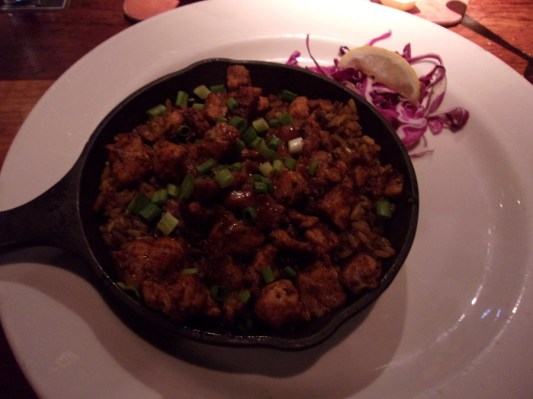 As I bit into the rich alligator meat, diced clean and neat for my visual edification, I slowly enjoyed it as my own jaws of death suckled every bit of taste out of every gamy morsel, giving me that feeling of first love that I had experienced back at Kodiak, but with a true appreciation for the full life that the large reptile lived as I slowly absorbed his fighting, biting spirit into my own being.
With nearly half of the dish gone, I was reaching my breaking point. I packed the leftovers in a container to imbibe on later, with very few people ever reaching the heights of happiness that I was currently embracing.
As a surprise, my friend ordered a helping of Bananas Foster ($11.00) and, as much as I rightly enjoyed it, there's still a part of me that wanted to sprinkle alligator bits all over it as well.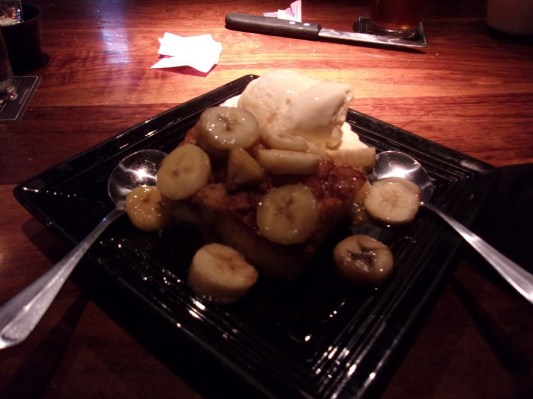 _
Follow Louis on Twitter at @LouisFowler and Instagram at @louisfowler78.
Stay in touch
Sign up for our free newsletter