Oklahoma Business
The Pony Express: In the Stables with the Express Clydesdales of Yukon
4:32 AM EDT on October 8, 2020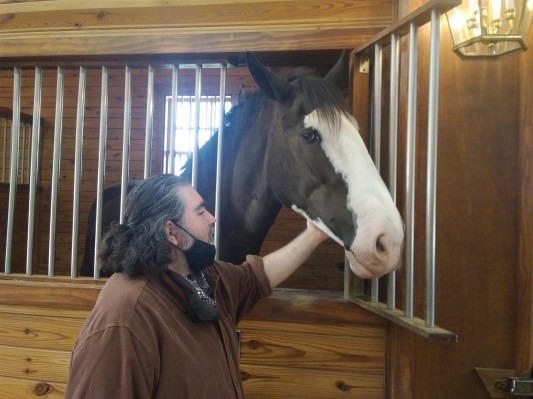 I am fortunate enough to have been in the company of horses for a large part of my life, first when I grew up on a farm in Texas to, most recently, my mother's stables in Slaughterville. I adore those moments when I run my warm hands up and down their tight, taut musculature, holding them closely as I breathe in the musk on their neck, their mouth chomping at my lush hair like it was darkened hay.
It might read like a line from a Peter Shaffer play, but, I promise you, it's really not that erotic.
That being said, I had no idea there were stables that housed famed Clydesdales anywhere near here, let alone in Yukon—12701 W. Wilshire Blvd., to be exact—but last week when my ladyfriend asked if I'd like to take the day off to visit them in their well-made homes, I said of course; she called and made the necessary arrangements for an afternoon visit.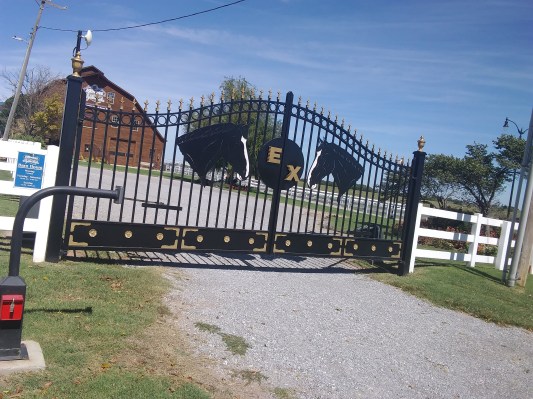 Under the charge of Express Employment Professionals and their subsequent ranch, the Clydesdales are a part of Oklahoma pageantry now, typically showing up to pull the vaunted Express wagon with a full team of these six or so gentle giants, like they did not too long ago for the Rose Bowl Parade.
Showing up a few minutes early like I am wont to do, we parked on the gravel road and waited by the closed gate with a big E-X on its frontage. Nearby, a pair of free-range Clydesdales came up to us and starting sniffing me, resting a soft chin on my heavy shoulders. As I patted him gently on his wide jaw, a few small children came up, scared at first but, once they saw me caress him, their fear slowly dissipated.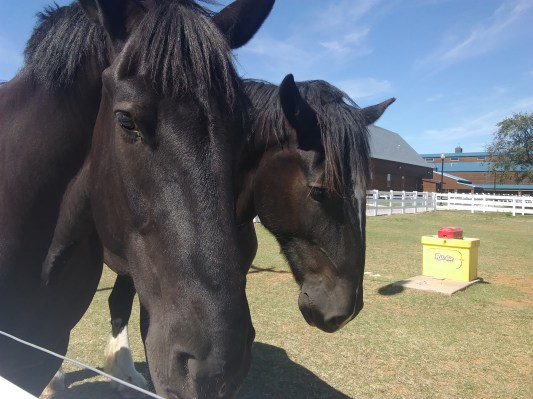 I sure am glad the horses didn't pick that moment to go mad, the picturesque scene would have been absolutely ruined.
To get to the substantial barn, you had to walk another small gravel road up, passing a selection of gorgeous toy horses, with one Paul Williams-esque equine obviously aroused and continually trying to enter the much bigger horse in the stall, to absolutely sad effect. I'm sure there's a lesson about life somewhere in there, but I'm not sure about what yet.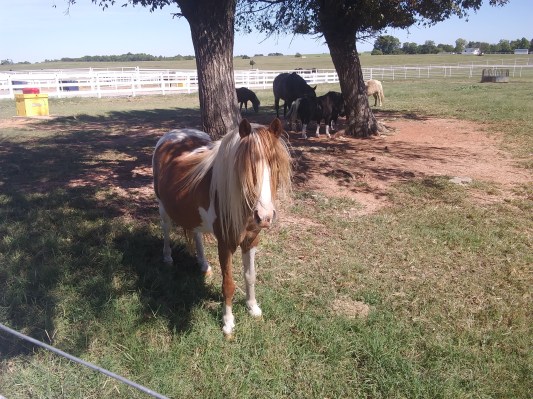 Once inside the barn, a cool breeze blew through the wide-open doors, kicking up bits of hay and dirt. At the beginning of the free tour, the farmhand gave us a few sensible rules and then let everyone go, the Clydesdales desperately putting their personalities on parade for the eager visitors. Some would gnash their teeth wanting treats, while others kicked the stall hoping to get a little attention.
And while they were all special in their own way, the one that I'll always remember from this visit is the mighty stallion known as Prize. A towering presence, while at first his 1500+ pound frame (I'm guessing) seemed intimidating, he very quickly revealed himself to be a big baby, wanting nothing more than pets, hugs and kisses, all of which I happily gave him.
At one point, when I started to walk away, he picked up a few mouthfuls of hay and started to dump the straw outside of his stall, obviously wanting me to come back and feed it to him, very much a human trait that made us laugh and, honestly, tear up a little when we had to say goodbye for real. I could have taken him home. I should have taken him home.
Taking a few scant minutes to check out the small museum, the small gift shop and the massive event center upstairs in the loft, after an hour or so we reckoned it was time to leave, many of the people in our group long gone and a new one already making their rounds. An old barn dog followed me out for a moment or two, sniffing and smelling Sean on me, I guess.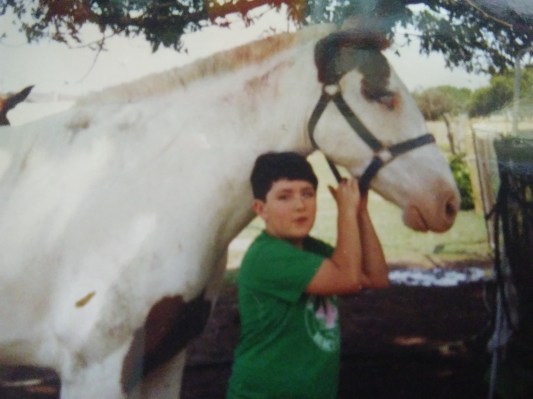 _
Follow Louis on Twitter at @LouisFowler and Instagram at @louisfowler78.
 Support TLO (and, by proxy, Louis Fowler) by becoming an Ogle Mole…sign up here today!
Stay in touch
Sign up for our free newsletter