Everything Else
Tulsa Douchebag Tours Oklahoma In Trump-themed Lamborghini…
10:47 AM EST on March 2, 2020
Over the weekend, one of my Facebook friends shared some photos of a man filling up a Trump-wrapped Lamborghini at a NW Oklahoma City gas station. Here's one of the pics: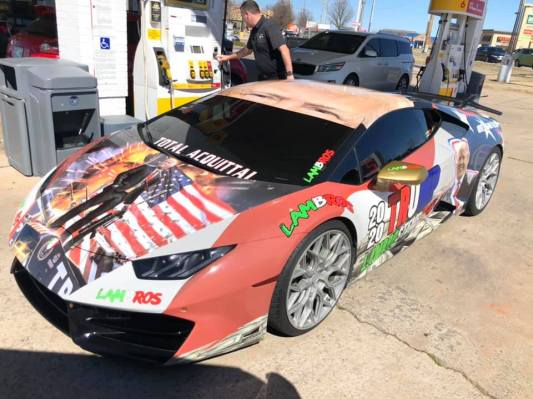 When I saw the photo, my first thought was, "Holy shit! What a douchebag." My second thought was, "I wonder how long it will take the TV news media to exploit this?"
Not surprisingly, the answer to that second question is the same as the size of the man's penis – "Not Long." KTUL filed this report earlier today:
A Tulsa man is using his nearly quarter-million dollar car to show support for President Trump.

Local business owner Steve Currington, also known as Lambro Steve, drives his Lamborghini to spark conversations with people of both political beliefs.

He wrapped his car a couple weeks ago, and has driven it all around Oklahoma.

He said so far the reaction has been mostly positive.

"We have people wanting to take pictures with it, families grandma grandparents, kids just wanting to get a picture with the president on the side of the car," said Currington.
As one who also likes to document and exploit our state's many colorful attention seeking psychopaths, but with maybe a bit more snark and honesty than they prefer, I decided to see what I could find out about local business owner Steve Currington, otherwise known as "Lambro Steve."
After five minutes of research, I'd probably compare him to another famous eccentric Tulsa narcissistic businessman – Biker Fox! The only difference between the two is that instead of riding around town on a bicycle performing front flips – and occasionally posing for photos with a cucumber stuffed in his pants like Biker Fox – Lambro Steve drives a Lamborghini and probably stuffs mushrooms down his pants to look more like Trump!
Lambro Steve apparently made his money – or at least enough money to get a loan to buy a fancy sports car from David Stanley – in the mortgage banking business, through his company Total Lending Concepts. At least that appears to be the most recent one he owns or owned or whatever.
But, don't worry, Lambro Steve is not some shady mortgage banker who's banned from doing business in Georgia like Oklahoma Governor Kevin Stitt. Steve is very credible. For example, he once pretended that a truck he owned was stolen while shooting a Facebook live video to get easy shares, and promote his business.
Via News 6:
Cell phone video captured someone taking off with a man's truck, but was that actually what happened?
A south Tulsa businessman posted the video Friday, asking for help finding the truck, but told News On 6 it was a hoax.

The video went out on social media Friday and received thousands of views. But it was nothing more than a way to attract attention to Steve Currington's business, raising the question, how far is too far?

The video starts with Currington promoting his business, MiMutual Mortgage, and then…

"It makes it easy if you want to, if you guys aren't carrying a wallet…hey, dude, what the hell, hey, hey what are you doing with my truck man," you hear him say in the video.

Currington posted the video on Facebook and asked for help finding his truck. He even shared it on the Bixby Alert Neighbor page and when people asked if it was real, he said "yes."

But it turns out it wasn't.

"The more times they share it, the more times my website is exposed and my truck and company and everything," Currington said.
Playing a hoax like that would make a normal person question Steve's motives and character, but don't worry. If you google Steve's name, you'll find lots of totally legit websites with weird domains where he plays the role of success guru, bragging about how he went from jobless to owning a Lamborghini in less than year – a claim that obviously doesn't gloss over any truth and can totally be believed and consumed on face value.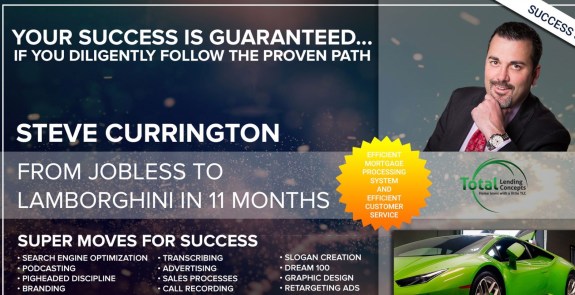 Obviously not settled with being a humble and successful businessman who knows the keys to success, about a year ago Steve decided to try his luck at becoming a YouTube star known as Lambro Steve. He has over 38,000 subscribers, and like any good YouTuber, dozens of videos with sensational titles that are just begging to be clicked by prepubescent boys and other Street Outlaws fans. This one, where a cop dares mess with the wrong lambro, has over 4.5 million views:
Wow. He really showed that cop who was, uh, just doing her job and asking him to move his car.
You can watch more of Lambro Steve doing his douchebro routine on his YouTube Channel. For example, in his most recent video, he begs Fox News to cover – and provide thousands and thousands of dollars in earned media coverage for his business – his Trump Lambo:
Once again, just like with his penis size, I think the wait for Lambro to see his car on Fox News will be "not long." Hell, Trump may even appoint him to the FED! Whatever happens, let's hope Steve accomplishes his goal – use the media to build his brand and sell a bunch of shitty mortgages to Trump rubes.
=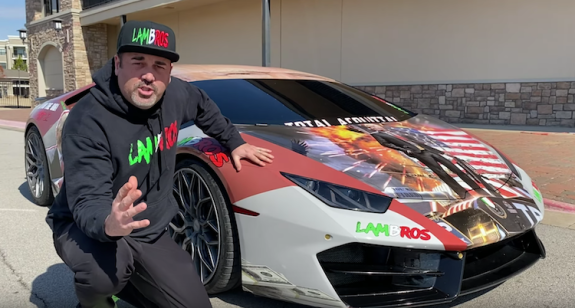 Stay in touch
Sign up for our free newsletter