ICYMI
Oklahoma lawmaker authors bill to help his hunting business…
12:18 PM EDT on May 3, 2018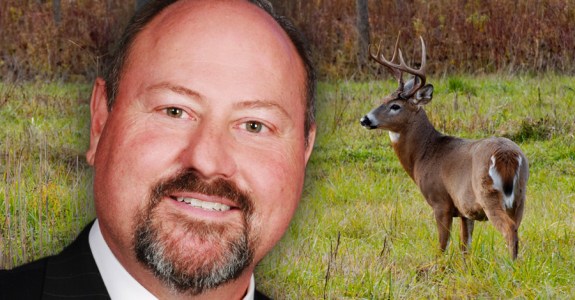 One of the most important duties of being an Oklahoma lawmaker is developing legislation that will help you, your business and your benefactors make more money. In fact, outside of fighting to protect the rights of the unborn through unconstitutional legislation, it's the number one reason most Oklahomans seek office!
State Rep. Kevin Wallace knows this well. He's the co-owner of The Wilderness Refuge. Located in "the big oak timber of Central Oklahoma," the refuge provides pampered, guided whitetail deer hunts so you can safely and conveniently experience the thrill of killing a "wild" animal with high-tech weaponry just like your ancestors did.
He's also the owner of Wallahachie LLC. They breed whitetail deer that, I assume, are used to stock hunting refuges. How convenient, huh? You can learn more about the company via their 2008 website, although they probably do need to update the semen page.
Knowing all this, you probably shouldn't be surprised to learn that Wallace is the co-author of a bill that would allow owners of large wildlife refuges to purchase expensive lifetime hunting and fishing licenses, and then give away unlimited licenses to clients and visitors. Considering the Oklahoma Wildlife Department depends on those licenses to fund operations, they're shitting brick stock feeders.
Here are more details via The Tulsa World:
The kind of head shaking that comes with an unspoken, "I just don't know," was audible in the voice of J.D. Strong on Friday. The Director of the Oklahoma Department of Wildlife Conservation sounded fed up with the state Legislature.
If the bill he is worried about passes and is signed by the governor, Oklahoma landowners who own 500 acres or more and can afford to spend tens of thousands of dollars on a new lifetime landowner hunting and fishing license will be able to hand out as many free fishing licenses as they want to their clients and friends...
The Wildlife Department, which uses no state tax funds and is principally funded by state hunting and fishing license sales and a share of federal excise taxes, claims that the interest return on the initial payments will not cover an expected revenue loss of nearly $250,000 on issue of the lifetime licenses.

Also, department officials expect a loss of another $20,000 to $30,000 because of the additional hunting licenses and special tags to be offered up for free to what will often be nonresident hunters. That doesn't include the fishing license losses, Strong said.

"There is a significant negative impact even if you don't look at the fishing, and that's something we can't even calculate now that it involves handing out an unlimited number of fishing licenses," Strong said.

He added there is a larger philosophical argument to be made about privatization of the state's wildlife that goes well beyond the allowable high-fence operations, which are different because they have to fence off their land, drive out native wildlife and stock their desired non-native exotics.
"In this case you have wildlife that moves from one landowner to another, and one landowner is handing out licenses," he said. "This is not something that is designed for the average hunter. The North American model is that native wildlife belongs to the people of the state, not necessarily the landowner who has the land it happens to be sitting on at the time. This is a step toward a model of he who owns the most land controls the wildlife."
I've never hunted in my life. I'd put fishing up there with watching grass grow and paint dry. I have no clue if this is good or bad policy. That being said, I think I'm going to trust my gut instinct and believe the public servant with the Wildlife Department over the Oklahoma lawmaker who looks like he's just trying to help his business by giving it an unfair advantage over the competition.
On that note, I was asked by a couple of Ogle Moles if this is some sort of of ethics violation. Specifically, item 4.2 of house rules:
4.2 – Disclosure of Personal or Private InterestA member who has a personal or private interest in any bill or resolution, proposed or pending before the House, shall disclose that fact to the House, and shall not vote on that bill or resolution, as required by Article V, Section 24 of the Oklahoma Constitution.
Wow. I'm not an ethics lawyer, but considering Wallace owns a large private hunting refuge and authored and voted on legislation that helps large private hunting refuges, you'd think that would be a clear violation, right?
Well, not according to the Oklahoma Ethics Commission.
I called and asked about the situation. After some legal disclaimer jargon, they suggested it appeared to be fine. They gave me some response like "If the rule was strictly interpreted, voting on taxes would be an ethics violation for lawmakers because all lawmakers have a personal or private interest in taxation."
On the surface, I guess that kind of makes sense, but deep down, it's bullshit. The difference is that everyone, outside of a few corporations, pays taxes, but not everyone owns a hunting refuge. That's why a lawmaker authoring or voting on taxation legislation is not a conflict of interest, but a lawmaker authoring a bill to divert money away from the Wildlife Department and into his own hunting refuge is.
Anyway, I guess we'll follow this and see what happens. According to the Legislature's website, it looks like Wallace's bill is currently stalled and may not pass during this legislative session. Overall, that's not a bad thing for Wallace. It will give him time to amend the bill so that it further improves his business.
Stay in touch
Sign up for our free newsletter