Everything Else
How To Save Money In Oklahoma Classrooms
7:10 AM EDT on July 31, 2017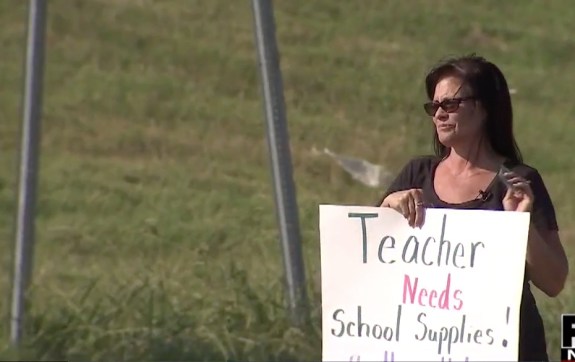 It's been another stellar couple of weeks for the Oklahoma education crisis.
Things are so bad that we cannot afford to educate our educators. Last week over 900 emergency teaching certifications were approved. Being that these new teachers are not necessarily required to have training in education, they may not know exactly what they are getting into when school starts up in a few weeks.
For example, one Tulsa teacher resorted to "panhandling" to buy school supplies for her classroom. Naturally, the story went viral and received a bunch of national attention, so to keep newly emergency certified teachers from also becoming freeloading panhandlers, I have prepared a guide on how to cut corners in every subject to save money in the classroom.
Science
Earlier this year Oklahoma lawmakers attempted to pass a bill that would allow science education teachers to state their opinions on scientific theory in the classroom. You could pay new teachers $32,000 per year to do that. Or you can give my uncle an emergency teaching certification and a six-pack of Coors. That's all you would have to pay for him to give you his opinions on evolution and how it don't make no sense for him to come from no damn monkey when he ain't that hairy. Even though he is that hairy.
-
Art
Thankfully, a box of macaroni at Aldi is only going to run you about 65 cents. Just stock up on a half-dozen boxes, add a little water or spit to the cheese powder to make glue, and you have all the necessary components for making macaroni art. Unfortunately, the kids won't be able to bring it home to show their parents because we have to cut some corners. The art has to go in a pot of boiling water for lunch.
-
Math
Being that nearly 40% of Oklahoma high school graduates must take a math remediation course during their first year of college, many public schools are designing and implementing programs that aim to boost students' ability to calculate a decent tip on a bar tab without using their phones' calculators. I say instead of investing time and money to increase students' competency in math, teach them smarter ways to cheat. For example, before your algebra final write math equations between your fingers rather than on your palm because it is easier to hide.
Boom. There you go, Oklahoma. I just increased your math competency by 20%. And you can't prove me wrong because your lack of math education probably left you without the ability to calculate or interpret percentages.
-
Music
You can buy a CD of Reba McEntire's 50 greatest hits on Amazon for $19.88. That is all the music education you need to be a cultured Oklahoman.
-
History
Instead of spending hundreds of dollars on enough Oklahoma History books for each student, just drop your class off anywhere west of Weatherford. Every one of those small towns are stuck in the sociopolitical past, so your students will get first hand experience of what should be considered Oklahoma history.
-
Physical Education
About a third of Oklahoma children are overweight or obese, which means P.E. is important to make sure students grow up to be healthy, active adults. However, that won't keep us from cutting corners in the classroom. Instead of paying a coach/history teacher to put your students in a game of dodge ball that will give them something to talk about with their therapist 15 years from now, act out the movie DodgeBall by throwing objects at your students until they run away from you. They get exercise and now you have a smaller class size to work with.
-
English
State Representative Mike Ritze suggested that the state could save $60 million by rounding up Spanish-speaking students and "turning them over" to immigration. That seems a bit ridiculous in my opinion, so I am going to propose another solution. Being that the reading ability of most Oklahomans is at a seventh grade level, it seems like we can just cut English for grades eight through twelve and still maintain our literacy rate.
-
Social Studies
It is important for even young students to have an understanding about how our government works so they can grow up to be engaging and educated citizens. For social studies education, I recommend taking a field trip to the state capital so that your students can witness first hand how lawmakers cut education funding in favor of lobbying groups. You just can't pay for that quality of education. Mostly because you can't afford the textbooks to teach it.
-
I still don't update this like I should. Direct all questions, concerns, and whatever emoji-filled millennial stuff you feel the need to share to @squirrellygeek on Twitter.
In my spare time, I officiate secular weddings, read about dead people, and search for the American Dream.
Read More:
Stay in touch
Sign up for our free newsletter