Everything Else
The Continuing Saga of the Downfall of Buy for Less
9:19 AM EST on February 2, 2017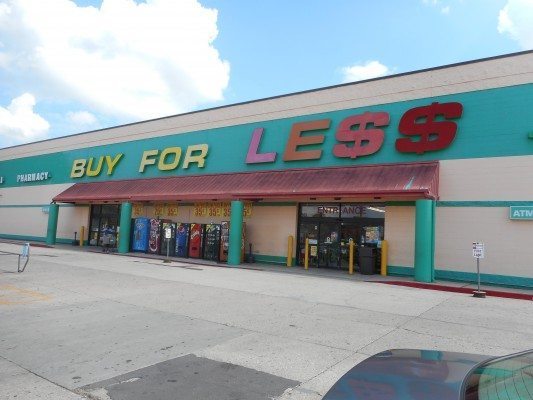 Since the well-dramatized surprise closing of the once-indomitable Buy for Less at N.W. 23rd and Penn, it seems as though the company has been in, what appears from the outside, an absolute freefall. As that building continues to still sit empty, rumors swirl as to the future of the once might discount giant and perpetual TLO grocery favorite.
Recently, tempers rightfully flared over on the Northeast side as an Uptown Grocery (Buy for Less's upscale variation) proposed to replace the Buy for Less at N.E. 23rd and MLK (a.k.a. King's Crossing) never materialized, instead becoming one of their weird, junky Smart Savers spin-offs.
Now we're getting word that the company is having an issue paying employees. An Ogle Mole close to the supermarket chain sent us this recent dispatch, alerting us to alleged troubles within the company that might be running deeper than the public knows or, honestly, cares:
"I am hearing through employees of Uptown Grocery and Buy for Less that there is some questionable activity happening with their payroll checks… Employees are paid weekly. Last week employees who receive paper checks (vs. auto deposit) had their checks bounce when they tried to deposit them at their banking institutions. Those with auto deposit did not seem to have an issue.

This morning, all employees received paper checks due to "a change in banks". Employees are not being allowed to cash the checks in store, because they do not keep enough cash on hand, and are being told if they deposit it to their bank, it will likely be held "due to switching banks". Most of these workers live paycheck to paycheck and any delay in funds can set them back tremendously. I know if my loved one who works there does not receive this money today, I will need to help buy (them) some food and gas for the weekend. And I may have to help pay a bill or two depending on how long payment is delayed, because it is also close to the end of the month and rent is due.

Switching banks could plausibly be the reason for the issue with payroll. However, if you take into consideration they have let go dozens of employees in the last couple of months, and all workers had a cut in hours this week, it is also plausible that they are going under."
Oh man, there is nothing worse than having your paycheck bounce. Back in Fort Collins, I worked shortly for a fledging alt-weekly and, half the time, their account had insufficient funds in it, so I desperately learned how to scam bend the check-cashing rules of local supermarkets into quickly cashing them before they had a chance to see they were total rubber biscuits.
Hey, I'm not proud, but desperate times call for desperate measures. I had rent in a hippie commune that had to be paid and a classically ungroomed female roommate who liked to blast Umphrey's McGee while working on "art projects" at 3 in the morning. Good times.
Doing my part as a proper journalist, I called Buy for Less's corporate office to confirm or refute these statements and they told me to email their press liaison, which I did, but, as of this posting, have not yet received a reply. Once I get one, if I get one, I'll update down below.
I also asked the Mole to expand on the talk of Buy For Less "going under:"
"The watercooler talk is that they filed bankruptcy right around Christmas, because they owe $9 million for not building an Uptown in Midwest City. The village is shaking because they have big rebates for that store."
I looked for court records online—basically Googling "Buy for Less" "bankruptcy" "upskirt pics"—and found nothing to confirm this. You think that's something that would make the news or a discount sales flyer. Who knows. Maybe the Mole is a the director of produce for Homeland and trying to spread rumors about the competition. Either way, it was one of the questions I asked the Buy For Less press liaison, so my job is done, right? It's in God's hands, folks.
For what it worth, it appears as the Southside Buy for Less Supermercados are doing gangbusters, as I did a little grocery shopping at the location at 3713 S. Western Ave. yesterday evening and the place was absolutely packed, with decent-sized lines in every checkout lane. I asked one of the kids stocking shelves if they've seen an influx of business since the N.W. 23rd and Penn store closed down, and he shrugged and said he didn't know. He then helped me find the McCormick Mayonesa con Jugo de Limón.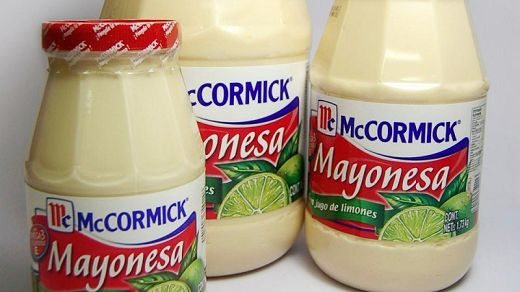 _
The Buy for Less Supermercado has some pretty damn good pan dulce, rivaling that of even some of the nearby bakeries. Blasphemy, I know. Follow Louis on Twitter at @LouisFowler.
Stay in touch
Sign up for our free newsletter