Everything Else
TLO Travelogues: Branson! (Part One)
6:13 AM EDT on August 23, 2016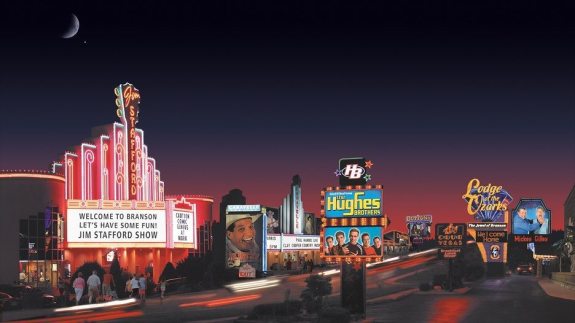 There's nothing worse than a vacation in the summer.
Come to think of it, why do families plan their free time around then anyway? It's hot and sweaty and miserable, the roads are congested and clogged and, of course, everywhere you go is out to gouge you with extraneous prices because they know there's not a damn thing you can do about it. Enjoy that $13 roadside Whopper, dad.
For me, the perfect time for a family vacation is right in the middle of fall, late September, anytime in October, most definitely in November. Everyday is a flannel day and every night an excuse to spring for a hotel with a hot tub. Other peoples' kids are in school so you can runabout and have the whole place to yourselves while saving money because everyone drops their prices, desperate for living souls to walk in and make the quota for the day.
Now that summer is almost over and you're bummed because all you did was go see Suicide Squad and maybe take the kids to the splash pad, let me ask you this: where's the happiest place on earth that a family can spend a week once the cooling temps of September come hustlin' 'round?
No, not Disney. One word: Branson.
I've traveled all over this great country. I've even gotten into an old-school bar-fight in Mexico. But the most fun I've ever had on vacation? Hands down, it's the jewel of the Ozarks, Branson, Missouri. Sure, I've heard all the jokes about the place being the playground of the elderly, the Okie Vegas, so on and so forth but, when I went there for a week last fall for my birthday, it quickly became not only my favorite vacay spot, but one that—with or without family—I'd happily make a yearly destination spot.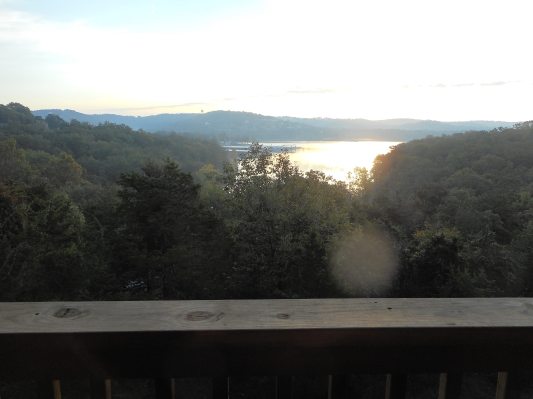 Driving into through the Ozarks in the middle of the night is a mildly terrifying experience, but to see that morning sun come up over the mountains and lakes as I pulled into my accommodations was a truly spiritual experience—I had never seen a sunrise before and to view it over God's creation while jacked up on three Red Bulls, as it were…it's a life-changer and the most positive start possible for a weekend getaway.
I stayed at the Village at Indian Point, which I guess are condos that people rent out to tourists in the off season. Either way, with its view of the lake and other amenities of nature, as well as the posh, plush interiors, I've never stayed overnight at anyplace as nice as this. Usually when I travel, I spend the night in the hoariest of cheap stabbin' cabins as possible, so for me, this was a real "This is what it must feel like it live in Deer Creek all the time!" moment.
With a packed itinerary over the next two days, I and my surrogate family only had a couple of hours to nap before we had to be at the famed Silver Dollar City for breakfast and a full day of rustic, pioneering, totally unironic fun.
Things to Do in Silver Dollar City Before You're Dead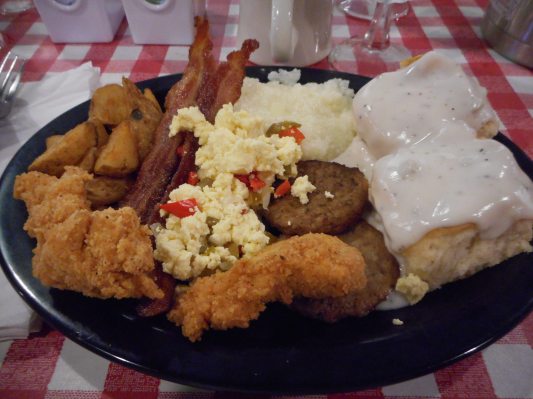 Immediately upon arriving at Silver Dollar City, my party was greeted by the most beautiful display of welcome possible: a full home-cooked breakfast buffet filled with everything from homemade buttermilk biscuits to golden fried catfish nuggets—that's right, catfish: it's not just for dinner anymore. The only drawback to this, however, is that seconds were out of the question as we were about to spend the next few hours walking in the rising sun, sampling many other handmade morsels and going on stomach-churning rolley-coasters.
No extra gravy for me.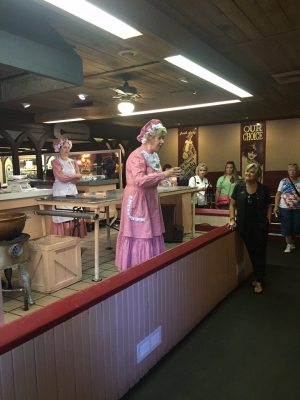 Now I know that the first thing people want to do when they get to an amusement park is to hit the rides like a bunch of thrill-seeking yokels, but I find the really interesting things to be the people who teach "heritage crafts", i.e. the old-timey artisan skills I don't have and would've probably made me worthless in the Old West; those rustic arts such as blacksmithing, glass blowing, coppersmithing, wood carving, the perhaps the most useful skill of all, fudge-smithing in the candy shop, where we were given not only a detailed history of homemade fudge, but also a piece of said homemade fudge which, if you've ever had fresh off the fudgery block, immediately sends you into pancreatic shock. Fudge fudge fudge.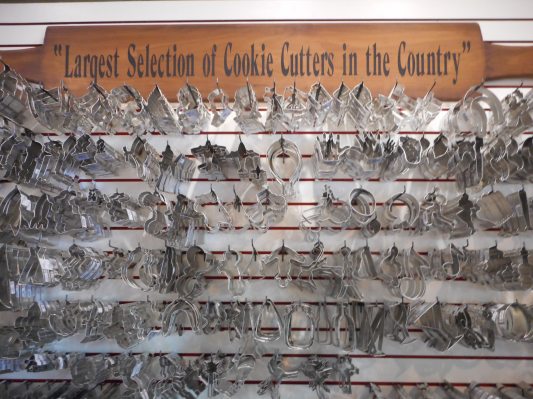 Before dropping my surrogate kids off to burn out that excess energy and excitement at the Fireman's Landing, the jaw-dropping new children's play-area dedicated to the art of, natch, firefighting, I got a chance to see a wall with the "Largest Selection of Cookie Cutters in the Country." Can you say you done that? Can you?
Alright. So ever since the Silver Bullet at Frontier City busted my tailbone a something fierce, I haven't been a fan of rollercoasters. It took every ounce of courage I had to ride the terrifying Outlaw Run, a wooden coaster (so when you're high up, you hear the wood creak and feel the platform sway back and forth and fill your pants with hot fetid urine) that made Guinness for having a record-breaking three inversions, being the first and only double barrel roll on a wood coaster, and, this is the worst, the steepest drop on a wood coaster at a face-melting 81 degrees.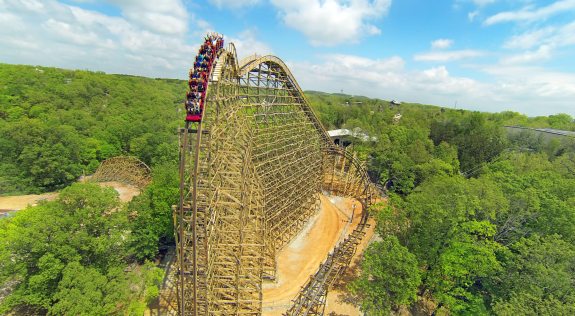 Needless to say I lost all of my breakfast, which, turns out, was O.K. because we were headed to lunch next, which, Lordy-be, was a country buffet of Southern fried chicken, mashed potatoes, yeast rolls and golden fried catfish nuggets—that's right, catfish: it's not just for breakfast anymore! I didn't feel that bad getting an extra piece of chicken here as after lunch we were headed to what I consider the piece de résistance of my trip to Silver Dollar City, the Wild West Show.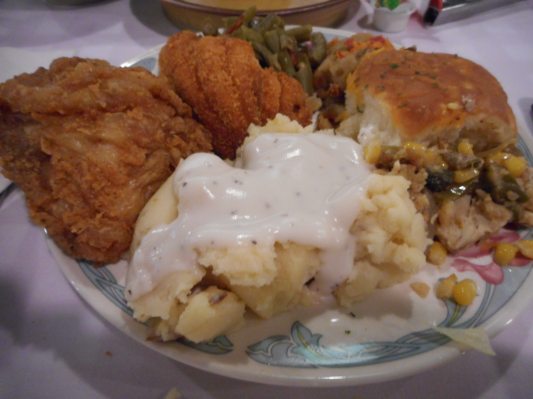 Now anytime I can see hilariously smart-aleck capuchin monkeys hold hoops that fluffy trained dogs will jump through, I am there, and the Wild West Show, in that respect, paid that off in spades. Never before had I seen so many talented canines performing so many feats of derring-do! Top that off with trick horse-riders, barn dancers, whip-crackers and an absolutely stunning (and thoroughly respectful) tribute to Native American hoop dancers and you have what I hope is the entertainment selection in Heaven when I die.
At least this or Penn and Teller.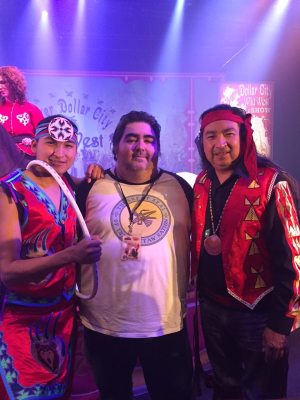 Sure, I know that many people my age are too cool for school, but I ain't gonna lie: Silver Dollar City is an absolute blast whether you're with the fam or, sadly, by yourself. I personally wouldn't mind coming back with some of my male friend for a boys' weekend before I die. It'll be like that movie Fandango, but with candlemaking instead of whores.
Branson Über Alles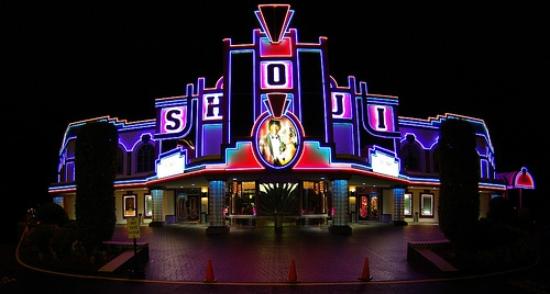 If there's one thing that Branson is truly famous for, it is its dazzling array of musical performers, production numbers and superstar showcases, with marquees that light up the Shepard of the Hills strip like a Jesus Christ-approved variation of Las Vegas. What happens here, most definitely can be told without fear or shame!
So when it comes to shows in Branson, personally, you can keep your Yakov Smirnoffs, your Baldknobbers, your Jimmy Osmonds (Jimmy Osmond was there…right?)…for me, it's always been about Shoji Tabuchi, the Emperor of Branson. Ever since I saw a news piece about his inspirational story on 20/20 back in the 80s, I added him to my concert wish-list that included such never-gonna-reunite-ever names as Kraftwerk, the Stooges and the MC5. All of whom, against the odds, reunited.
I can't believe got to see all of those guys one last time before I got to see Shoji.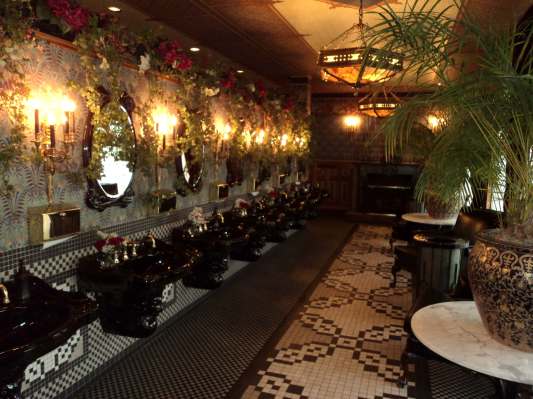 From his absolutely fabulous theater on the main strip—nicknamed the Showplace of Branson—this place is an entertainment cathedral of pure Southern glitz and American bravado, with everything from the box office to the bathrooms (seriously, have you seen these bathrooms? They look like Lex Luthor's underground inner sanctum, complete with pool tables!), this was the bright lights of the Okie Vegas that I had been clamoring for since arriving.
To hear him tell his story, trained classical violinist Shoji came to America as a teen, intent on playing country music after hearing the legendary Roy Acuff perform in his hometown of Osaka. Arriving in San Francisco with $100, he waited tables and polished cars, playing gigs wherever he could, eventually making it to the Grand Ole Opry and that's that. Now he's got his own theater in Branson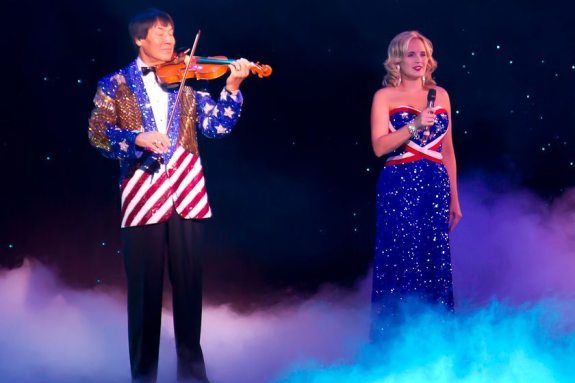 Opening up with a wildly bombastic cover of Paul McCartney's "Live and Let Die," the next two hours were a whirlwind of absolute master showmanship, encapsulating practically every style of music, featuring a history of rock n' roll medley—thanks for throwing the Guns n' Roses tribute in there!—some showtunes, some classical, some country, some comedy, lots of patriotic and, perhaps most fascinating, a thunderous demonstration of the ever so mighty Japanese taiko drums that could've been a majestic standalone Cirque de Soleil show. Talk about value!
At the halfway point in the show, when announcing the birthdays, anniversaries and special guests in the audience, he announced "I would like to thank a special guest, Louis Fowler of Red Dirt Report and the Lost Ogle, from Oklahoma City!" to scattered applause from the very elderly crowd who had no idea who I was, but to a rapturous ovation deep in my heart.
Meeting and greeting him afterwards, he autographed a copy of his latest album Timeless for me. I made the long trek through the hills back to the lodge blasting his version of the "Redwing Polka" into the darkness, hyped-as-eff after seeing one of the best concerts of my life. And I've seen U2. Three times.
TO BE CONTINUED THURSDAY WITH 110% MORE SALTED PORK FAT!
-
Blessed are the fudge-makers. Follow Louis Fowler on Twitter at @LouisFowler.
Stay in touch
Sign up for our free newsletter