Everything Else
The Homeless Puppeteer at 23rd and Penn Seems like a cool dude…
10:22 AM EDT on August 8, 2016
Back in March, only a couple of months after our city council enacted an ordinance that made it illegal for homeless people and charitable firefighters to beg for change on medians, I spotted a panhandler performing a puppet show at the corner of our favorite intersection. Amazed and mesmerised, I quickly fired off the following tweet:
In case you care, the answer to the question is "OKC wants to improve the quality of life for privileged gentrifiers who would rather not be disturbed or bothered by heartbreaking images of bad decisions, mental illness and poverty."
Thanks to this article from The Curbside Chronicle, we have learned that the Panhandling Puppeteer is a real human being with real feelings and real emotions. His name is Jack Howell. Here he is posing with his puppet "Meg Salyer."
And here he is with his other puppet "Jake Daniels:"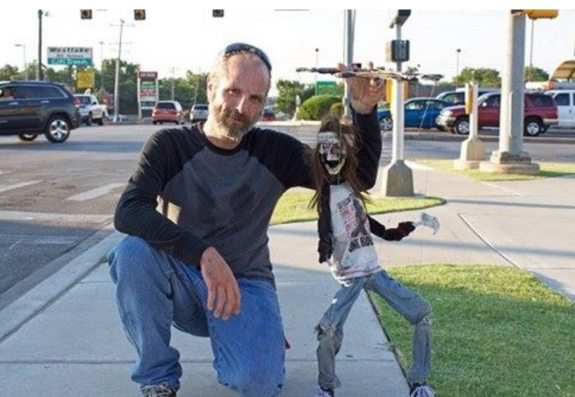 Like most panhandling puppeteers, Jack's life is a hard luck story filled with mistakes and regret. Here are some snippets from the article about him:
At Northwest 23rd Street and Pennsylvania Avenue, Oklahoma City's very own puppeteer, Jack Howell, is likely busking on the sidewalk with his handmade marionettes. Often out with his eccentric puppets, Jack performs for anyone willing to spare a minute to enjoy the show.

Jack started making puppets a year ago after he and his wife separated.

"I had a bunch of time left over after the old lady left with the kids. I was trying to get over her. … My wife's name was Maranelle, and I started to Google her name one day. But in the middle of doing so, I thought, 'Nah, I shouldn't do that.' I looked, and 'marionettes' had popped up on the screen. And I thought, 'I can do that. That's cool.'"...

Without his wife and kids in his life anymore, Jack sometimes feels unsure about the future. He knows he wants to get back in housing and find steady employment. He used to work construction and at a convenience store. Sometimes Jack worries that his kids are embarrassed by his new hobby.

"No one's saying, 'Man, my dad's the puppet dude at 23rd and Penn!' I'd rather have my children back in my life. I'd probably give (the puppets) all to my kids and tell them to go play with them and be done."
I don't know about you, but I'd much rather say that "My dad's the puppet dude at 23rd and Penn" than "My dad's a lease analyst as Chesapeake!" Then again, I grew up saying things like "My dad's the caricature artist at the Greek Festival," and "My grandpa is a magician named Anson and he'll be coming to our school," so maybe that's in my blood.
But until that day, Jack is certain that nothing will stop him from creating puppets.

"I'll die if I stop," he said. "That's what I keep telling myself. I won't let anybody talk me out of doing this. People like them. I like them. There ain't nothing wrong with that, is there?""I'll die if I stop," he said. "That's what I keep telling myself. I won't let anybody talk me out of doing this. People like them. I like them. There ain't nothing wrong with that, is there?"

And Jack isn't joking when he says that nothing can stop his passion. Jack recently served a short period of time in county jail and continued to make puppets to perform for his fellow inmates. "I made the puppets in jail out of soap and paper that I mixed together," he said. "I made little outfits for them by ripping up fabric from our jumpsuits. They were little inmates too." It wasn't until his puppets were confiscated as contraband that he had to stop.

While Jack doesn't think anything serious will ever come from his performances, he does think it would be fun to create an entire stage show with his puppets. Unlike other major cities, Oklahoma City doesn't have a very vibrant busking scene. Busking is when people perform for donations in public spaces. It is common in cities like New York, Los Angeles and Portland. Jack is one of the few street performers in OKC to experiment with alternative forms of entertainment. While Jack receives tips for his performances, that has never been the main motive for his act.
Okay, so maybe Jack has spent time in jail, and probably has some other underlying issues that would concern the 14 people at DHS who actually care, but I think we need to do something to make him famous and bring his puppets to even more people. We can at least get him a puppet show at Live on the Plaza, right? Who wouldn't want that? Not only would it be cool and provide some recognition and praise for Jack, but it would also be the most Plaza District thing ever. Perhaps he can make puppets for the show from artisanal trash he's collected.
Anyway, you can check out the entire article and more puppet photos here. You can also read about Jack in the Curbside Chronicle. Once again, it's the publication for OKC's homeless by OKC's homeless. Pick one up today! Just make sure it's not at a median...
Stay in touch
Sign up for our free newsletter