Everything Else
David Stanley was fined $20,000 for "Advertising Violations" in July…
2:36 PM EDT on August 4, 2016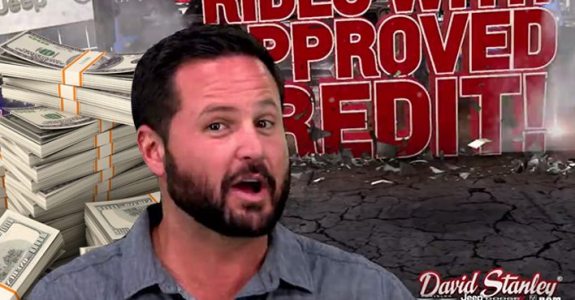 David Stanley still leads the way... in shady advertising practices!
As you probably know, we called out the David Stanley auto group last week for the gimmicky $88 "slasher sale" they recently ran at the Norman Chrysler Jeep Dodge dealership. The sale was heavily promoted and somewhat misrepresented by the dealership and its employees all over Facebook.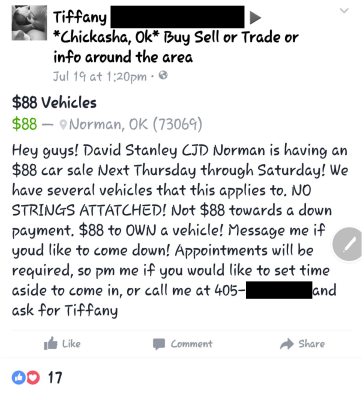 Once again, the $88 deal wasn't all that simple. There were so many strings attached that it needed its own ball of yarn. You first had to enter a free raffle to win a chance to a buy a car for $88... then you had to play musical chairs while MC White Trash beatboxed to get extra raffle tickets... and then you had to be present to win. If you cleared all those hoops and your name was drawn, you could buy a clunker for $88 which the dealership would pressure you to trade in towards a new vehicle.
In our report, we also conveniently reminded everyone that David Stanley was fined $350,000 by the motor vehicle commission in March of 2014 for "advertising violations." According to sources, the six-figure penalty was due to a "long, ongoing problem" the Oklahoma Motor Vehicle Commission had with David Stanley's advertising practices. The commission had repeatedly hit the dealer with small fines over the years, but apparently the effectiveness of the ads (and the profits from them) far outweighed the penalties. The commission hoped that the record fine, along with a threat to suspend the dealer's new auto license, would end the dealership's shady practices.
Well, that didn't work. Thanks to a tip via the Ogle Mole Network, we have learned that David Stanley was fined $20,000 a few weeks ago for 20 advertising violations at its Midwest City and Norman Chrysler Jeep Dodge dealerships.
Here are more details via News 9:
Pottawatomie County Sheriff's Office Warn Residents Of Scam

The Pottawatomie County sheriff is warning residents to be aware of scammers also referred to as "gypsies."

Authorities said in the latest incidents, they show up offering to complete an asphalt job on a driveway and quote the victims a price.

After finishing the job, they request up to triple the original quote.

Deputies said they also try to scare people into paying them.

"They call the guy 'the enforcer,' a bigger guy that's coming around. I guess he's trying to use intimidation factor to get these people to pay," Jimmy Brewer of the Pottawatomie County sheriff's office said.
Sorry. I'm just messing around. That's a News 9 report from April where they warn residents to watch out for "gypsies" in Pottawatomie County who swindle folks into paying more than they should for a driveway. I wonder if they also made the homeowners play musical chairs to get a better deal? Next time, maybe the gypsies should consider advertising with News 9 so they can avoid all the bad publicity.
The $20,000 fines were logged in the July meeting agenda for the Oklahoma Motor Vehicle Commission. Since it was never covered by the media, you can view the full PDF here. Here's a screenshot:

To put the size of the fines in perspective, I looked through other OMVC meeting agendas for 2016. (Friendly reminder, the number one goal of the organization is "To prevent frauds, impositions, and other abuses upon Oklahoma citizens."). Here are the fines they handed out to other metro car dealers in 2016 for "advertising violations."
Bob Howard Acura: $3,000
Boomer Kia: $1,000
Bob Howard Nissan: $1,000
Battison Honda: $500
Kyle Hill Kia: $500
Think about that for a second. The two David Stanley dealerships were fined $20,000 for advertising violations in one month, while all the other new dealerships in the metro combined were fined only $6,000 for the entire year. Add that to the $350,000 fine in 2014, and you think our media would take notice and ask important questions like...
A) What the hell is going on with David Stanley?
B) What specific "advertising violations" did they commit?
C) Where do the proceeds from the fines go?
D) What is being done to compensate the consumers who fell victim to the dealership's advertising violations?
Sadly, I don't think the local for-profit media will ever take the initiative to ask those questions. According to sources, it's not uncommon for David Stanley to spend $500,000 a month in local advertising. We have also learned that Big Wing, the online marketing ad agency owned by The Oklahoman Media Company, handles the social media pages and web marketing for David Stanley Chrysler Jeep Dodge, hint-hint, the same dealership that pushed the $88 slasher promo. Knowing that, it is far more likely that the local media will continue to allow David Stanley to take advantage of consumers through "advertising violations" rather than hold the dealership accountable and inform the general public of their schemes.
As a result, maybe it's time for everyone to hold the local media accountable. If you have any free time today, why don't you share this article on the Facebook pages for News 9, KFOR, KOCO Channel 5 and even NewsOK just to make sure they know about it. Hell, maybe even call the newsroom. Ask them why they're not reporting, covering or even mentioning the record fines the Oklahoma Motor Vehicle Commission is handing down to our state's largest auto dealer. Maybe then the "4th estate" will do what's right and hold one of their largest advertisers accountable.
Haha. Just kidding. That will never happen. They'll probably just sell David Stanley a 30-minute infomercial block to help them combat the court of public opinion. The media also has bills to pay.
Stay in touch
Sign up for our free newsletter