Everything Else
Congressman Jim Bridenstine had to return his fancy Azerbaijanian gifts…
1:03 PM EDT on June 16, 2016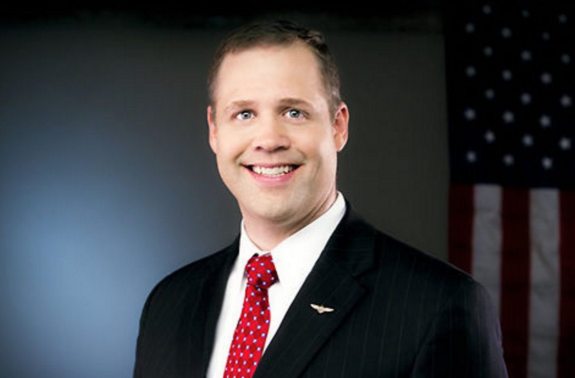 Last year, US Congressman Jim Bridenstine – the baby-faced Derplahoman of our congressional delegation – was the subject of an ethics investigation after he took an all-expenses paid trip to Azerbaijan that was secretly funded by Azerbaijan's state-run oil company.
The Hill provided an update on the story earlier today. Apparently, Bridenstine and other politicians had to return a bunch of gifts they received:
Lawmakers turned over gifts after secretly funded trip to Azerbaijan

Lawmakers who took a trip secretly funded by the government of Azerbaijan turned over jade earrings, tea sets, silk scarves, woven rugs and other gifts to the government after a watchdog report called the trip improper.

The list of gifts returned to the General Services Administration (GSA), which was obtained by The Hill through a Freedom of Information Act request, fills in more details about the trip to a 2013 conference in the Azerbaijan capital of Baku.

In all, nine current member of Congress and 32 staff members attended the conference, each receiving thousands of dollars' worth of gifts, according to the Office of Congressional Ethics (OCE). Some of the lawmakers also went to Turkey after the conference in Baku and received additional gifts on that stop.

The OCE report on the trip was submitted to the House Ethics Committee on May 8, 2015, but was leaked to The Washington Post, which revealed the details of the report days later.

...

Roughly a week before the House Ethics Committee released its report detailing its findings in July 2015, members of Congress who had taken the trip began returning the gifts they had received.

Reps. Yvette Clarke (D-N.Y.), Jim Bridenstine (R-Okla.), Michelle Lujan Grisham (D-N.M.) and Rubén Hinojosa (D-Texas) all turned over gifts to the House clerk, who then handed them over to the GSA in October 2015, according to records obtained by The Hill.
I know Bridenstine was relatively new to congress when all this happened, but what was he thinking? Doesn't he know that only American-based oil companies are legally allowed to buy, coerce, and secretly influence our politicians? You would think HR would have covered all that in the New Congressmen Orientation Training.
Apparently the people from Azerbaijan made a really big impression on Bridenstine. One year after his lavish visit to the country, he flew to the Azerbaijan Center in Houston for a nice dinner and follow-up meeting with his new friends.
According to Azerbaijan Center website:
2ND VISIT OF CONGRESSMAN JIM BRIDENSTINE TO THE AZERBAIJAN CENTER

The Azerbaijan Center welcomed for the second time a dear friend of the Azerbaijani community, Congressman Jim Bridenstine (OK-1).

During this visit, the Azerbaijan Center gathered a very heterogeneous audience from the Azerbaijani community which included attendees from the oil industry as well as groups of students from high school and universities.

Congressman Bridenstine alluded to the experience he had during his trip in Azerbaijan and underlined the strong impression of diversity in Azerbaijan while enjoying cultural insights from his trip.
Yeah, that's right. The homophobic Republican from Oklahoma who hosts town halls where little old ladies talk about how Obama should be executed for allowing Muslims into the country appreciates the strong impression of diversity in Azerbaijan. Maybe the LGBT community should start sending members of Oklahoma's congressional delegation on secretly funded trips to foreign lands. Perhaps that will get them to modernize their minds.
At the event, The Azerbaijan Center provided Bridenstine with some porcelain tea cups, an "Appreciation Award" and several small bottles of water. Check out these pics: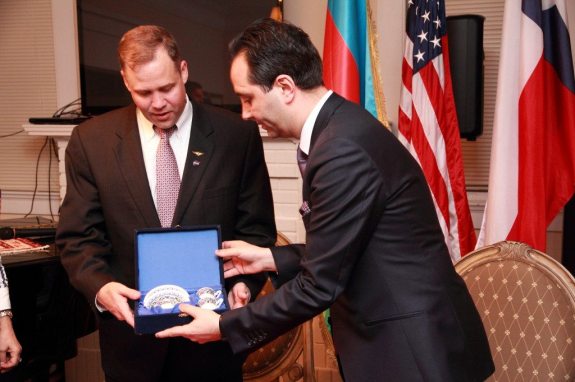 -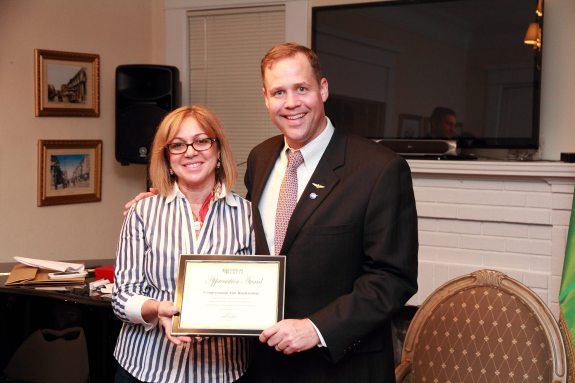 -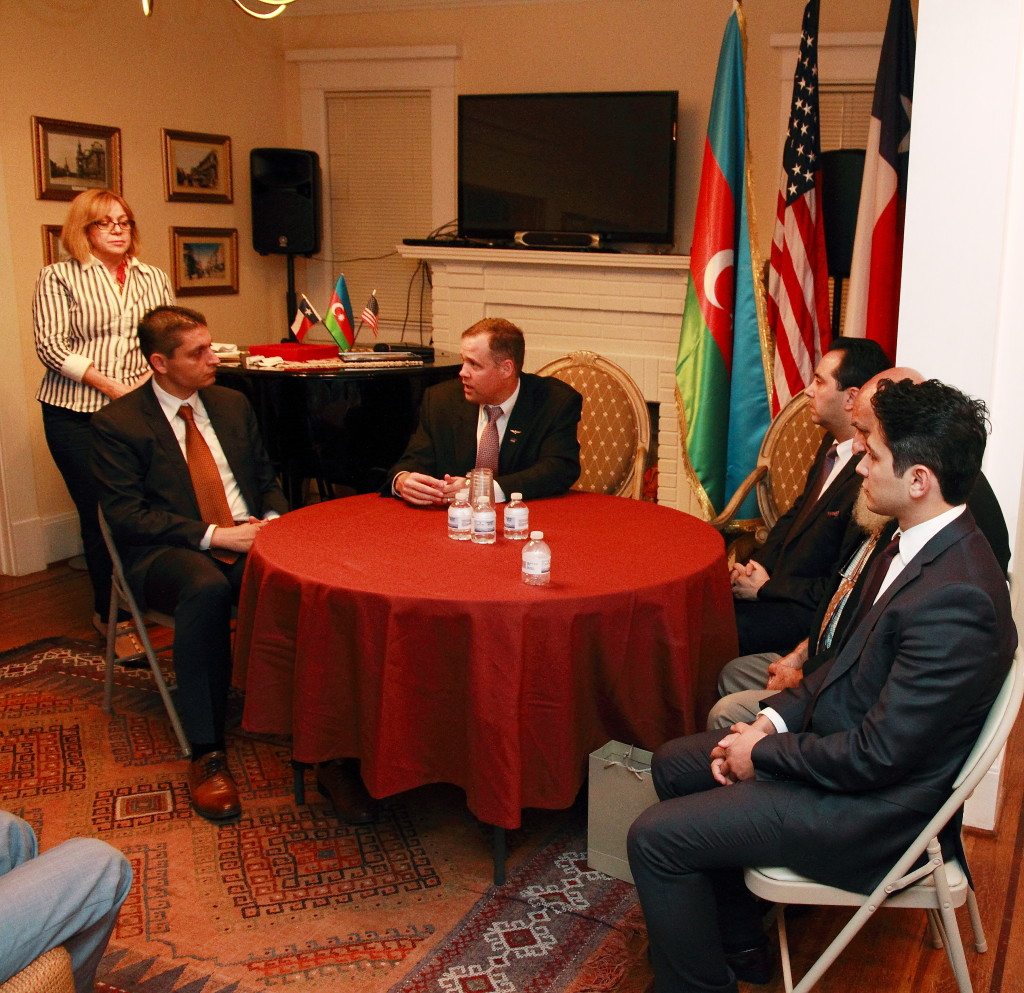 Yeah, that's awesome. Nothing strange or suspicious going on there. It's just our US Congressman sitting at a table with a bunch of dudes who look like they should be chasing Matt Damon through Red Square in the new Jason Bourne film. Move along.
Here's a link to the original Washington Post article about the ethics investigation. Once again, Bridenstine was cleared of all charges and allegedly returned all the gifts he received (I hope he was able to keep his appreciation certificate), but you kind of have to wonder what his motives are as Congressman. Is he wanting to serve and represent the people of Oklahoma, or simply enhance his odds of getting a good job with company in Azerbaijan some day? I think we know the answer.
Stay in touch
Sign up for our free newsletter