Everything Else
5 Metro Places That Have Never Changed
9:50 AM EDT on April 22, 2016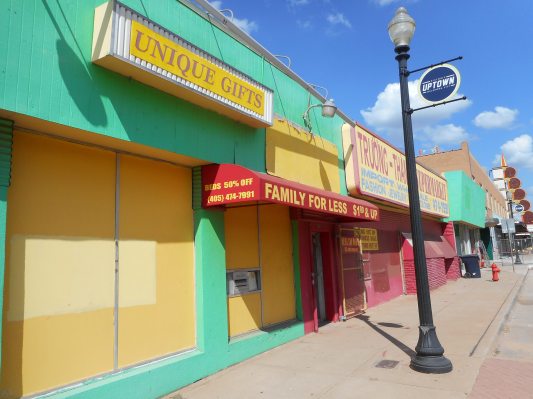 Yesterday, it was announced that the Gold Dome building will be repurposed and remodeled to fit a wholly unnecessary Natural Grocers, an overpriced niche grocery store/vitamin and supplement dealer that just adds one more building block to the gentrification of NW 23rd, or Uptown if you're nasty.
When I first moved back here from Colorado a few years ago, I was amazed how many touchstones and landmarks I grew up with hadn't changed in the slightest, starting with the whimsically multi-colored Truong-Thanh supermarket, a staple of my childhood since Classen Fifth Year Center as our bus would zoom past it and Soul Boutique and the various black hair-care outlets, of which there were assuringly many.
But, now, it's practically unrecognizable, what with all the overpriced seafood and pizza eateries mingling with Cox bill-pay kiosks and I think there's a gym, but I'm not sure. Either way, I guess the Truong-Thanh was an eyesore, because now it's painted burial white, undoubtedly in preparation for its inevitable dissection to make way for an Organic Squeeze that'll hopefully cash plasma checks with a purchase.
Nostalgically though, here are five local businesses that amazingly,  for the most part, still look the same since I originally moved to Oklahoma City in 1990…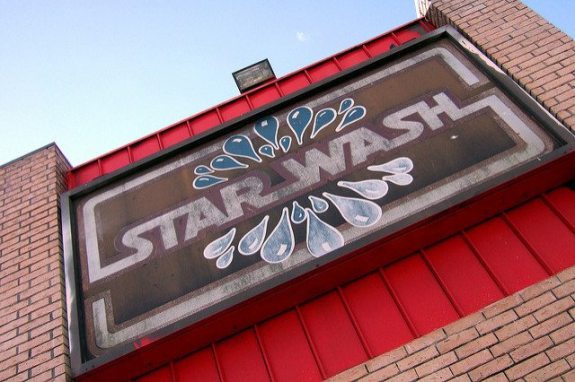 Star Wash
If there was ever any reason to beg my dad to pull our Delta '88 into a car wash in the middle of a gang-riddled neighborhood, it was because of a tenuous at best connection to a sci-fi trilogy I loved as a kid. Yes, a long time ago, on the Southside not too far away, the hope of rebel copyright infringement was kept alive by one brave car-wash entrepreneur and his fandom of George Lucas' groundbreaking space opera achievement.
The force has stayed awake for so long there I can't believe that not only is Star Wash still standing, but so are the many cops that often find themselves pulling their tasers on a perp in the parking lot drunkenly trying to steal quarters from the vacuum machines. May the spray-wash be with you, always!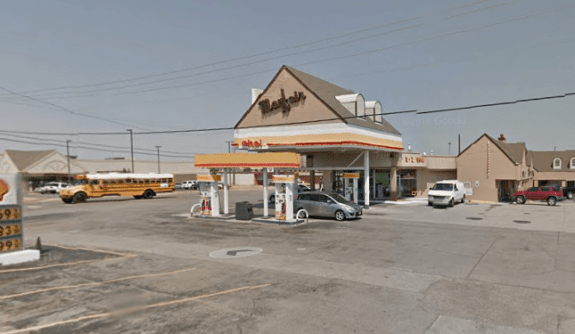 The Mayfair E-Z Shop
Growing up in the Mayfair neighborhood, it was a daily thing to ride bikes all over Mayfair Village. Summer days spent hanging out breaking into those old apartment buildings on Steanson, maybe working a bag-boy job at the IGA with the "Be Picky" signage or, more than likely, buying cold Crystal Pepsis while loading up on comic books at the Mayfair E-Z Shop.
While Mayfair Village is now a shadow of its former self—only a Michael's and Mayfair Barber remain from those glory days—the E-Z Shop still pretty much looks the same…from the outside. Inside, the comic books are gone, a selection of homemade soups and sweets have replaced the fired burrito and jo-jo potato heat-lamps and the cashiers are rude as all get-out, especially when it comes to minority youths who like to bust sags.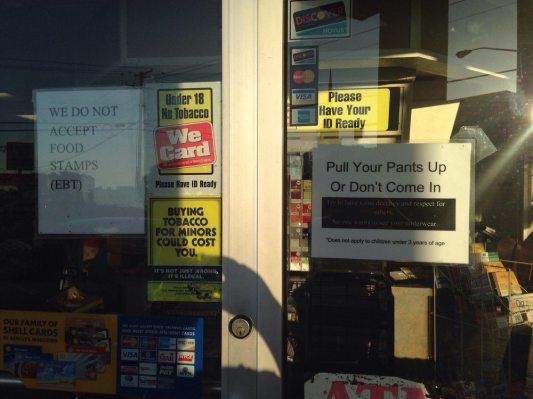 -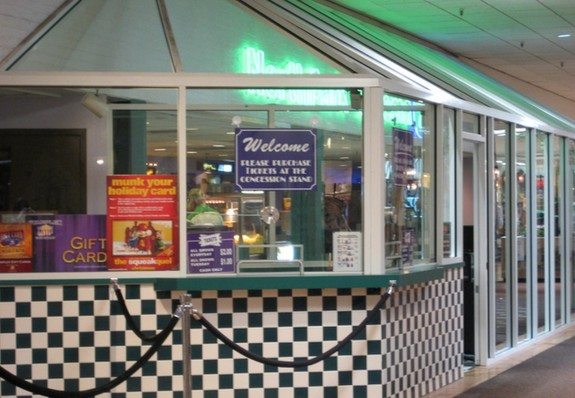 The Northpark Mall 7
I recently heard a rumor that this past December the AMC theater chain purchased the long-standing Northpark Mall 7 Theater. I surely hope that they don't change a thing the way they did when they purchased the Penn Square Mall theaters; the distinctly depressive charm of Northpark is the way none of the subsequent owners have never bothered to renovate it in the face of total industry fallout.
The chairs are still low-backed high school-auditorium style tight-fits, the theaters black-painted shoeboxes with a tiny stretch-marked screen replete with a hooptie soundsystem where, often times, the creaky overhead fans or other assorted air-conditioning units are in better THX than the movie. But for a buck a pop, who cares? Let's hope AMC respects this classic ambiance and lets sleeping ($1 hot) dogs lie.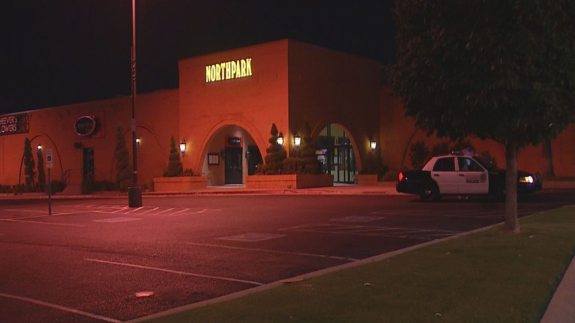 (Another thing that's never changed: how rape-creepy the Northpark parking lot is when your movies gets out at midnight.)
-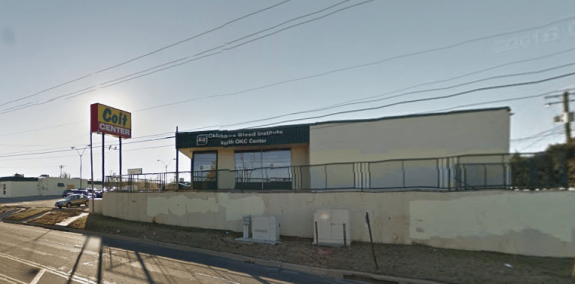 The Oklahoma Blood Institute (North OKC Center)
While I'm sure the good people who toil away sangunariously at the Oklahoma Blood Institute's location in the Coit Center at NW 50th and Portland are good people, this one particular locale has always freaked me out a little bit. Situated around pawn shops and fried pie dealers, while it looks a lot better now from the front than it did in the 90s, it still seems like a front for rich vampires, the kind you would probably see in a Blade movie. I would have expected them to have moved to a more modern, more stand-alone facility, but I guess it's within walking distance of Udo Kier's house, so more power to 'em.
-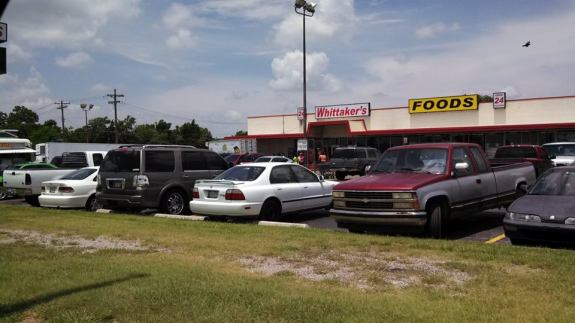 Whittaker's Foods
 They don't make 'em like Whittaker's anymore. And there might be a reason for that.
Like a food bank where you actually have to pay for the food, Whittaker's is a grocery store out of time, a tarnished relic that whenever a local filmmaker needs the locale of a "creepy supermarket," their doors are always open. From the constant flow of police activity to the only location in the Metro where you can purchase Sweet Brown's BBQ sauce, here's a recent review left on their (unauthorized) Facebook page:
"Yall stink and yall ghetto and your customer service stinks i got cussed out by a cashier and was told get your own receipt bitch I see why the police is always up there I wont go back after I got cussed out and complained and they played me off as a joke i wont go back there nor will my whole family we go to Terris and I live around the corner from whittakers"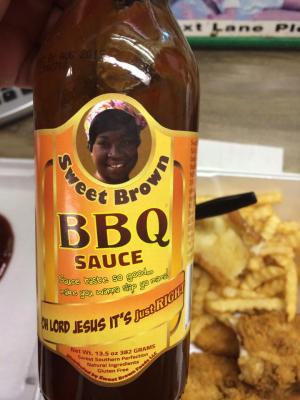 Forget the Buy for Less at NW 23rd and Penn. Whittaker's is the real deal and I, for one, hope they never change. As a bonus, here's a guy searching for some dried beans. He should get a gold medal of some sort.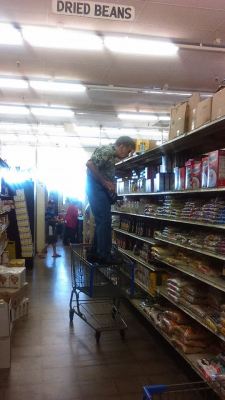 What are some places that you grew up with that, for the most part, still look the same? Have any been recently destroyed or remodeled?Post in the comments and let us know.  Also, follow Louis on Twitter at @LouisFowler.

Stay in touch
Sign up for our free newsletter