Everything Else
The fun police are trying to ruin the Illinois River…
12:00 PM EDT on August 18, 2015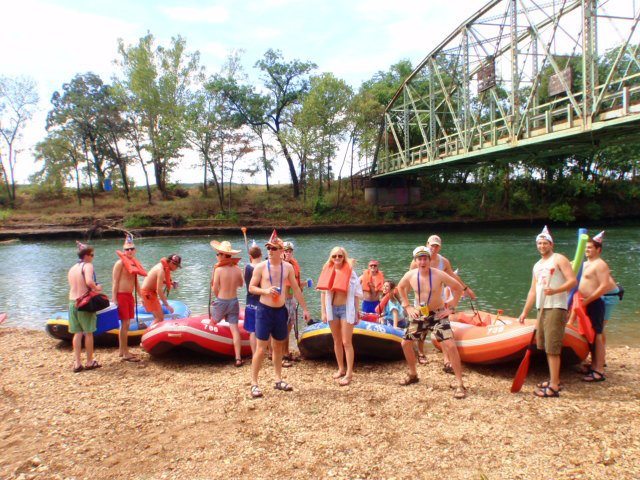 A few weeks back, we told you a story about the Jell-O shot taking bus driver who worked for a resort along the Illinois River. Apparently some passengers offered her Jell-O shots while on the way to the river, she downed them, and then some fun hater on the bus reported her to the police and she, deservedly, lost her job.
Well, apparently she's not the only person causing problems and having a good time along the Illinois. Last week, The Oklahoma Scenic Riverways Commission (a.k.a. The Fun Police) invited The Oklahoman's Silas Allen to tag along on an undercover fun-hating sting operation. As a result, Silas inadvertently showed just how fun a river trip can be.
Via NewsOK.com:
Dustin Davis, a Cherokee Nation marshal, is part of a group of undercover officers cracking down on boaters who violate state law on the river. The group, part of an Oklahoma Scenic Riverways Commission task force, will be out on the river most weekends through the summer.For a first-time visitor, a trip down the Illinois River on a summer weekend can seem less like a relaxing outdoor experience and more like the world's largest waterborne frat party. On this day, the commission estimated about 10,000 people were on the river, many of them knocking back beers while floating from one gravel bar to the nextOn shore, they drank more beer, threw footballs and milled around before getting back into their rafts and continuing downstream. Some had stereos blaring. Toplessness wasn't uncommon, and at least one group navigated the river with an inflatable sex doll propped up on the front of their raft.
Beer? Football? Sex Dolls?? Toplessness? Who wants to get in a river trip before the summer's over?! We'll call it the TLO River Cruise! We'll tie up a bunch of rafts together, gather up some strippers, make some Jello-O shots, and have a good old time!
Or maybe not:
The task force had launched their kayaks from Patriot Park, a spot a few miles from the commission's headquarters just east of Tahlequah. Before long, the group floated toward the gravel bar where boaters had gathered.The rangers pulled their kayaks up on shore and waded into the crowd, chatting with other boaters. One asked around if anyone knew where they could get a drink. Those who offered one got a ticket and had their booze confiscated.The group floated downstream, issuing tickets to anyone they found with alcohol and to boaters who had two or more rafts tied together, a violation that carries a hefty fine, James said.
You can't tie rafts together? That blows. Oh well, at least we can still down some Jell-O shots and trashcan punch:
Most of the citations the task force issues are for alcohol-related violations. Any alcohol stronger than 3.2 percent isn't allowed on the river, nor is beer in glass containers. Alcohol-related violations make up about 60 percent of the 93 tickets rangers have written this year through Aug. 2.
What?! They're writing tickets for drinking alcohol over 3.2%? Are they seriously wanting people to float the river while sober? That seems like the worst thing in the world. Not only does alcohol help numb the senses and loosen the inhibitions, but it helps you forget you're floating down a slow-moving flow of chicken waste and urine.
Apparently, The Oklahoma Scenic Riverways Commission is dead set on making the Illinois River as boring as possible. Check out this list of new river rules they are proposing via News on 6:
Oklahoma Scenic Rivers Commission Wants Stricter Alcohol LawsAs you are out enjoying the great outdoors, there is a plan to cut down on the amount of alcohol you can have on the state's scenic rivers...Many of the proposed changes target alcohol consumption. These are all just suggestions and will be brought up at the OSRC meeting on Tuesday:1) Banning possession and consumption of alcohol in excess of 3.2 percent by weight.2) Restricting possession and consumption of 3.2 percent beer and other beverages to certain sections and certain days on the river.3) Another proposed change is to limit size of ice chests to a per-flotation device instead of per person basis.4) Also banning the possession and use of beer bongs, funnels or other devices party-goers tend to use.5) Last of all, a new rule for day-use permits on public access areas that include alcohol restrictions, refuse disposal/take away requirement, etc.
I get it. They're trying to make the river safe. But at what cost? People don't float the river to float the river. They do it to get drunk, crazy and have a good time. Well, at least the fun people do. If boring people want to take a float trip, they should just come to Oklahoma City. We have a Bricktown Canal for that.
Stay in touch
Sign up for our free newsletter