Everything Else
You can be the proud, psycho owner of KD's used Sonic straw…
11:39 AM EDT on June 15, 2015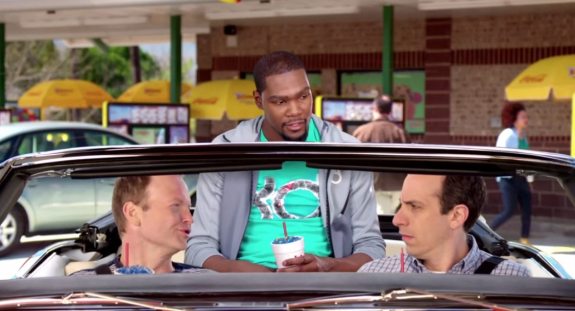 Last week, I was taking part in my annual June tradition of watching the Channel 5 news following the NBA Finals. It's one of the few times during the year I actually watch Channel 5. The other is following OU football games or when I'm in the mood to document the many faces of Paul Folger.
During one segment, Jessica Schambach rambled about how Sonic was going to throw a used straw, slushy drink and other items from KD's new Sonic commercial on Ebay for a charity auction. It seemed like something easy to poke fun at (How about those healthy options, KD!), so I hopped on Channel 5's website to get the story. Unfortunately, the fledgling KOCO Social Media Bandit got distracted by a foot-long coney and didn't put it online.
The next day, I emailed Christi Woodward, the lady in charge of communications at Sonic, and requested more info. I immediately received an out-of-office auto reply. I then forwarded my email to Becky, the back-up communications person listed in Christi's out-of-office email. Becky promptly replied asking who the Hell I was and what's a Lost Ogle. At that point, I figured I probably wasn't going to get a press release or any details on the auction. However, a few minutes later Christi took a break from her world travels and responded to my email saying someone would get stuff sent over. Joy!
Well, that task apparently fell through the cracks like a hot tater tot in a car seat, because I never did get an email or press release from Sonic. Fortunately, they did manage to send one to Brianna Bailey with The Oklahoman. She copied and pasted together a nice article about it.
Via NewsOK.com...
The public will have a chance to bid on Kevin Durant's leftovers next week when Sonic Drive-In auctions off several pieces of KD memorabilia, ranging from a plastic straw that actually touched the NBA All-Star's lips to 35 pieces of Nerd's candy from a Candy Slush he drank while shooting a television commercial.

Sonic will launch an eBay auction Monday for the pieces of unusual Durant memorabilia, which have been encased in bricks of clear plastic for the sake of posterity.

After Durant filmed his first commercial shoot this spring for Sonic's line of Candy Slushes featuring Kevin Durant, the drive-in chain saved the actual Nerd's Slush the basketball star used during the shoot and deconstructed it into 35 individual candy pieces in honor of his jersey number.

In addition to the Nerd's candy and straw, Durant's signed cup, his straw and the actual slush liquid will also go on the auction block.

Each piece of the Candy Slush will come accompanied by a certificate of authenticity that includes a story about each individual piece, along with KD's signature.

The proceeds from the auction will benefit Limeades for Learning, Sonic's philanthropic initiative that provides supplies to school teachers in need in local communities across the country.
Listen, I'm sure "Limeades for Learning" is a great cause that does an excellent job providing teachers with the tools they need to educate kids about the dangers of an unhealthy high fat / high sodium diet, sugar addiction and charging $1.99 for a 44-oz drink that's 90% ice, but if you bid on someone's used straw, you're probably a psycho. In addition to sending you a "Certificate of Authenticity," they should include a restraining order and ankle bracelet.
Seriously, who other than the girl who took Rocky Calmus' fork from Tulio's back in the glorious early days of the Stoops years would bid on something like this? At last check, Kevin Durant is just a typical 20-something-year-old who happens to be good at basketball. Why would you want to worship him like a God and buy his straw? He's not Gary England. Are you really going to want all that when he signs with Washington next summer?
Also, what does it say about Sonic's food when you can divide a slush into 35 different pieces and it doesn't go bad or expire? Does that mean it's safe to eat the peppermint candy that's been in my cupholder since 2008?
Anyway, despite my logical leanings, this thing will probably be a hit. It wouldn't surprise me if KD's other sponsors follow suit. I bet Sprint auctions off his first SIM card, Nike gives away some old socks, and KIND parts ways with the crumbs from KD's first granola bar. Hell, I bet Orange Leaf will even auction off the pen they used to sign KD to an endorsement contract. With all the attention he gives to Sonic's frozen treats, I wouldn't blame them.
Stay in touch
Sign up for our free newsletter