Everything Else
Snowless Snowdays, Dry Slots and yet another winter weather fail…
9:47 AM EST on March 5, 2015
Yesterday was a weird day...
Despite there not being any precipitation the night before, Oklahoma City Public Schools and other metro districts announced Tuesday night they were cancelling school on Wednesday due to a winter storm that would strike that morning.
The storm, as usual, was predicted and hyped by forecasters, the local media and all the other people who own stock in ice melt and kitty litter. Starting at 6am, the Oklahoma City metro was going to first be hit by freezing rain, then sleet, and then, well, let's just look at the weather forecast News 9 tweeted early Wednesday morning:
Nasty stuff, huh? Fortunately for us, News 9 and the rest of the lot missed big time...
For what seems like the 10th time since the Christmas blizzard that never happened, the local media and weather community whiffed on predicting a winter weather event for the metro. Oklahoma City didn't receive any noticeable precipitation until about 3pm or 4pm. The roads were fine. Schools could have remained open, lunches could have gone on as planned, and you could have put off the late night emergency trip to Braum's to get bread and milk until the following day.
That afternoon, in an effort to troll the local media, I asked our OKC Metro Twitter followers to send us some pics of the winter weather. These were some of my favorites:
In all fairness, the weather geniuses were not too far off in their forecast. It snowed, and sleeted and iced throughout the day in rural Oklahoma. Apparently the Oklahoma City forecast was sabotaged by a nuisance that always comes at the worst time: the dry slot.
This graphic from Aaron Tuttle sums it up pretty well: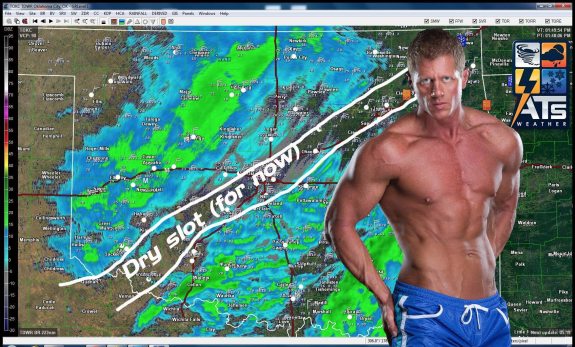 Where would you rather be during winter weather? In the dry slot, the wet spot or under the penetrating gaze of Aaron Tuttle?
Just to clarify, we added AT to that graphic. Aaron Tuttle doesn't photoshop his muscly-toned physique on the radar images from his "ATS Weather App"... yet. Expect that to be a new feature on his app with the next update.
Anyway, notice how Aaron specified that it was a dry slot... for now? Channel 4 agreed with ATs prognostications. They predicted the dry spot would moisten up, and used a gigantic yellow weather dong to illustrate. I bet the whole thing made Emily Sutton blush:
I'm not going to lie. That is a solid weather dong. It probably would have made the finals in our fledgling Severe Weather Dong Contest. I like how it fits so nice and comfy into that dry slot. Quality work.
Eventually, I guess Mother Nature applied some lube and the dry slot went away, opening the door for a thick, heavy batch of snow to fall in the metro for a few hours. Some areas even received three to four inches. The snow made the folks at Channel 5 so excited they called it a daily record:
How about that snow Wednesday? Officially, 4.0 inches was measured in Oklahoma City, breaking the daily snow record of 1.5 inches set back in 1915. Yes, a 100-year-old snow record was broken Wednesday in Oklahoma City...

When you add the 4.0 inches to the season total for Oklahoma City, it is now at 14.6 inches. A normal winter will produce 7.6 inches for the capital city. That being said, this year's winter has produced almost twice as much as normal
Listen, I've never measured snow with a ruler or anything, but I clearly remember spending Christmas Eve 2009 alone with my dog in my living room because there was a three foot snow drift blocking my garage. I'm pretty sure 4-inches is not a daily record. Steve Shaw would agree.
Since OKC eventually did receive some "record" levels of snowfall, some Twitter people thought it served as some sort of redemption for the meteorology community:
8 hours? At 6am, News 9 tweeted the freezing rain was going to begin at... 6am. That would be like texting your friend that you're pulling into his or her driveway and then showing up 8 hours later and acting like everything's fine. They didn't get it half right. They got it wrong.
1. I was watching the Thunder game.
2. If you ordered a large pizza from Domino's at 11am and they delivered a small pizza at 9pm, would you say they got it right?
I thought four inches was a daily record. I'm confused.
-
Anyway, I'm typing this late at night. The snow is gone, and hopefully the last winter storm of the season has passed us by. It was a fun snowless snowday. Now it's time to move on and, oh, wait...
At least there will be some snow on the ground this time around. Unless, of course, a mysterious dry slot appears. Then it will be another weird day.
Stay in touch
Sign up for our free newsletter