ICYMI
Hot Girl Friday: Edna
2:32 PM EDT on October 10, 2014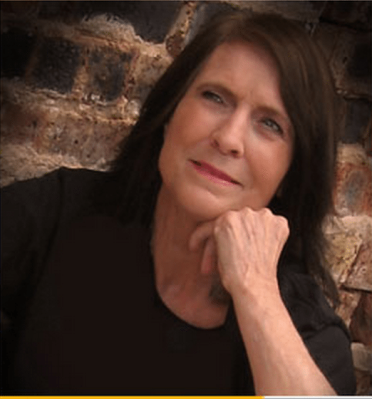 In case you haven't heard, Edna Scott, the owner of the popular metro dive bar Edna's, passed away yesterday.
Via News 9:
The whole of Oklahoma City was saddened with the passing of one its beloved icons, early Thursday morning.

Edna Ruth Scott, 72, passed away just after midnight on Thursday. She is survived by her two children, four grandchildren, three great grandchildren, and the throngs of people, not just in Oklahoma City, who were lucky enough to meet her.

Edna was born on April 27, 1942 in Comanche, Okla. and was the owner of Edna's bar, located at 5137 Classen Dr., since it first opened its doors on Feb. 21, 1989. But more so than an Oklahoma City business owner, Edna embodied love and acceptance for all people. She lived each day to make others smile.

News of her passing spread quickly on social media. Several people reached out and offered their condolences to a woman whose unique soul and loving spirit made its mark on Oklahoma City....

Edna touched the lives of thousands of people over the years, whether you had the privilege of meeting her in person, if you were able to see her boogie down to Jerry Lee Lewis's "Great Balls of Fire", or if you only got to knock back one of her signature Lunchboxes. Maybe you even made your mark on the place by personalizing a dollar bill for the wall?

In its 25-plus years of existence, Edna's bar has never shut its doors. But for the first time, on Monday, Oct. 13, the business will be closed for the funeral.

A public memorial is scheduled at the Will Rogers theatre located at 4322 N. Western Ave. from 5 p.m. to 8 p.m. on Monday. Anyone who wants to come is welcome to attend.
RIP Edna. We'll miss you. Thanks for the memories you helped create for me, and thousands of others, over the years.
I first learned about Edna's when I was 18 or 19 (I'm old. That would 1996-ish) and still didn't have a fake ID. My best friend waited tables at Billy Balloo's - remember that place? – and he heard from some co-workers there was a trashy dive bar on the opposite end of NW Expressway called Edna's that didn't card anyone.
Desperate to be cool and 21, we drove all the way down Expressway, circled the place a few times, parked out front, and were about to go inside when my fear of rejection kicked in and I chickened out. After being called a couple of words that referenced a slang term for the female anatomy, we pulled into a run down convenient store and shoulder tapped for beer instead. Ahh, the good old days.
My next run-in with Edna's occurred in 2002. This was before the OKC renaissance that helped make Edna's the trendy spot it is today.
I was finishing up my English Degree from UCO and noticed a job posting on Monster for AOL Digital City. They were looking for a freelance writer to craft some bar descriptions for their Oklahoma City web guide or whatever. Remember, this was before Yelp, Urban Spoon, Four Square Mayors and all that fun stuff.
I applied, sent some writing samples, and was hired for my first ever paid writing gig. It was kind of cool. I got paid $25 a pop to write a 250-word description, 100-word description and 25-word slug about various bars and restaurants in OKC. I was going to be famous and rich and all the girls at bars would want to sleep with me.
The project manager from Atlanta sent me a list of 10 places to cover. One of them was Edna's… that trashy dive bar that apparently served underaged kids in the 1990s. I rounded up a few friends to check it out. I didn't expect much, but I loved it. Even though the place was dead and the patrons were kind of scary looking, it was what a dive bar was supposed to be. They served beer in cans, there were hundreds of dollar bills taped to the wall, and to top it off, some goofy lady, the bar's owner, Edna, danced on the bar to Great Balls of Fire. It was great.
Some how, some way, the review is still alive via the Internet Wayback Machine: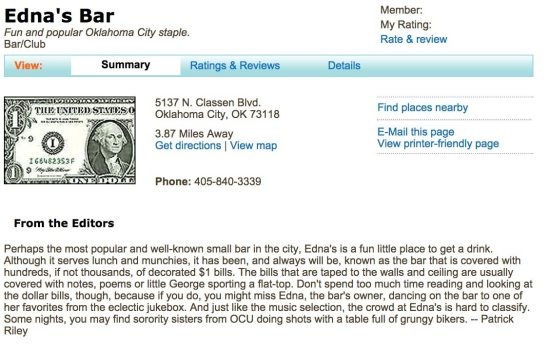 I can't believe they paid me $25 either!
The Edna's I reviewed in 2002 is different than the Edna's of today. It's still popular, but home to a newer crowd. I guess you can say that you age, but Edna's doesn't. I don't remember seeing or ordering a lunch box during my first visit. I also don't remember the entire 2009 graduating class of Casaday standing in front of me in line and bragging about their trust funds, but I still love the place. There are a lot of memories there.
Both of our Snuggie Pub Crawls kicked off at Edna's. Can you get more 2009 than that? It even got news coverage that shows Edna dancing at the bar:
I got in my first and only bar fight in Edna's. It was following one of our TLO Trivia Nights at The Speakeasy. Some jackass OCU student was eavesdropping and trying to include himself in a conversation I was having with a friend. I made a smartass remark or two, then he made a smartass remark or two. He then mentioned he was a wrestler at OCU, I then mentioned that I didn't know OCU had a women's wrestling team. Yada yada yada, blah blah blah, tables were being turned, dart boards were being slammed into, and I survived my first and only bar fight. I didn't win, but I sure didn't lose. And unlike the other guy, I didn't have a swollen eye, either.
Edna's was - and is - also a place you take out of towners. Back when I worked in the corporate world, I had to organize some event where these two Biggest Loser twin brothers - Bill and Jim Germanakos – came to Oklahoma City for a health fair and shared their life-changing story. Following the event, we went to Edna's for some drinks. The events of that night are hazy, but one of my last memories is trying to convince a drunk New York City cop who recently lost 180 pounds on a reality show that dancing on the bar isn't a good idea.
The best thing about Edna's is that you never know when memories like the ones above will happen. I praise and scold the lunch box for that.
For example, a friend and I stopped by Edna's on Thursday night, the same day Edna passed, to have a lunch box in her honor. We weren't the only ones. The place was packed – all the table's were taken, the wait at the bar was patently long, and the corners and crevices were packed full with almost-empty beer glasses holding a small, frothy combination of leftover amaretto, Coors Light and orange juice concentrate.
As we were finishing one final round of drinks, I suddenly felt a pop on the back of my head and a cold liquid go down my back, over my shoulders and into my hair. I then lunged forward, spun around and saw a Lunch Box glass shattered on the floor and some roided-out douche bag on the ground.
The next thing I know, the roided-out douche bag was being kicked out of the bar, and his roided-out douchebag friend was apologizing to me. Apparently it was all part of a drunken toast gone awry. They weren't bitter OCU lady wrestlers or anything. He offered to buy me and group a round of lunch boxes. I obliged. I had another weird Edna's memory to add to my list...
On that note, our thoughts go out to Edna's family and Edna's Edna's family. She created an Oklahoma City institution and was always a fun person. I's like to thank her for the memories. She's our Hot Girl Friday. RIP.
Stay in touch
Sign up for our free newsletter