ICYMI
So we got Mary's secret emails. Now what?
2:31 PM EDT on August 12, 2014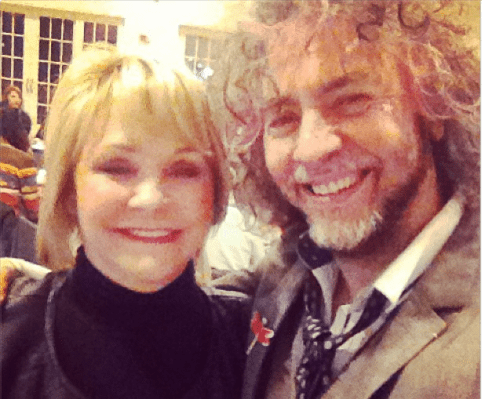 As you know, Mary Fallin released the batch of secret emails related to our Open Records lawsuit yesterday afternoon. Now that we got the prize, you'd think we'd be popping champagne bottles and rolling around in the records on the floor like they were hundred dollar bills.
Well, that's true. I got drunk and made the documents rain at Night Trips last night. Let me tell you, nothing is hotter than folding a paper copy of an email exchange between Glenn Coffee and Denise Northrup in half and then tucking it in a strippers g-string. It's too bad the strippers disagreed.
The records release, and the timing of it, was obviously a strategic move by Fallin's campaign. As we noted, they only had a couple of days left to produce a court ordered log of the records containing important details like the date and time sent, senders, recipients and subject lines. They probably figured releasing the emails was better than a random log. I assume sending a 1:30am email to a think-tank lobbyist can look pretty suspicious without any context.
Also, Mary's office conveniently released the emails on a Monday afternoon during the early stages of her sputtering re-election campaign. That way, they can attempt to twist the issue into a positive, and falsely tout Mary's record of transparency for the next few months, despite the fact it took 20 months and a lawsuit to get her to do it.
Obviously, this doesn't sit too well with us. Why should Mary get to play politics and pick when and why she releases open records that the public is entitled to view? That's not how our open records laws are supposed to work, and it's why we've decided to continue with our lawsuit. I'll let Ryan Kiesel, the Executive Director of the Oklahoma ACLU, explain it:
"If the Governor had simply produced these documents nearly two years ago in compliance with the Open Records Act, the people of Oklahoma could have been afforded greater transparency and spared unnecessary legal cost. The precedent the Governor is attempting to create would allow the Executive Branch of our state to hide behind bogus privileges, and only reveal requested documents after months of litigation and before untested legal arguments are reviewed by the state's highest court. Along with our client, we intend to move forward to ensure that the current and future Governors of our great state do not get a blank check when it comes to following the law."
So yes, in short, we are pressing forward with our appeal. We're going to try to make sure that this Governor, and future ones, can't mute important issues and chose to ignore open record requests until it's convenient for them.
Of course, some people are asking me this question: why? You got the records. Be content and go home.
I'll be the first to admit, this wasn't an easy decision. This whole thing has been controversial. We've lost advertising revenue because of it. Plus, there are a lot of people in the journalistic community that don't want us to pursue this any farther. They're worried that the Supreme Court will rule in the Governor's favor, and make it even more difficult to get open records in the future. They want us to drop the case.
You know what, screw those people. We didn't do this for journalists or boring media outlets or to make money. We are doing this for the people!
Okay, okay, I really did it for the publicity, but give me a second, I'm on a roll here.
Seriously, screw the other media outlets in the state for not having the balls to file this lawsuit. Do you know how sad it is that the only plaintiff the ACLU could land for this case is an "obscure, local social blog" that specializes in crafting fan fiction about meteorologists? Here's a hint: It's really sad. It's like watching Emily Sutton drop a cupcake.
Of course, we're really not an "obscure local social blog" anymore. Here's what the AP called us in their wire story:
The ACLU filed the lawsuit last year on behalf of the satirical website The Lost Ogle which joined with several news organizations, including The Associated Press, in the request for the documents under the Open Records Act.
Pretty fancy, huh? I guess we're satirical... whatever that means. Satirical is a much broader category than you think. This website was built with a satirical foundation – the name of the goddamn site is The Lost Ogle – but calling us satirical makes us sound too much like The Onion. We do the other things, too, like actually break local news and post pics of hot news babes. Perhaps that's why The Tulsa World described us like this in their write-up:
Fallin's decision to withhold the documents was challenged in a lawsuit by the American Civil Liberties Union of Oklahoma on behalf of The Lost Ogle, a media criticism and humor blog. In June, an Oklahoma County district judge ruled that the governor had a right to withhold documents that were part of the deliberative process.
Yeah, we're a humor and media criticism site, or as the call it on the east coast, Humormediacism. For what it's worth, the World does a great job actually breaking down the emails and explaining what they all mean. I'd check it out.
Here's what The Oklahoman had to say about us:
…
Oh, "The State's Most Trusted News" didn't mention us in their article about the surprise release of the emails. I'm as shocked as State Rep Clark Jolley. Through the open records request, we learned he was one of Mary's Moles in the legislature.

Note to self. Never send an email to a state employee with the words "This is for YOU only."
So, where were we? I think I was writing about how we're doing this for the people and not publicity or something like that.
Basically, I think we all deserve to know the context of the laws that govern us. If our open records act isn't being interpreted the way it should be, so be it. If we lose the appeal, at least we'll know how the law apparently works and then have the chance to fix it through legislation. Say what you want about the wackos in the legislature, some of them want transparency in government as much as you or I do.
Anyway, we'll keep you updated on the lawsuit. The best case scenario is that we win on appeal and it's a victory for all Oklahomans. The worst case scenario is that we lose the lawsuit and still get to read our name and description in the newspaper. I guess you can say it's a win-win for us.
Stay in touch
Sign up for our free newsletter