ICYMI
Here's a good breakdown of the ruling in our open records lawsuit against Governor Fallin…
10:50 AM EDT on June 20, 2014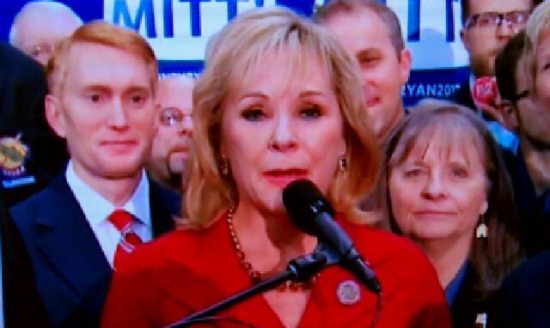 As you probably know, Judge Barbara Swinton issued a decision in our open records case against Mary Fallin on Tuesday. She ruled the Governor can keep some emails relatively secret via something called "Deliberative Process."
The Oklahoman was quick to pounce after the verdict with a somewhat misleading article declaring victory for the Governor.
Via a Nolan Clay article on NewsOK.com:
Judge rules for Oklahoma governor in records dispute

Gov. Mary Fallin withheld a number of documents relating a decision on Obamacare. Tuesday, a judge ruled the documents were covered under deliberative process privilege.

An Oklahoma County judge ruled Tuesday in Gov. Mary Fallin's favor in a dispute with the news media over the openness of records.

The judge ruled the governor can lawfully withhold from the public documents covered by a deliberative process privilege.

At issue in the dispute are 31 documents about a 2011 decision involving Obamacare.

"The court finds the deliberative process privilege is recognized under common law in Oklahoma, and it is supported by Supreme Court rule as an exception to the Oklahoma Open Records Act," District Judge Barbara Swinton ruled.

"The court finds the deliberative process privilege thus may be used by the defendant to protect the content of the documents withheld."

An appeal is expected eventually.

"This is only the beginning of our work and we look forward to the next steps in the process to ensure that our client and the people of Oklahoma have the transparency they are afforded by the law," said Ryan Kiesel, executive director of the American Civil Liberties Union of Oklahoma.

The ACLU of Oklahoma last year sued the governor for the records, on behalf of The Lost Ogle, a satirical online news site.

"We are pleased by the court's ruling," said Alex Weintz, a spokesman for the governor...
Yep, Governor Fallin won. Nothing else to see here. She doesn't have to share open records. Move along.
First of all, that's not entirely true. The write-up is extremely misleading. They make it sound as if Mary Fallin won a clear-cut victory. We don't think that's the case.
Second, I should probably admit that the only reason I filed this lawsuit is so Nolan Clay would have to stop "pleasuring himself" to his Owen Field webcam and actually write an article that mentions The Lost Ogle. Like good journalism, I bet that kills him.
For a better breakdown of Judge Swinton's decision, check out this post by Nicole Nash with FOI Oklahoma. It examines the ruling and outlines some issues with it:
Judge rules Okla. governor may claim deliberative process privilege but must provide log of exempted documents

An Oklahoma County trial judge ruled Tuesday that Gov. Mary Fallin may keep the content of records secret pursuant to a common law deliberative process privilege.

However, District Judge Barbara Swinton gave Fallin 20 days to produce a log revealing the "dates, sender, recipients and re: lines" of 100 documents the governor claims are confidential under the privilege. "Only the content of the emails may be withheld," Swinton said.
Yep, Governor Fallin has to turn over a log of the secret emails. At least we think she does. I guess there's a chance they could appeal that decision. If she does comply, that's a pretty big deal. At the very least, it's a lot better than keeping the emails totally hidden from the Oklahoma taxpayer. You think The Oklahoman would have mentioned that somewhere in their article. In all fairness, they did... in the very last sentence:
The judge gave the governor 20 days to prepare a log listing what privilege was asserted for each document.
Uhm, don't you think that deserved a little more play? I know it's The Oklahoman and they're not exactly know as a bastion for world-class journalism, but that's kind of weak.
Anyway, let's get back to the excellent FOI Oklahoma piece. This Nicole Nash, who just happens to be a lawyer and former ACLU intern, knows what she's talking about:
The Lost Ogle and the ACLU of Oklahoma are expected to ask the Oklahoma Supreme Court to overturn Swinton's ruling that Fallin may claim a deliberative process privilege...

The ACLU of Oklahoma last week argued that those privileges do not exist in Oklahoma law. Fallin's attorney Neal Leader argued that the deliberative process privilege and the executive privilege are implicit in the separation of powers clause in the Oklahoma Constitution. (OKLA. CONST. art. 4, § 1)

Swinton had to decide if Oklahoma law recognizes the deliberative process privilege.

She said the privilege's main purpose "is to ensure that subordinates within an agency will feel free to provide the decision maker with their uninhibited opinions and recommendations without fear of later being subjected to public ridicule or criticism."

Swinton took that definition from a District of Columbia case. But unlike Oklahoma's Open Records Act, D.C.'s open records statutes specifically recognize the deliberative process privilege.

In her opinion, Swinton did not address the separation of powers argument. Instead, she treated the deliberate process privilege as a subset of the executive privilege.

Focusing solely on the deliberative process privilege, Swinton held that it exists in Oklahoma as common law because prior Oklahoma cases had relied upon the privilege.

However, Swinton cited only from a plaintiff's motion in a 2009 case, not from the trial judge's ruling. Deliberative process was only one of several arguments made in the motion. The trial judge did not specify his reason for granting the motion to stop a deposition of a state agency's attorney. (Oklahoma Dep't of Securities v. Global West, 2009 WL 4798886, CJ-09-2773, Dec. 4, 2009)

The trial judge's order did not mention deliberative process and did not show that a prior Oklahoma court had recognized this privilege.

The case did not concern an elected official, such as the governor, and was not an open records case.

Swinton also cited out-of-state cases to support her ruling but did not address a Massachusetts decision in which that state's highest court noted Oklahoma was one of many states whose existing law prevents the innovation of a common law deliberative process privilege. (Babets v. Secretary of Human Services, 403 Mass. 230 (Mass. 1988))

Fallin's spokesman said an appeal of Swinton's ruling is expected.

"The governor welcomes the chance to resolve this issue in court and provide clarity as to the provisions and limits of the Open Records Act. While the legal process plays out, our office continues to be committed to transparency and openness," said Alex Weintz in a written statement to news media outlets.

That commitment is questionable for a governor who is creating a broad open records exemption that no previous state executive sought.

Democracy is founded on the principle that citizens have a right to be fully informed about their government so they can vote accordingly. Swinton's ruling sets back Oklahomans' right to know how and why their governor makes decisions.
Fancy, huh?
Anyway, we'll keep you updated on everything. I guess the best case scenario is that we appeal the decision to the Oklahoma Supreme Court, win, and then get to see what secrets Mary Fallin is hiding from Oklahoma voters. The worst case scenario is that we appeal to the Oklahoma Supreme Court, lose, and then learn that Oklahoma's open records law is a complete sham with a major loophole for the Governor's office.
In all honesty, the worst case scenario isn't even that bad. At least it would expose a flaw in our open records system, let us know the rules to play by, and give voters a chance to makes changes through legislation. Plus, Nolan Clay will have to continue to write about us. That's always fun.
Stay in touch
Sign up for our free newsletter