Everything Else
Zeke Campfield has finally been charged from the Moore high school graduation incident…
2:17 PM EDT on October 21, 2013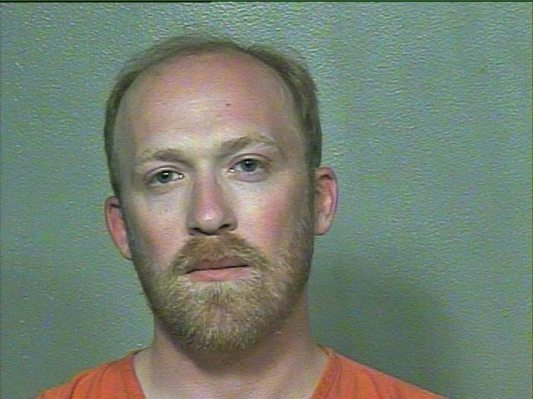 It's been about four months since Montana pantie raider and former Oklahoman reporter Zeke Campfield was accused of both snapping pictures up girls' dresses at the Moore high school graduation and having a teenage prostitute over to his house for sex.
Finally, charges have been filed against the creeper from the Moore event. What was he charged with and how many years in prison is he facing? The Oklahoman's Nolan Clay has all the details:
A former reporter for The Oklahoman has been charged with disorderly conduct.

Nathaniel Zeke Campfield, 32, was charged Oct. 7 in Oklahoma City Municipal Court. He is accused of "disrupting the public order of the community by repeatedly bumping into multiple women on purpose." The offense is punishable by a $167 fine.
That's no joke. After paying what amounts to the approximate cost of a year-long digital subscription to The Oklahoman, Zeke Campfield is going to walk away from the Moore High School incident without facing any serious criminal charges.
Before you flip out and complain about our criminal justice system, remember that the memory card for Zeke's camera had mysteriously disappeared by the time police intervened. With no physical evidence to support the accusations, it was simply Zeke's word against the victims. That can easily hold up in the court of public opinion, but not the law. In fact, one Ogle Mole claims that Oklahoma County DA David Prater did not want to push for harsher charges because "it's not a great case" and that disorderly conduct charges were filed only "because of pressure from Moore high school parents."
With that out-of-the-way, let's see how The Oklahoman tried to spin this thing:
Campfield was arrested May 25 at the Cox Convention Center, where graduation ceremonies were held for students in Moore. The suburb was hit by a tornado May 20.
A young woman and three girls told police he bumped into them.

Police also investigated concerns by witnesses that Campfield took inappropriate photos of females at the center but officers found no physical evidence of that. He was not assigned to cover any event for the newspaper at the time.
This would probably be a convenient time to remind everyone that Zeke claimed he was on assignment to cover the event for The Oklahoman. This was confirmed by OKCPD after they contacted Campfield's supervisor at the paper. Here's a snippet from the police report:
I asked why he was at the event… He said he was reporting for The Oklahoman. Lt. Scott contacted (Campfield's) supervisor and verified that (Campfield) was in fact doing a report for them at that location. Campfield's supervisor said that Campfield's camera requires a SD card to take photos.  
Interesting. Even though it's public record, the paper that brands itself as "The State's Most Trusted News" totally ignored the claims in the police report and instead spun their own internal statement as a fact. Of course, that shouldn't be surprising. They also failed to mention this little nugget that we first published in May:
This isn't the first time Campfield's odd behavior has been brought to the attention of Oklahoman management. Sometime in 2012, the Oklahoman received a complaint regarding the way Campfield covered an event at the Oklahoma fairgrounds. Allegedly, he was behaving in the same manner as he did on Sunday; bumping into people, snapping pics, acting like Mr. Creepy, etc.

"It happened at the fairgrounds during some FFA event," claims a Mole with knowledge about the incident. "At the time, we didn't think he'd really do that. We were more appalled that the editors confronted him about it in the open newsroom at his desk, so everyone knew about it."

Wait. Two Oklahoman editors spoke to Zeke about the incident in the open air of the newsroom?

"Yes, we all thought it was strange."

I replied back to The Oklahoman to see if they had a response to these claims. Scott Briggs, Vice President of Administration, replied "As I stated before, you have our official statement, and we don't have any additional comment to make at this point."

Since that's the stance they're taking, I didn't ask them about rumors that Zeke also sexually harassed a female Oklahoman interns. According to a Mole, the claims were serious enough that former Oklahoman editor Joe Hight allegedly had a discussion with Zeke regarding the allegations.

But remember, the folks at The Oklahoman were surprised by the reports.
Uhm, maybe it's time The Oklahoman should change their slogan to "The State's Most Trusted Untrusted News?"
Anyway, the NewsOK.com article continues:
"(Zeke) maintains his innocence," his attorney, Matt Swain, said Thursday. "He's tried to put this chapter in his life behind him."

The FBI also investigated Campfield after a 16-year-old prostitute claimed in May he paid her for sex. He told agents he did not hire the prostitute. No charges resulted from that investigation.
According to a Mole, the FBI hasn't pursued charges because they also couldn't find any physical evidence. The only electronic devices uncovered by FBI agents after searching Campfield's home were four old cell phones (Samsung SCH-U460, LG VX8560, LG VX8100 and a Nokia 6205). Crazy, huh? I guess they didn't find one camera, laptop or desktop computer in the house of a newspaper reporter. That's probably because Zeke was a renaissance man who shied away from technology, or, that all of his electronic possessions somehow ended up at the bottom of Lake Hefner.
Here's the final sentence of the Oklahoman article:
His employment was terminated June 3. He now lives in Montana.
Well, at least he moved back to his home state. That's a positive way to end the story. I guess.
Stay in touch
Sign up for our free newsletter