Everything Else
Did Aubrey McClendon's son disinvite friends to his wedding?
3:12 PM EDT on April 8, 2013
This past weekend, Jack McClendon married his longterm girlfriend Whitney Davidson. Jack is the son of Aubrey McClendon. Whitney is the daughter of some dentist. Don't worry. It's not the one who tried to give everyone AIDS.
Here's a pic of the happy couple that I found on their engagement website. At least I think it's the happy couple. It could have been ripped from the pages of a Dillard's catalog: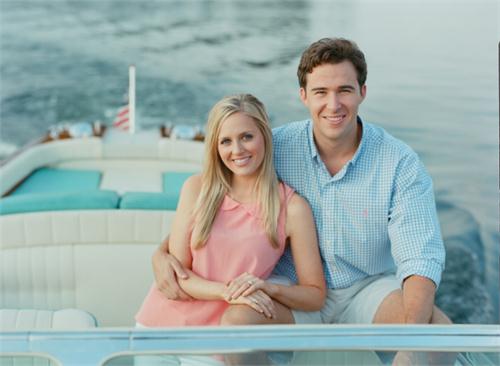 Usually, this is the point where we roast the newlyweds. It's where we post more of their whiter-than-white photos, make fun of where they met (a Southwest flight), and dissect their wedding registry. But I'm not going to do that. This is because I'm nice and classy. Plus, we have some juicier, head-scratching gossip to share.
We received an email on Friday from an Ogle Mole claiming that Jack recently disinvited a bunch of his close friends to the wedding. Scandalous, huh? The alleged about-face came only a few weeks before the wedding ceremony, long after formal invitations were mailed, RSVPs received, and travel plans made.
From an Ogle Mole who was cut from the guest list:
(We) received a "Save the Date" for the wedding of Aubrey McClendon's son, Jack. Eventually we received a formal wedding invitation with a reply card, which we sent back. Three weeks prior to tomorrow's wedding, Jack explained that no unmarried guests would be allowed ...  

This came as a surprise given the amount of information on their wedding website. They boasted of a farewell brunch on Sunday and complimentary (Thunder) tickets for out-of-town guests.  You would think that a prominent family such as the McClendons could make appropriate accommodations for their invited guests.
I asked the Mole to provide some scans of the save-the-date and invites. Here they are (save-the-date / invite). According to the Mole, they were not the only ones who were unceremoniously excluded from the wedding day festivities:
He "uninvited" every "+1"... only married "+1"s were allowed. One guy had to call his date and tell her to cancel her flight into OKC. Jack offered no explanation for why he was uninviting the unmarried partners. I can only assume that daddy McClendon invited too many of his business associates or soon-to-be business associates and there was no room at the country club for us measly unmarried partners.
First of all, I don't blame the Mole for getting upset. Check out the reception details:
Immediately following the ceremony, please proceed to the Oklahoma City Golf and Country Club for cocktails, dinner and dancing.  When you enter the country club's main entrance, please pull up to the front round-about for valet parking. 
If I had a friend get my hopes up for an open bar and then pull the rug out from underneath me, I'd get mad, too. Seriously, open bar wedding receptions are one of life's great pleasures. It's the ultimate reward. Yeah, we made you suffer through a boring ceremony where we make a flimsy ceremonial commitment to each other, but now let our parents pay for you to get drunk, eat miniature quiche and do the YMCA on us.
Also, I have no clue why Jack disinvited all the single people. As the Mole said, "You would think that a prominent family such as the McClendons could make appropriate accommodations." If anything, I would cut the old people and kids first. Why pick on unmarried folks and singles? They are the ones who make a wedding reception entertaining. It's always fun to guess which single is going to find themselves at Walgreens buying Plan B the following morning.
Anyway, we have no way to know if this is true or not. I just can't call Jack McClendon and ask him. Instead, I came up with some theories as to why Jack "uninvited" people. Here they are:

• Was worried that every +1 worked for Rueters. For what it's worth, I heard the OPUBCO Energy beat reporters were the groomsmen.
• Didn't want Harold Hamm to bring his alleged mistress. I swear to you not, someone sent me an email claiming that Harold Hamm had an improper relationship with one of Dr. Oz's assistants, and that's why his wife seeking a divorce. The person then offered to sell me more info for the right price. Those are they types of weird emails we receive. I'm glad our "Contact Us" form is working again.
• His Dad's wine cellar was empty. You can't serve Black Box at a McClendon event.
• He's just a dick. He did go to Casady. I think the school's motto is "We Turn Young Boys Into Grown Dicks" or "Poor People Go to McGuinness." I'm not 100% sure.
Stay in touch
Sign up for our free newsletter