OKC Media
TLO Pilgrimage to Seiling for Gary England Day
11:07 AM EDT on October 11, 2012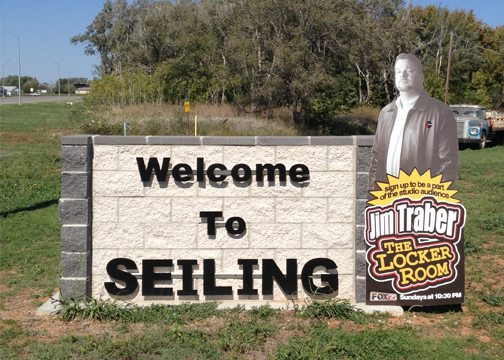 Last week, Tony and I grabbed Cardboard Jim Traber and took a pilgrimage to Seiling, Oklahoma for Gary England Day. The purpose of the pilgrimage was to celebrate and honor the birthday of our severe weather savior Gary England. Specifically, we wanted to:
1. Pay tribute to Lord England by offering him melted hail from the Great Hailstorm of 2010 at the Seiling tornado siren.
2. Search for lost relics, including the Holy Gentner of Apache, the original script to Twister, and Gary's first five-day forecast.
3. Sacrifice a lamb, virgin or Ogle Brother at the Seiling Mill or Bivens Drug.
Well, since we couldn't find a virgin or lamb anywhere in Oklahoma City, and Kelly Ogle is a surprisingly strong man who can frighteningly rip through a net with ease, we weren't able to accomplish item number 3. But the other ones, well, continue reading.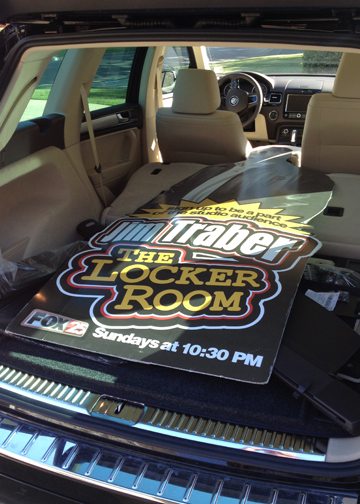 Before the trip started, we packed Cardboard Jim into the shiny new Volkswagen Touareg provided to us by our friends at Fowler Volkswagen. Just like us, the kind folks at Fowler totally fear the wrath of Gary England and the golf ball sized hail he lobs from the heavens. The only stipulations for using the Touareg, which is a well-designed crossover SUV that offers commendable driving dynamics, were:
• We were not allowed to anger or bother the people of Seiling
• Jonathan Fowler got to keep any artifacts that we recovered for his personal weather history collection
After we loaded Cardboard Jim and a $200 digital camera that I would somehow lose into the Touareg's roomy interior, we hit the road. We decided to take the scenic route, which meant taking Northwest Expressway to Okarche, then up north to Kingfisher, and then west towards Watonga and Seiling. While on the trip, we stopped to take a couple of pics of Cardboard Jim and our Touareg at the Watonga Center for the Performing Arts. These are totally real, and in no way doctored photos intended to replace the pics that were on the camera that I lost: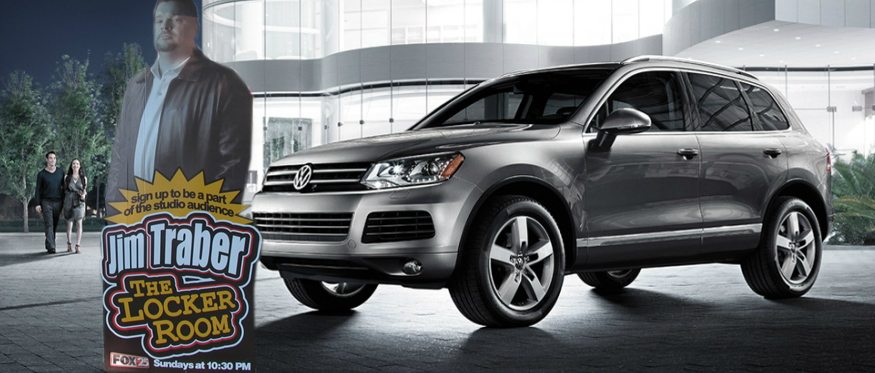 -
After our brief stop in Watonga, we continued the quest towards the Severe Weather Savior's birthplace. When we arrived in town, our first item on the list was to visit the "Welcome to Seiling" monument and leave a small offering to the town folk and other pilgrims: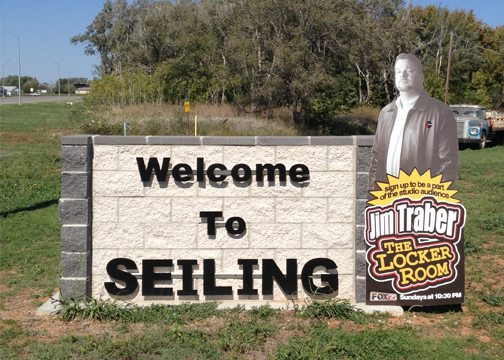 -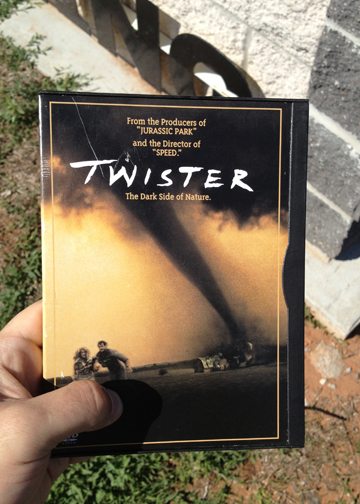 -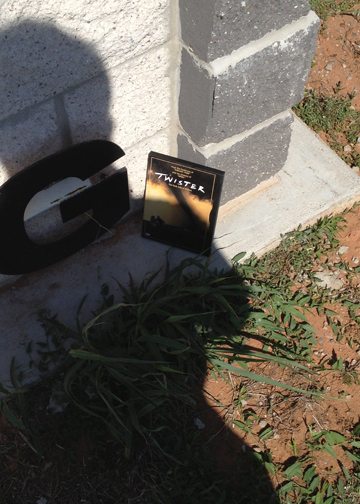 Yes, we really did leave behind that DVD, although I think the guy who was tractoring the field next to the monument grabbed it after we left. And yes, I know tractoring isn't really a word, but I really don't know what tractors are used for. And also yes, I'm aware that my shadow makes me look like a portly hobbit with an hourglass figure.
After we left our offering, we decided to visit local landmarks around town: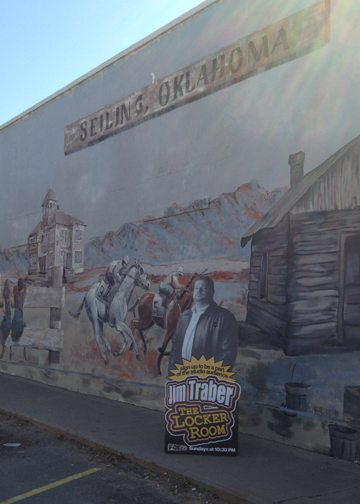 -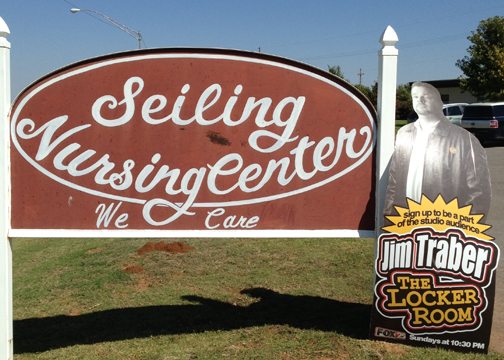 -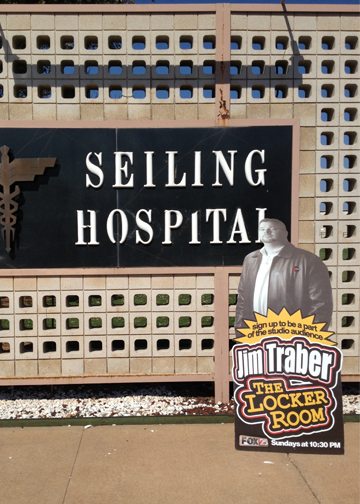 -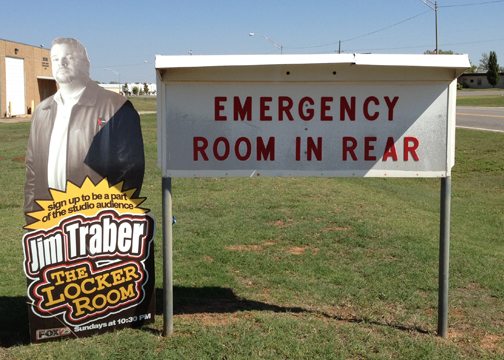 That's about all there is in Seiling. Just a hospital, nursing center, cool mural and emergency room in rear. That last one probably explains why the Mathis Brother have a summer home in Seiling and all the people in town kind of walk funny.
After checking out the local tourist attractions, we stumbled across this gem, which honors the day Gary England sent a plague of locusts to the town of Laverne before an important Friday night football game: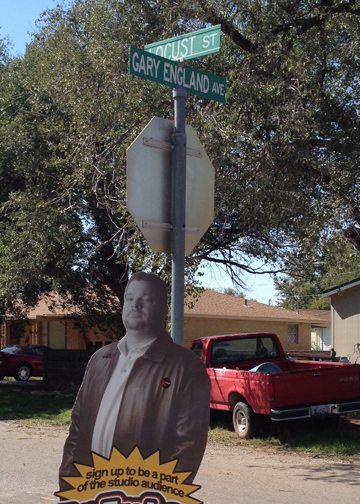 -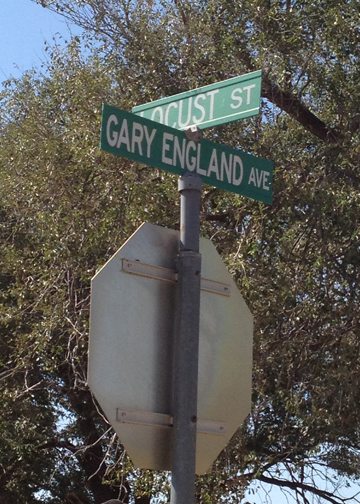 Yeah, having a Gary England Ave. in Seiling is kind of like having a Jesus H. Christ Boulevard in Bethlehem, but I'm fine with that.
Anyway, after those pics, things got weird. We drove off in search of the town's tornado siren so we could leave our offering of melted hail from the Great Hail Storm of 2010. While searching, Tony noticed something odd underneath a bush.
What could it be?! We went in for a closer look...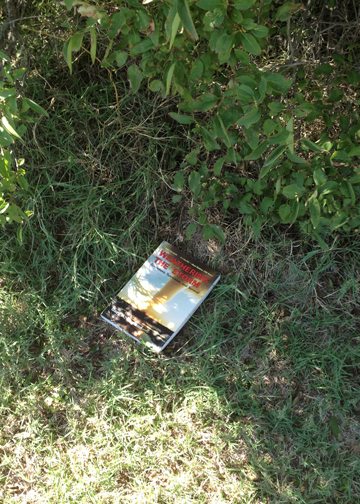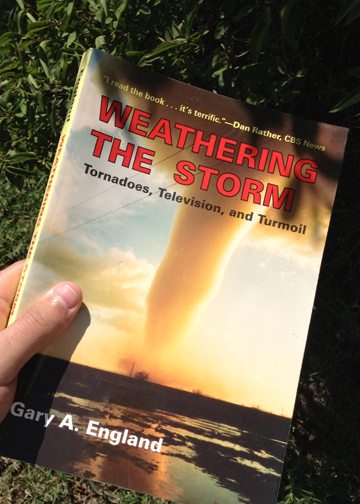 For it was a sign! We quickly opened up the relic. Inscribed on the first page were the following words:
It was a message from Val! We quickly went looking around town for Elm trees. At the first one we found, we noticed a small shovel in the ground. We immediately exited our 2012 Volkswagen Touareg, which comes comfortably equipped with a 3.6-liter V6 that generates 280 horsepower, and begin to dig. Finally we noticed something. What could it be???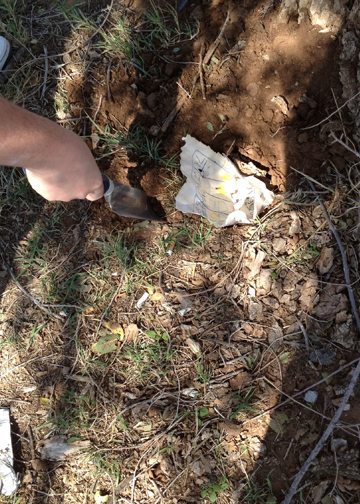 It was an old crumpled piece of paper. Tony gently lifted it from ground. What we uncovered was startling. It was like finding the Rosetta Stone, King Tut's tomb and Lucy all at once: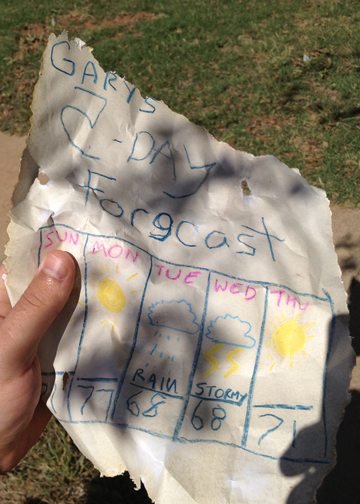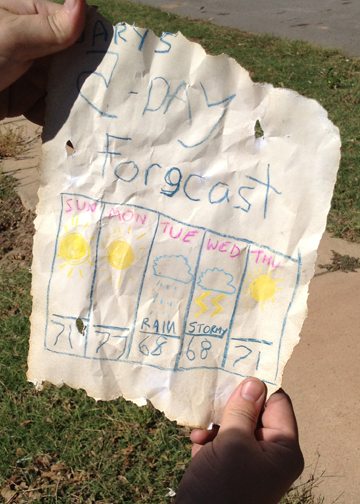 For it was Gary England's original five-day forecast! It was crafted in the summer of 1946 when Gary was nothing but a young six-year old! It's a prized and ancient artifact thought to have gone missing many years ago during the Great Storm Chaser Rebellion of 1991.
After finding the historical document, and noticing that the police were taking an interest to us (seriously), we decided to get out of town. But before we did, we had one final thing to do. We had to pay tribute to Lord England at the Seiling tornado siren. This would protect our homes from lightning for years to come.
Here is the siren: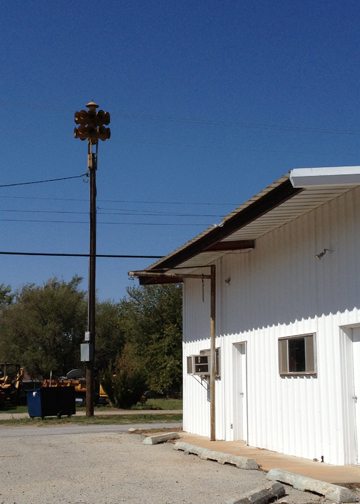 And here is the melted hail: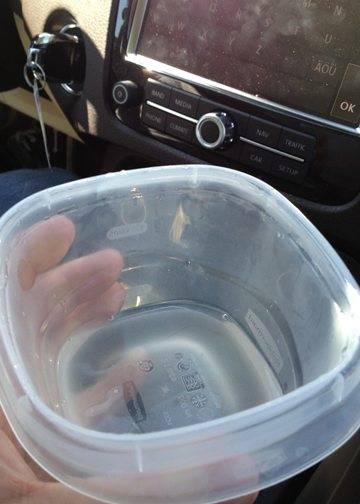 And here is our offering:
And then we left town, but before we did, we made sure to stop at the Seiling ski lodge: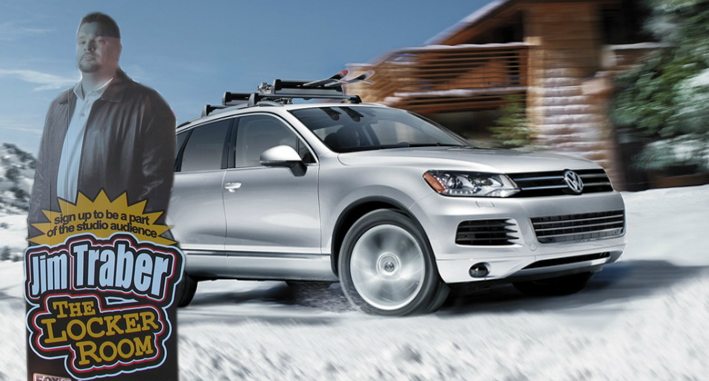 When we arrived back in the metro area, Tony and I felt a high that we had never felt before. Our souls felt clean, and rays of sun from the partly cloudy, slight chance of rain sky fell upon us, but we had one last thing to do.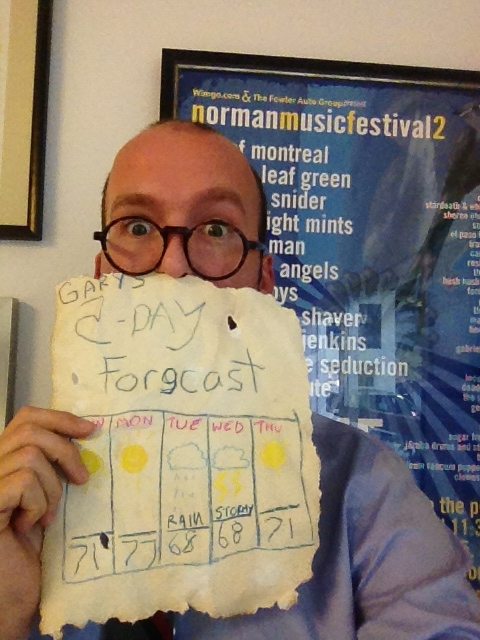 Yes, we had to return the Touareg and Gary England's original 5-day forecast back to Jonathan Fowler (pictured above) at Fowler Volkswagen. That kind of sucked, but he didn't question why the car had 3,500 miles on it and smelled like bourbon, cheap perfume and Kelly Ogle's blood.
-
Anyway, I hope you enjoyed the recap of our pilgrimage. Until next year, stay with The Lost Ogle, we'll keep you advised.
Stay in touch
Sign up for our free newsletter