Everything Else
Five Trades That Could Help the Thunder
7:30 AM EST on March 7, 2012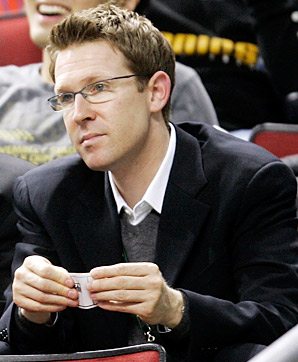 With the NBA trade deadline rapidly approaching, the whole league is...well, they're doing nothing. Ordinarily, this is a time of the year where rumors run rampant and superstars are linked to other teams. This year, not so much.
Just like in every other season, there are teams who are hopelessly out of the running for the playoffs who want to make significant changes, borderline playoff teams hoping to get that one last piece that will make them a contender, and elite teams looking to diminish flaws. Unlike every other season, there is little chatter between these teams to make a deal. That's because they are all waiting for the big domino to fall (in this case, a Dwight Howard trade out of Orlando) that opens up the action for everyone else.
The problem is that a Howard trade happening at all is no better than a 50/50 proposition. He asked for a trade before the season, making his preferences of the Lakers, Nets, or Mavericks well known, and has since given indications he might like to remain with the Magic. Those mixed signals, as well as the presence of misguided teams like Houston and Golden State who want to trade for him despite being assured he would leave after the season have mucked everything up. If he stays this could be the most silent trade deadline since I have paid attention.
Regardless of the Howard situation, one franchise front office that was more likely to play solitaire on their computers than seek out trade partners was the Oklahoma City Thunder. With the best record in the league, they obviously have few weaknesses. With well negotiated contracts, they have no need for financial relief. And with well scouted acquisitions over the past five years, they have no players whose presence takes away from the team.
That said, there is room for improvement. If they hope to win a championship, they could certainly use a more experienced, steady back up at the point guard position. Ideally, they could use some more scoring in the front court, as well. However, Reggie Jackson is theoretically good enough to handle the few minutes a night Russell Westbrook will need to rest in the post season, and finding a scoring big man who is A) available and B) would crack the Thunder rotation is practically impossible.
So to be clear, I don't think the Thunder should make any moves prior to trade deadline. But, if the Howard saga is ever cleared up and the team has an opportunity to make some tweaks, here are some deals that might make sense for Oklahoma City.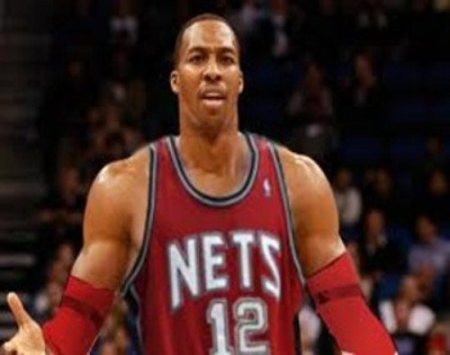 Dwight Howard to New Jersey; Whatever New Jersey has to offer to Orlando
Technically, I don't think the Nets have a very good offer for Howard, but since they could theoretically sign Howard as a free agent (assuming he's willing to leave a lot of guaranteed money behind) they Magic may be forced to accept a crappy deal or be willing to become one of the worst teams in the league.
As for how this deal involves Oklahoma City, it doesn't. It does however a much better scenario for the Thunder than the alternatives. If Howard were traded to the Lakers or Mavericks, those are two teams that immediately become stronger and could threaten for the Western Conference crown. Plus, that means the Thunder would have to play against him several more times per year than if he stayed in the Eastern Conference.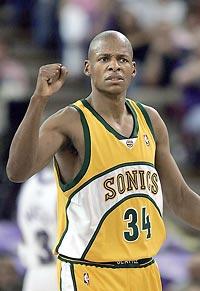 Ray Allen to the Thunder; Thabo Sefolosha, Nazr Mohammed, and a 1st Round pick to the Celtics
The math works on this deal, and from a basketball standpoint it makes some sense. Boston is really thin in the front line, has a horrible bench, and is in dire need of getting younger. This deal gives them an elite perimeter defender, a center, and a draft pick to help replinish the future. They even save quite a bit of money this season when you factor in the luxury tax.
Meanwhile, Ray Allen is one of the greatest shooters in NBA history, and still has enough left in the tank to make a run at another ring. He could fill the starting shooting guard position that Thabo would vacate and give the team another scorer to relieve the pressure from Kevin Durant and Russell Westbrook. Plus, he wouldn't have to play a ton of minutes (due to the presence of James Harden) saving his legs and possibly giving him another season to his career.
Of course, this deal could never happen. You may remember that Allen used to be a member of this franchise back in the Seattle days, and he remains very tight with the Seattle community. He would not like to get associated with Oklahoma City because he very likely wants to be a public figure in Seattle after his playing career is finished. Helping get a trophy for this area would not be helpful in that. A trade like this would likely end up with the Thunder carrying a pouting player into the playoffs.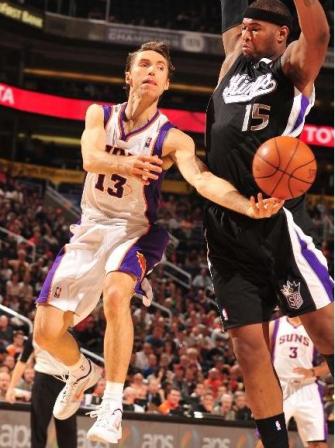 Steve Nash to the Thunder; Reggie Jackson, Thabo, Nazr and a 1st Round Pick to the Suns
Again, this would probably never happen. Maybe it should--Nash probably deserves a chance at a ring after carrying some very flawed Suns teams during his prime. On the Thunder, he could share ball handling duties with Westbrook, and give the team an elite shooter. While his defense is suspect, he is not a downgrade from the current starter (Daequan Cook) in that aspect, and he is just as good a shooter that is also one of the best ball handlers and passers in the league.
Now, the Suns are never going to trade him unless Nash asks to be traded. He is too valuable to their marketing team which really has nothing else to sell fans on. Since Nash is too nice to ask for a trade, he's bound to finish his career helping crappy teams overachieve.
One more thing: If Phoenix did make the decision to trade the face of their franchise, I imagine they could get far superior offers than what OKC would be willing to give up.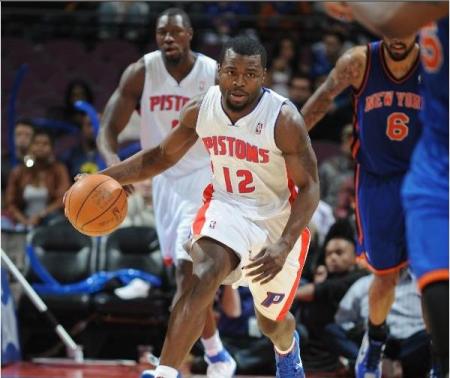 Will Bynum to the Thunder; Nazr to the Pistons
With his name showing up in a third deal, it probably looks like I am trying to rid the team of Nazr Mohammed. That isn't the case. I think keeping him is the best option, but his contract is the most friendly from a trading standpoint. Also, if he were to be traded, opening up playing time for Cole Aldrich would not be a horrible outcome.
Now back to this trade, I think Detroit would be willing to give up Bynum, who could fill the Thunder's need of a more experienced back up point guard, because they have two young point guards they want to develop. So, Bynum is hardly playing, but is signed through next season. This trade gets his salary off the books for next year since Nazr is on an expiring deal.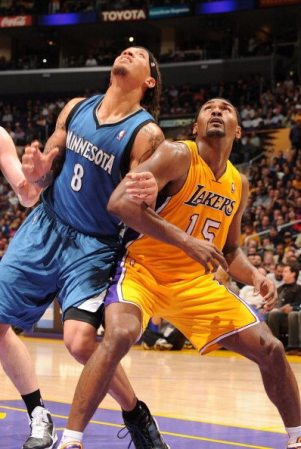 Michael Beasley to Lakers; 1st Round Pick to Timberwolves
Like the first trade, this does not directly involve the Thunder, but it would affect them immensely. The Lakers, despite their alleged downfall, are always dangerous. Meanwhile, the Timberwolves are fighting for a playoff spot where they could end up being a dangerous first round opponent for the Thunder.
This is a deal that could actually weaken both teams. Minnesota relies on Beasley for scoring off the bench, but would rather develop rookie Derrick Williams. Therefore, they are looking to trade Beasley even if it makes them worse right now.
The Lakers have a need for scoring from the wing, so theoretically, Beasley should help them. However, he is a head case, and playing for the Lakers would mean he would be competing for playing time against Metta World Peace (the gold standard for head cases). Think about it, they will be battling against each other in every practice. Granted, both are amazingly talented, but it would take a great coach to get them to not kill each other and the team in the process. If Phil Jackson still coached the team, he would make it work. However, the Lakers coach right now is Mike Brown who basically lets players do whatever they want.
Clark Matthews is a world-class checkers champion, co-founder, and basketball editor-emeritus of The Lost Ogle
Read More:
Stay in touch
Sign up for our free newsletter