OKC Media
Dave Sittler accurately calls John Blake a slapdick coach, and other gaffes
5:00 AM EST on January 3, 2012
In case you missed it over the holiday weekend, Tulsa World (and former Oklahoman) columnist Dave Sittler got in some hot water at the Fiesta Bowl media day when his private conversation with Oklahoma State defensive coordinator Bill Young turned out to be not so private.
While talking with Bill Young about his tenure as defensive coordinator at the University of Oklahoma under John Blake, Sittler was caught by a hot mic (and video) referring to Blake as a "slapdick." Sittler also mentioned to Young that Donnie Duncan told him Blake got the head job at OU because he was black, and that OU was afraid of what Bob Simmons was going to do at OSU. If that's confusing, just watch the video:
3lUJeOJpnFE
First off all, the look on Bill Young's face at about the one-minute mark is classic. It's like someone told him that Nathan Simmons was going to start at running back.
Needless to say, lots of people freaked out about this, most of them wanting Sittler to be punished or even fired. Quite frankly, I'm not seeing what the big deal is. Assuming Sittler is telling the truth about what Donnie Duncan said, what's the issue? John Blake was a slapdick coach. If ever there were a coach for which that would be an accurate description, John Blake would be the one. It is a perfectly correct description. The term is uncouth, I guess, but hardly out of the ordinary for newsmen in private conversations.
As for the racial aspect, if Donnie Duncan said he hired Blake simply because he is black, why is it a problem for Dave Sittler to repeat that? If the athletic director who hired him had said that to me, it's something I sure as hell would want to talk about with his former staff members. Sittler may have trouble getting people to trust him with information like that again, but I'm not seeing why the public should be outraged at him.
Anyway, this all seems way more like a Kinsley Gaffe than an actual gaffe, but it got me thinking of some other gaffes that occurred in the media here over the years. A look at some of our favorites after the jump.
Bill Simonson
It was the original John Blake racial imbroglio, when professional troll Bill Simonson said interviewing Blake was like talking to Buckwheat. "Captain Huge" was deservedly run out of the market, but continues to poison the airwaves of Western Michigan.
-
Dean The Stream Blevins
The greatest four minutes in the history of Oklahoma talk radio.
-
James Aydelott - Fox 23 Tulsa
OK, this didn't actually happen in Oklahoma -- it was in Dallas, before Aydelott moved to Fox 23 -- but how come nothing cool like this happens with our weathermen? Seriously, if Gary England got caught on a hot mic calling a woman onscreen an "old goat," the moment would live forever. We would tell our children about it. Instead, Gary just gets tired of the attitude.
-
John Rohde and the art department at The Oklahoman
Nothing like using hacky Native American imagery to describe how nobody cares about the Native American guy. To this day I'm astonished this story and illustration got past all the editors with no one thinking anything of it.
-
Dan Lutz
To be honest, I forget the exact details of this one, but it was a lousy joke involving people from Mexico piling into a car (or maybe the bed of a truck) in order to come see Eduardo Najera come play basketball or mow David Boren's lawn or something.
-
Connie Chung
It was Connie Chung's tone-deaf questions in the aftermath of the Oklahoma City bombing that started her downfall from being known as a respected journalist to being the woman married to the most famous paternity test-giver on planet Earth. Also, on the topic of the bombing, a special honorable mention shout-out to KFOR for erroneously naming an Iraqi man as John Doe #2 and launching the career of conspiracy theorist Jayna Davis.
-
Al Eschbach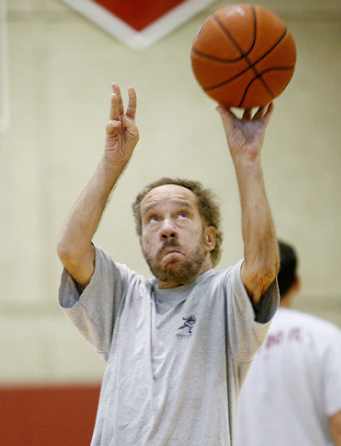 OK, this hasn't happened yet, but I'm putting this up here as a placeholder. This is a man who doesn't have any filter. He says whatever comes to his mind, no matter how callous, sexist, heartless or unfunny it is. To paraphrase Eschbach's former radio co-host Howard Schnellenberger, he's on a collision course with his Jimmy the Greek/Don Imus moment, and the only variable is time. Will it be in 2012?
Stay in touch
Sign up for our free newsletter