Everything Else
How Does the Thunder Take the Next Step?
7:00 AM EDT on June 1, 2011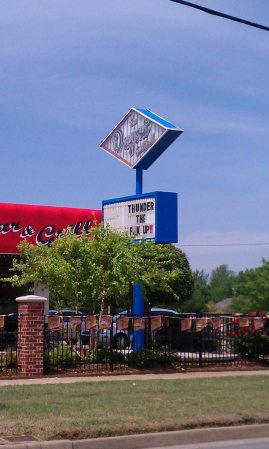 With a week to reflect after losing the Western Conference Finals, it seems that most Thunder fans have returned to reality. There is still disappointment of failing to capitalize on the opportunity (particularly since the team was just as close to winning 4 games to 1 as they were losing by that margin), but it really was an extraordinary season.
For the second consecutive year, Kevin Durant led the league in points per game and was voted 1st Team All-NBA (he is signed to stay in OKC through 2016). Russell Westbrook made 2nd Team All-NBA in only his third season. General Manager Sam Presti acquired the defensive minded big man that fans have whined about since Robert Swift was patrolling the paint for the Thunder.
The essential pieces for this team becoming a dynasty are in place. Despite being the youngest team in the playoffs, they were very close to playing in the Finals until their inexperience derailed them. That being said, they need to get just a little better to take the next step. After the jump, I make my suggestions how to reach that next level.
Get Better
Losing 4 games to 1 against Dallas looks bad. Looking at it in perspective, however, and you realize the Thunder should have won three of those five games and managed to get within striking distance of winning the other two games. Late game execution, poor decisions, and lack of offensive options at the end of games killed them. Most of that can be improved simply by adding experience for the young players that make up the entire team. Some players can make adjustments that might reduce the need to play perfectly at the end of games.
Serge was both incredible and awful during the playoffs. He was absolutely the best shot blocker on the team and had games where he flashed offensive polish. At other times he shied away from the basketball, fouled when it was not necessary, and was generally a liability on the floor.
Ideally, Serge would spend this off season, which might be an extended off season, working out with Hall of Famer Hakeem Olajuwon. The two time NBA champion has spent his retirement working with other promising big men to teach them the craft he perfected in the '90s. Last Summer, Hakeem tutored Orlando center Dwight Howard. Already a star because of his defensive tenacity, Howard became an offensive powerhouse after working with Olajuwon. If Serge could pull off the "Dream Shake," it would take a lot of the pressure off of Durant and Westbrook.
Russell Westbrook
No player took more heat for the Thunder's failures than Westbrook. Some of that was deserved. As the point guard, it is up to him to run the offense, and when it failed down the stretches of games, much of that is because of his decision making. However, Westbrook is still the most unstoppable ball handler in the league and without his abilities, the Thunder were probably not a playoff team.
So how does he maintain that explosive, free styling daredevil act that makes him special while still being the cerebral floor general that can put this team over the top? Most will come from experience, but when no games are being played, he needs to live in the film room. Primarily, he should watch the way Jason Kidd pwned him late in games 4 and 5. Then watch the way Kidd lets the game come to him, especially with a lead.
In addition, if Russ could improve his outside shooting similar to what Chris Paul has done over the past couple of years, nobody in the league could guard him.
Personnel Changes
Roster
There really is not a lot of need, nor much opportunity, for changing the roster. Of the 15 roster spots available (NOTE: Anytime during this article that I mention anything like roster or salary, assume that it could change significantly because of the Collective Bargaining negotiations that are likely to kill a chunk of next season), only three could potentially open up. Nazr Mohammed will be an unrestricted free agent, Dequan Cook could become a restricted free agent, and Robert Vaden was only signed for the playoffs as a reward for taking the Tulsa 66ers to the playoffs.
Of course, two of those guys were rotation players for a Western Conference finalist, so the team may want to re-sign them. Neither should be very expensive to retain. Mohammed was definitely useful, especially against teams with big front lines. Cook, meanwhile, was the only consistent three point shooting weapon the team possessed.
The decision of whether to make an effort to re-sign will come down to two entirely different issues. For Nazr, it will depend on the development of Cole Aldrich. If he is ready to log consistent minutes next season, Mohammed may be unneccessary. On the other hand, if he were willing to come back with a diminished role on the floor, his experience could be helpful in working with Cole to make him a valuable rotation player.
As for Cook, it will depend on 1) if the Thunder can upgrade by acquiring a small forward that can both shoot the three and not be a defensive liability, and 2) Cook finding a better deal elsewhere. It all hinges on if Thunder GM Sam Presti decides to make him a qualifying offer that would make Cook a restricted free agent. Should that happen, assume that Presti is uncertain to fill the requirements of scenario 1, and that Cook will be back.
If the team wanted to free up more room to make roster changes, they could release Byron Mullens. It is doubtful that would happen due to the team going as far as picking up his third year option. However, it is a low salary, so it would not have major ramifications financially. Royal Ivey is also a (in the world of NBA basketball) low-salaried bench warmer. Another possibility is trying to trade Nate Robinson and his expiring contract. That is complicated by the collective bargaining negotiations and the fact that Robinsion is a 5'9" shooting guard (although I'm sure OSU's Travis Ford would salivate at the possibility of coaching him--unfortunately Robinson's college eligibility is gone.)
Free Agency
As for options to bring in as free agents, my top priority would be Shane Battier of the Memphis Grizzlies. Battier was part of the two headed monster (along with Tony Allen) that frustrated the hell out of Kevin Durant in the second round and hounded Manu Ginobili during the team's first round upset. Unlike Thabo Sefolosha, the Thunder's current defensive stopper, Battier is no liability on the offensive end. He shoots 39% from outside the arc for his career and 44% from the floor overall. If defenses choose to leave him wide open to double KD, Battier is capable of making them pay.
Should Presti target Battier early in free agency, I think he would be easy to sign. Memphis is already stretched financially because of a fanbase that only shows up for the playoffs, and to get back to the playoffs they will have to open the checkbook to re-sign both Zach Randolph and Marc Gasol. With Rudy Gay returning from injury, Battier will not be a priority for them. Going on 33 years old, the competition for signing the glue guy swingman will not be teams with tons of cap space. Everyone making a play at him will be franchises looking for one more piece to win a championship as their window closes. Oklahoma City should have a major advantage with cap space and the ability to sell him on the opportunity to win for the rest of Battier's career.
Outside of Battier, the free agent pool is very weak for filling the Thunder's needs. Grant Hill would be next on my list (but I doubt he leaves Phoenix), while Matt Barnes might leave the Lakers. Michael Redd, one of the league's all time best shooters coming off his third knee surgery, could be a target, but he wasn't much of a defensive player before his legs gave out, and there is no telling whether he will still have the offensive capability.
Draft
In, perhaps, the worst draft pool since 2000, the Thunder have pick #24. This is to say, do not expect the team to snag a difference maker. ESPN currently projects the Thunder to take Nikola Mirotic (if he stays in the draft) a 6'10" small forward from Serbia. That would probably be a best case scenario. He has upside, but will not be taken in the lottery because it is unlikely he will be able to get out of his Euroleague contract for at least two seasons. That is a far better scenario than taking an American born player to fill one of those scarce roster spots and play for the 66ers.
Changes on the Floor
James Harden
In the 2010 playoffs, Serge Ibaka was the only front court player for the Thunder that did not play scared against the Lakers' front line of Pau Gasol and Andrew Bynum. As a result, Presti was comfortable in trading away his starting powerforward this year to create playing time. Something similar should be in store for James Harden after he excelled against Dallas.
Should Harden move into the starting line up? Based on ability, yes. However, as the team stands now, moving "The Beard" into the starting line up would mean that the team had zero scorers on the second team. Bringing in a player like Battier or Grant Hill could alleviate some of the problem, but more likely the solution would be Scott Brooks drastically changing his substitution patterns.
To date, Brooks generally sits both Durant and Westbrook together. On the other hand, he could tweak it so that at least one of his three best perimeter scorers are always on the floor. If that means sitting Harden midway through the first and playing him the entire second quarter, it could work. Regardless, Harden's role with the team needs to continue expanding.
Eric Maynor
For some reason, Coach Brooks hates playing his back up point guard and his starting point guard at the same time. It isn't like teams have been unsuccessful using multiple players with good ball handling ability simultaneously. For instance, the Mavericks line ups almost always have two guys who could run the point (Kidd, Jason Terry, J.J. Barea). Even in the playoffs when questions were being fired at the coach regarding Westbrook's decision making at the point, Brooks hesitated until Game 5 of the Western Conference Finals before even trying Russell off the ball with Maynor doing the facilitating. Of course, by then it was too late to be testing out line ups. In 2012, here is to hoping that Maynor and Westbrook co-exist more often.
Westbrook's contract
This probably belongs in the personnel section, but it could easily end up bleeding into the floor chemistry. Russell Westbrook is due for a contract extension. How this will play out is entirely unknown because the rules have yet to be set, and likely will not until well into next Fall.
The abbreviated period to negotiate will make this even trickier. Remember, when Durant's time for an extension came about, the discussions lasted less than two minutes before KD agreed to a maximum length contract. Of course, his value was easy to establish: whatever the league allowed the Thunder to pay. "The Honey Badger's" value is much harder to determine. Has he proven himself to be among the lite who deserve a "max" deal. His 2nd Team all-NBA credentials suggest that to be the case. But does OKC really believe his worth is equal to Durant, and even more importantly, does Westbrook's style possibly take away from what Durant brings to the table?
Arriving at an answer to that is a very delicate situation. While many assumed that Celtics point guard Rajon Rondo's 5 year, $55 million extension would set the market for guys like Westbrook, Russell certainly outplayed Rondo in 2011. So at what point between the $55 million given Rondo and the $82 million given Durant (without hesitation) can Sam Presti offer without insulting his second best player? Even worse, if they cannot come to an agreement in the abridged period to discuss, the star point guard who can call his own number too much on occasion could be using the 2012 season to showcase his own value on the free market.
Clark Matthews is a world-class checkers champion, co-founder, and basketball editor-emeritus of The Lost Ogle
Read More:
Stay in touch
Sign up for our free newsletter