Everything Else
OKC To Get New Airport Super Jail!
10:38 AM EDT on October 3, 2023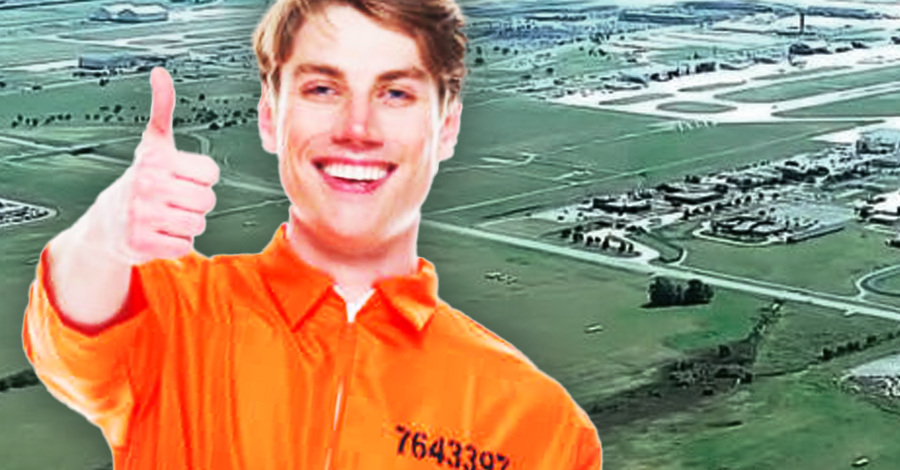 After a year of scaring NIMBYs all across the OKC metro, Oklahoma County's Commissioners have finally picked out a location for the new county jail.
The Airport!
Well, kind of. 
Yesterday morning, the Commissioners announced they're acquiring 192 acres just north of Will Rogers World Airport to build yet another state-of-the-art Oklahoma County jail that will likely fall way short of expectations, be hindered with problems, and become yet another eye-sore and embarrassment for the people of Oklahoma City… and apparently, all the people flying in and out of our airport. 
Here are some details via The Oklahoman:
Oklahoma County commissioners said Monday they hope to use a 192-acre property near Will Rogers World Airport as the location for a new county jail.

The city of Oklahoma City-owned site is bordered by Newcastle Road on the north, MacArthur Boulevard on the west, SW 54 on the south and the airport's rental car return center on the east.

The property is just north of the Will Rogers Air National Guard base and tarmac space on the airport's northwest quadrant.

"This is an exciting day," said Brian Maughan, chairman of the county commissioners.
I don't have a problem with this, because let's be honest here – there's really no good spot to build a new jail.
Unless you're Ken Boyer or a crack dealer, no human wants to live next to one. It doesn't take an old-school SimCity gamer to know they bring crime, cops, and other forms of riff-raff to an area, and drive-down property values regardless of how many trees and parks you put next to them. 
On that note, I guess you have to give it up to the Commissioners for picking a place in town that will get the fewest complaints from OKC residents, because outside of a few shoot em' up biker bars, rental car drop-off sites and lower-income neighborhoods populated by immigrants who won't complain, there's really not a lot around this odd stretch of Oklahoma City. 
There are other positives about this site selection…
First of all, when prisoners escape the new jail, they'll be able to easily hijack an airplane and make a daring escape, leading to Mayor Holt appearing on MSNBC and CNN to discuss the matter, promote our new jail and bring even more valuable international branding and media attention for our "Big League City." 
Second, it will give people an opportunity to gentrify Wheatland!
During the pandemic years, I drove around every corner and crevice of the metro to kill time. One of the most interesting spots was Wheatland. 
Located where S. Council intersects with Newcastle Rd. – a dreary old stretch of two-lane diagonal highway that was built when the western OKC metro was still a very rural area, connecting the core of the city to Mustang, Newcastle and other suburbs – this once rural town was incorporated by Oklahoma City in 1910. 
Thanks to its small twisty main street that's stocked with some decaying and empty storefronts – and with a new jail located only a few miles down the road – this blighted neighborhood with plenty of fixer-uppers could easily become a Plaza or Britton District for suburban Mustang hipsters looking for a gentrified adventure. Hop to it, Steve Mason!
Although this is probably the best location for a new jail, there are some drawbacks. 
For example, it's going to take more time to transport prisoners to and from the courthouse and lead to bail bondsman offices competing with dispensaries and vape shops for retail space on S. Meridian. 
Plus, the first thing that's going to greet visitors who fly into our city is a huge freaking jail. That's not exactly the best first impression.
Then again, if the Chamber doesn't want the jail to be a Welcome to OKC eyesore, they could always build a cool facade of world landmarks around the edges like the Chickasaw did for the WinStar parking garage…
"Look, ma! Big Ben… and the Roman Colosseum… and… wait… why's there a man in an orange jumpsuit propelling down the Parthenon?"
Anyway, I'm sure there will be people complaining about the selection of this site for the new jail, but if you ask me, the Commissioners did a good job finding the best shitty spot in town for it. 
I look forward to covering its construction and completion, and all the scandals and mishaps that will likely accompany it. I also can't wait to eat at Empire Pizza in Wheatland. 
Stay with The Lost Ogle. We'll keep you advised. 
Stay in touch
Sign up for our free newsletter