Politics
Stitt snubs Walters! And we know why.
The Governor has officially pulled his nomination of Ryan Walters to serve as Secretary of Public Education.
8:43 AM EDT on April 12, 2023
Things are getting kinda spicy on the Oklahoma political playground!
Yesterday afternoon, Oklahoma Governor Kevin Stitt stunned the Oklahoma education community when he rescinded the nomination of SUV video auteur Ryan Walters – the publicly elected Oklahoma State School Superintendent – to serve a dual role as his personal Secretary of Public Education.
As a replacement, he nominated Dr. Katherine Curry – a professor of Educational Leadership and Policy at OSU.
In the official announcement, which totally ignores the snub, Stitt and Walters praised Dr. Curry – a.k.a. Katherine – and tried to spin the news as a positive. Here's what Stitt said:
"Katherine brings a wealth of experience to oversee the many different areas of education across the state, including higher education and career tech. I look forward to her leadership and service as we work towards making Oklahoma a Top Ten state in education," said Governor Stitt.
I'm not one for titles, but shouldn't Stitt – a guy who pretends he has a Ph.D. at OU graduation ceremonies – refer to "Katherine" by her professional title? I know he likes to stick out his chest and show the world who's boss, but it's a fair question.
Here's what Walters had to say about the news. Even though he's going to lose $40,000 in extra income over the deal – which is enough money to buy nearly 1,000 lattes at the Harbor Moutain Coffee House – he's acting like it's no big deal:
"I am excited to have Dr. Curry on our team," said State Superintendent Ryan Walters. "The governor and I are passionate about improving K-12 for all students, improving higher education, and supporting our great teachers to make Oklahoma a Top Ten state for education. We are all committed to transparency and accountability to ensure all education institutions are in line with Oklahoma values."
Boy, I'm sure it hurt Ryan when Matt Langston read him those words that Carly Atchison probably wrote for him. I'm surprised when he heard the news he didn't run to the SUV and record a video saying something like this:
"It's a sad day my fellow Oklahomans. Earlier today, Governor Stitt pandered to woke left-wing Soros-funded teacher unions and pulled my nomination for Secretary of Public Education, sending a clear message that he is totally fine with porn in schools, boys playing girls' sports, and kitty litter being found in high school bathrooms. Amen."
Stitt's decision to abandon Walters has led to a bunch of chatter in education circles on social media, leaving many to speculate and wonder why Kevin ditched Ryan like an old dog in the country.
You can't blame them. On the campaign trail, Stitt and Walters were regular old pals, sliding down stairs together and yucking it up on the conservative social scene, always eager to be each other's wingman whenever a pack of Edmond botoxwives or churchy girls entered the room!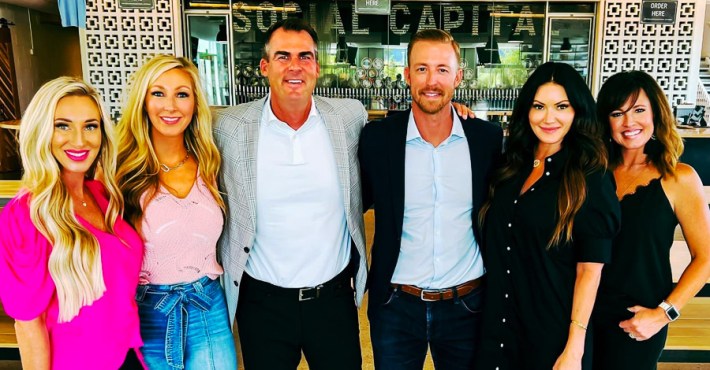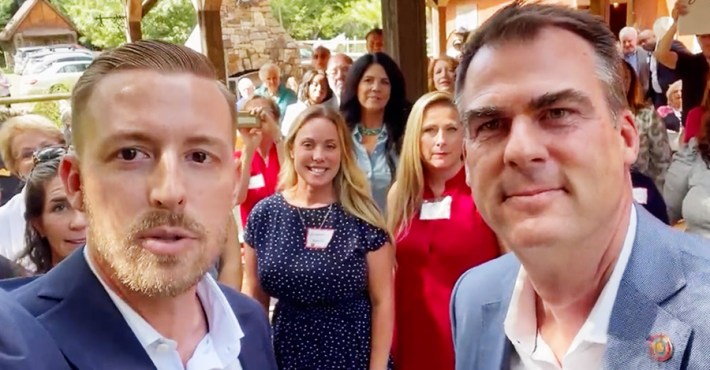 Does this sudden about-face by Stitt mean the two besties are now enemies???
To the joy of all Derplahomans, grifters, theocrats, and other weasels who want to destroy Oklahoma Public Education from the inside, that doesn't appear to be the case at all.
I've asked around the Ogle Mole Network, and – for the most part – this is what I'm hearing led Kevin Stitt to pull the nomination.
• For any of Stitt's cabinet appointments to be official, they have to be confirmed by the Senate. That's a problem for Stitt, Walters, and the Senate, because most lawmakers at the Capitol hate Ryan Walters.
• For as unpopular Ryan is with sane people, educators, and some lawmakers, he's equally popular amongst the culture war fighting "KeEp Ur TrAnS PoRn OuTtA KiDz SkOoLs" voter base that decides most Oklahoma elections. The last thing many Republican senators, especially the ones from civilized districts, want is to be put in the no-win position of having to confirm or deny his nomination.
• As a result, some members of the Senate turned to new buckaroo Oklahoma Attorney General Gentner Drummond to find them an out card.
• According to our Moles, Gentner did just that! His office apparently informed some Senators that it would be a violation of state law for Walters to serve as both the publicly elected State School Superintendent and the appointed Secretary of Education.
• Stitt and Co. bitched about this, claiming former State School Superintendant Sandy Garrett filled both roles in the 1990s and 2000s, but Drummond's office claimed this time it's different. When Garrett served in the dual capacities, the Secretary of Education was a ceremonial position, but thanks to this 2012 bill that put the Secretary in charge of the Office of Educational Quality and Accountability, that's no longer the case. As a result, Ryan can't do both.
• It looks like Stitt's legal advisers begrudgingly agreed, so he put on a political happy face, did the Senate a favor, and nominated Dr. Curry (a.k.a. Katherine). As a result, they can all now get back to defunding Oklahoma public education by approving generous tax subsidies for wealthy families and religious theocrats who want to send their kids to private schools.
If all that kind of bums you out, don't forget the good news – Ryan Walters is now out $40,000 a year in extra salary!!! Hopefully that at least brings a smile to your face.
Stay with The Lost Ogle. We'll keep you advised.
Stay in touch
Sign up for our free newsletter