Politics
Kevin Stitt, holder of Bachelor's degree, wears PhD regalia to Harroz inauguration
12:56 PM EDT on September 22, 2021
Late last week, OU officially inaugurated Joseph Harroz as the next president of the University of Oklahoma.
A proud minion of the disgraced David Boren, his role will be to continue the fine OU presidential tradition of serving, protecting and prying money away from the Oklahoma ruling class and its wealthy elites, and making sure the University remains a somewhat suitable education destination for their kids who aren't smart enough to make it at more prestigious out-of-state institutions. Or something like that.
After the event, I got a second-hand tip via the Ogle Mole Network that before the inauguration, Oklahoma Governor Kevin Stitt – the owner of a Bachelor's degree in Accounting from Oklahoma State University – threw a minor hissy fit over his wardrobe, demanding his handlers get him fancier, more distinguished regalia that's usually reserved for people who earned Master's Degrees and/or PhDs.
I haven't been able to verify this hissy fit – hearsay isn't the most reliable source so we'll categorize it as a rumor – but after watching some video from the event, and asking a few OU moles about the university's regalia, it does appear that a glum and maskless Kevin Stitt did wear a cheesy, over-the-top, elitist wardrobe that's generally reserved for people who actually had to work hard to earn advanced degrees, as opposed to just being banned from doing banking in Georgia.
Here are a couple of screenshots from the ceremony: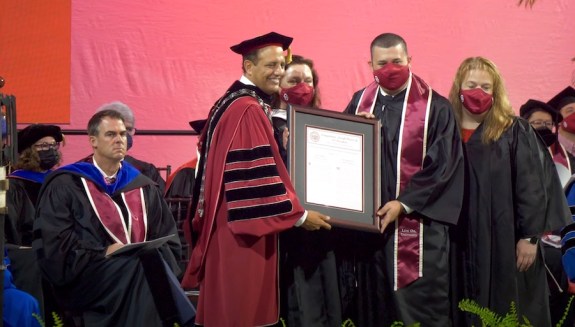 -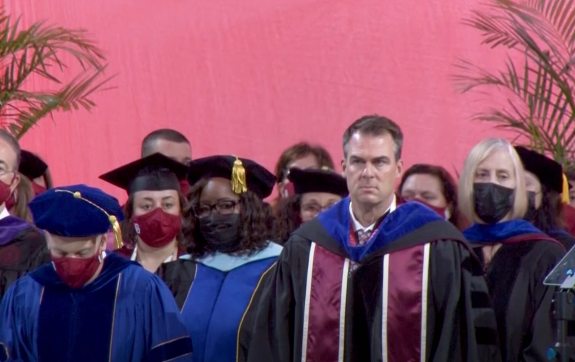 Geeze, I know hanging around a bunch of snobby liberal academics for a boring university event is probably the last thing anyone wants to do on a Thursday afternoon, much less an education-hater like Kevin Stitt, but you don't have to act like an OSU fan watching another OU bedlam football ass-kicking! It's just one or two boring hours out of your boring day. Deal with it.
Also, I know Kevin Stitt thinks wearing a mask is something that only a girly-man does, and that it doesn't help combat the spread of Covid-19, but it will prevent people from knowing you're a smug asshole! That's a positive! Maybe it's worth wearing on those special boring occasions like weddings, funerals and university events?
Before we continue, I want to be clear about two things...
1. After doing a whole hour of research, which is about 55-minutes more than I usually do for an important story of this magnitude, I couldn't find a definitive source on what people are supposed to wear at hokey, eye-roll-inducing events like these. I did read that at some universities it's suitable for people in leadership positions without PhDs to wear fancier garb than their degree allows, so maybe Stitt gets a pass on this, but it's still a bit silly, and totally on-brand, for him to pretend he's something he isn't.
2. I think the whole pomp and circumstance of academia is stupid, absurd and elitist. Instead of making people wear weird robes and tassels and funny hats and gowns like they're about to meet King Arthur, just let people wear what they want. We're in 2021... not the 1600s. Although the sanctimonious higher-ed losers would protest, I think that's something most people would prefer. Then, as opposed to seeing Kevin Stitt uncomfortably wearing a robe and gown, he could waltz into the event like this...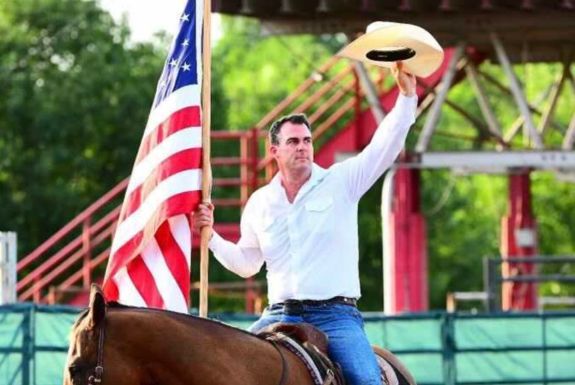 Seriously, I'd much rather see Kevin Stitt run into the arena like a cowboy on horseback looking for a T-bone for #meatweak than some guy repeating in his head "Don't fall down... Don't fall down... Don't fall down."
Anyway, I guess we should wrap this story up. If you have any knowledge or insight as to what Stitter should or shouldn't be wearing, or why we should care or not care, leave a comment.
Stay with The Lost Ogle. We'll keep you advised.
Stay in touch
Sign up for our free newsletter