Everything Else
Oklahoma Film Office spent $30,000 at Vast, Colcord and Jones Assembly…
12:48 PM EDT on March 28, 2023
Last week, KFOR Channel 4 shared details of a 2020 Department of Tourism audit that examined the agency's questionable credit card spending under the Stitt Administration, and the great lengths various agency staff went to circumvent state purchasing laws.
You can pore through the 50-page audit here.
For outrage clickbait headline purposes, the part that I found most interesting was the Oklahoma Film Office dropped approximately $30,000 or so in credit card charges on food and drinks at Vast, The Colcord, and The Jones Assembly, and in the process, violated a slew of state purchasing rules and guidelines.
Most of the spending (about $24,000) was to buy food and drink for the 2019 Oklahoma Film and Music Conference, while another chunk ($6,082.60) was to entertain film executives during a fancy little tour of Oklahoma City.
Although nobody pulled a Brent Swadley and billed the state for a $12,000 cheese melter, the credit card spending is eye-opening.

Expenses like that are part of the game and expected when you're trying to build and court an industry, but they also raised a lot of red flags with auditors.
According to their findings, members of the Oklahoma Film office – which at the time was under the Tourism Department's umbrella – circumvented state purchasing rules, did not seek out competitive bids, and had various conflicts of interest with the venues.
For example, Vast was a sponsor of the Oklahoma Film + Music Conference, but also a beneficiary of a non-bid $20,000 tab to feed and entertain guests. I guess that explains why they were excited about the event...
Once again, Vast wasn't the only spot downtown to benefit from the conference. Parties were also held at Jones Assembly and The Colcord.
Here's how the auditors broke down each set of expenses related to the conference:
Holy Graham Colton song ballad! $3,000 to feed and liquor 34 people? I can do that for like $500. Why didn't Patrick's Little Caeser's, Cheap Beer & Trash Can Punch Catering Service get to bid on this?! I could have saved taxpayers some money!
The auditors included the receipts, so let's check out what everyone got:

That's a well-rounded party! Kudos to whoever got the Old Fashioneds with Basil Hayden. I'm a fan of the High West Double Rye, but I'm not sure if Jones Assembly carries it.
That being said, who was the posh stooge that ordered the Grey Goose?! It's the most overrated vodka in the world! You're better off going with Tito's or Kettle One. What a waste of distilled grain.
In addition to the money spent on the Oklahoma Film and Music conference, which – in all fairness – was attended by lots of Oklahomans who aspire to work in the local industry, taxpayers also footed a $6,000 bill at Vast to entertain film industry executives, members of the Oklahoma Ruling Class, and some state employees to conclude a tour of Oklahoma.
Here's a view of that receipt: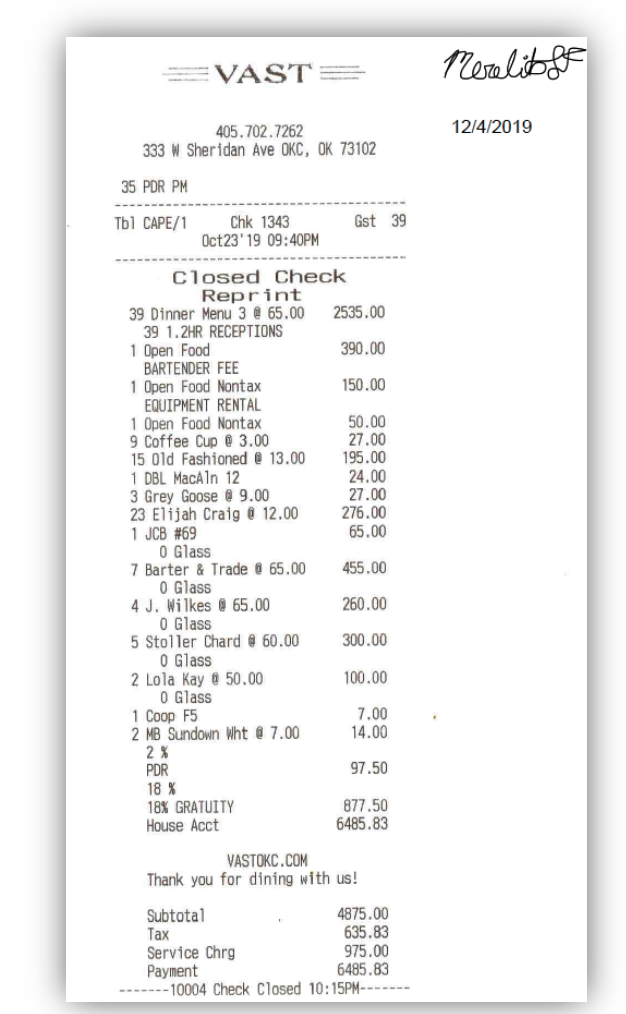 $65 a plate! That seems kind of high! I know Vast makes good food and everything, but I'm sure lots of fancy restaurants in the OKC core would have loved to bid for the dinner, and although they wouldn't have offered a view high from atop the city, I'm sure they would have beat the price.
Also, once again – Who at the film office is ordering all the Grey Goose?! Seriously, you have a full open bar at your disposal and that's what you went with? What a disgrace! Yes, the bottle is pretty and everything, but you don't drink the bottle! It's what's on the inside that counts!
Anyway, what were we talking about again?
Oh yeah, starstruck Oklahoma Film Office employees disregarding state purchasing rules and guidelines so they can shmooze with film industry honchos at places connected with the Oklahoma ruling class.
Before we wrap this up, let's play a fun little game of Connect the Oklahoma Ruling Class dots…
Remember the TLO Fans at Prarie Surf Studios?
You know, the film studio that works closely with the Oklahoma Film Office to score generous state subsidies for the film industry, and, ultimately, keep the Cox Convention center warm for when the ruling class tears it down to build a new arena for Thunder? (Something I'm totally for, by the way).
Although its managing partner duo of Rachel Cannon and Matt Payne steal all the local headlines and recognition, the primary investor is a guy named Christian Kanaday. He's an up-and-comer in the local ruling class and the dude behind the billion-dollar fund Echo Capital.
Christian is married to Kate Richard. They met at Casaday and their exchange of vows and dollar signs got a mention in the New York Times a few years ago.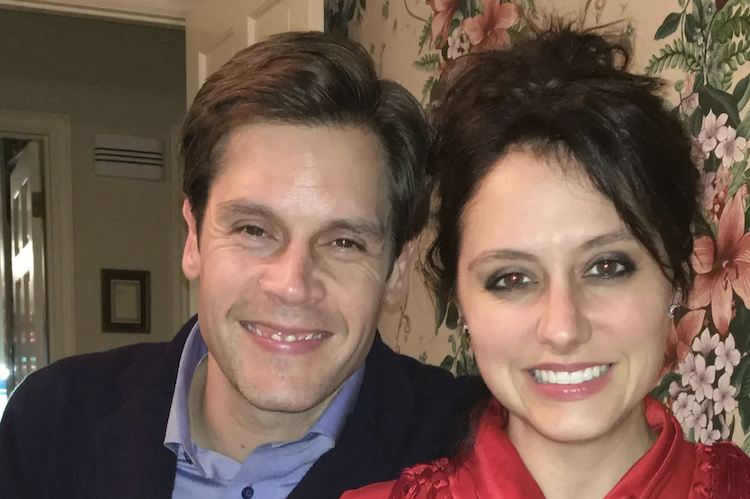 Kate's a Harvard-educated OKC native and the founder and CEO of Warwick Investment Group – a firm that employs several executives with ruling class last names.
Although Kate's last name doesn't give it away, she has direct lineage to House Devon. We know this thanks to this cool profile about her in Fortune:
Kate Richard grew up in the ultimate company town, Oklahoma City, where virtually every adult seemed to labor for King Oil, and dinner-table talk revolved around the newest exploits of the industry's flamboyant wildcatters-turned-tycoons. As a youngster, Richard thrilled to her grandfather's stories of sinking the earliest wells in Angola for what's now Conoco, and the accounts from her great uncle—a founder of Devon Energy—of planting platforms in the Caspian Sea off Azerbaijan following the fall of the Soviet Union. The anchors of everyday life regularly made way for drilling: Richard heard tales of how a high school sports facility was moved to accommodate a rig and pumpjack, and that airport runways got rerouted to turn the tarmac into an oilfield.
First of all, I think we have a clue as to which oil company helped arranged Stitt's glorious trip to Azerbaijan.
Second, I think we know how Vast – which is owned by Devon and located high above the Devon Tower – and the Colcord – which until recently was owned by Devon Energy – had the inside track to be part of the Oklahoma Film Conference!
Also, I should probably point out that our pal Graham Colton – a genuinely good dude who I've met and like – is not only the operating partner of Jones Assembly but also the music director for Prairie Surf Studios.
But, once again, we're just playing a game of circumstantial connecting the dots.
Maybe their connections with the local film industry played a role in Vast, Colcord, and Jones Assembly getting selected as bid-free hosts for state-produced conference entertainment, and maybe it didn't.
Either way, I seriously doubt it was about the direct money – $30K is nickles and dimes to the overlords – and had way more to do with the clout, influence and prestige associated with being associated with the film industry.
Or something like that.
Anyway, you can read the full PDF of the audit by clicking here.
If you have any local news tips to share or simply want to invite me to a party with an open bar, shoot us an email on the TLO Tip Line.
Stay with The Lost Ogle. We'll keep you advised.
Stay in touch
Sign up for our free newsletter