Food
TLO Restaurant Review: El Chico
9:46 AM EST on January 4, 2023
If you are Mexican (or have a similar lineage), chances are you have purchased, ingested, and purged tamales as a New Year's tradition—although, to be fair, I had tamales last week, but who's counting?
Still, for my News Year's fix, I decided on a middle-of-the-road tamale dinner from the once proud Tex-Mex chain El Chico, located at 3439 W. Main St. inside Sooner Fashion Mall in Norman.
Although I've surprisingly never been to an El Chico myself (I grew up raising the flag at Pancho's), I'm aware it was once one of the largest Mexican restaurant groups in the US – a booming chain that dominated the Oklahoma and Texas Mexican food landscape.
But now, with only a few Oklahoma locations still left, I figured I should check them out before they completely vanish…
Instead of an autonomous unit, this El Chico is part of the actual mall, near Hot Topic and Spencer's Gifts, if you have time.
After a small walk through the retail surroundings—I haven't been in a mall in a decade or so, sorry—I made my way to the restaurant and noticed people actually gathered at the gates, waiting to be let in. Was there a convention of mid-range chimichangas I didn't know about?
Taking a seat at the bar, I sat and looked at the menu, knowing that tamales were on the bill.
But first, I ordered a starter to warm my loins – Tortilla Soup ($7.79).
Comprised of grilled chicken bits, too many crisp tortilla strips, not a lot of avocados, and a few handfuls of jack cheese, it was accompanied by a silver pitcher of broth to tie down the dry bits.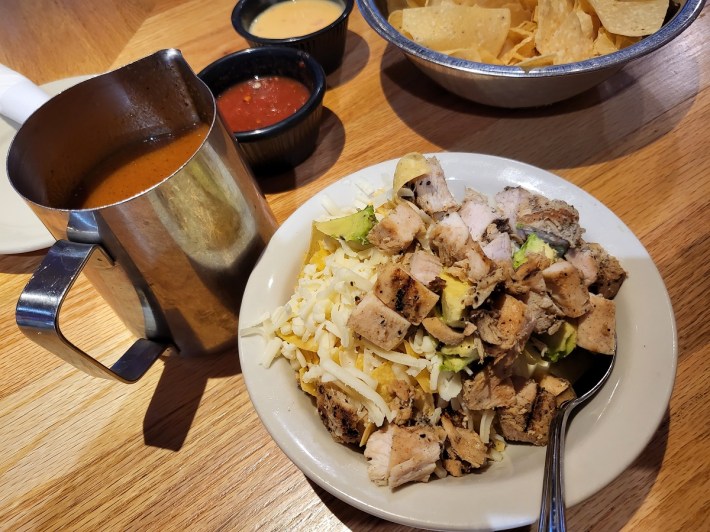 A basic interpretation of tortilla soup, it was…alright. The thin broth was a tasteless trifle, but the grilled chicken and the tortilla strips were fine, but nothing to write home about. Taking a few sips of this concoction, I put it away, never to speak of it again.
After the soup, I turned my attention to the main meal – the Beef Tamale Platter ($11.79), filled with, what else – three thick tubes of beef tamales topped with chile con carne, cheddar cheese, and onions—although I didn't see the onions—along with a pelting of guacamole, pico de gallo, rice and refried beans.
To be honest, the rice and beans were absolutely abysmal; it was like sucking on medical plastic. That being said, the beef tamales were…alright. They weren't bad, per se, but they weren't good either; it had a passable flavor, but one that I'm okay with not trying anymore. Thanks, but no thanks!
I concluded my meal with dessert – Mama's Favorite Mexican Apple Pie ($6.69)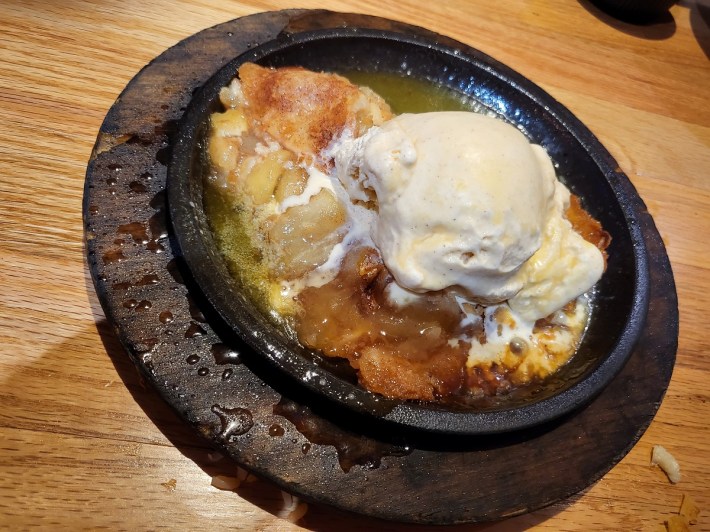 Although most of my El Chico meal was sub-par, the dessert was top-shelf! Featuring a wonderful slice of apple pie, with a Mexican brandy butter sauce and a serving of cinnamon ice cream to boot, Mama's Favorite Mexican Apple Pie was one of the best desserts to have put in my mouth.
Forget the tamales—this should be a brand-new tradition, at least for me.
Cómpralo ya!
_
Follow Louis on Twitter at @LouisFowler and Instagram at @louisfowler78.
Stay in touch
Sign up for our free newsletter