Politics
Kevin Stitt claims California wants to abort babies after they are born…
He's latching on to warped, obviously untrue right-wing rhetoric and spinning it as a fact. Imagine that?!
9:49 AM EDT on October 14, 2022
One tried and true method for a struggling Oklahoma politician to drum up support from his base – and get some free publicity in the process – is to make up totally misleading and completely fabricated bullshit about abortion.
It works like a charm.
For example, who could forget way back in 2012 when former Oklahoma State Senator Ralph Shortey introduced a bill to ban fetuses from being included in Oklahoma food products?
Even though there were not any documented examples of aborted fetuses entering the Oklahoma food supply, Shortey's bill got him national attention and spotlight years before he got it again after he was caught in a southside motel room smoking marijuana with a teenage boy prostitute. Let's just hope there aren't any fetuses in the prison food he eats today!
Well, I guess Stitt doesn't mind following in Ralph Shortey's footsteps. In a recent podcast interview with KRMG, he falsely claimed – a.k.a. "lied" – that California and Colorado were "considering laws" that would allow abortion up to 28 days after pregnancy…
[Stitt] has repeatedly said, and continues to say, he will sign any piece of "pro-life" legislation which crosses his desk.

In arguing that position during our interview, he made the claim that "Colorado, California - they're proposing abortions 28 days after birth. Okay? 28 days after birth is what California is talking about."

"They're proposing infanticide?" our reporter asks.

"That's correct," the governor responds.

It isn't, however, correct at all.

There is no legislation proposed, pending, or passed in the state of California (nor any state) which would legalize infanticide.
Whew. It's a good thing Stitt's running for Governor in a state where using warped and fabricated rhetoric in a radio interview doesn't matter, otherwise, he'd be less than a 95% favorite to win reelection!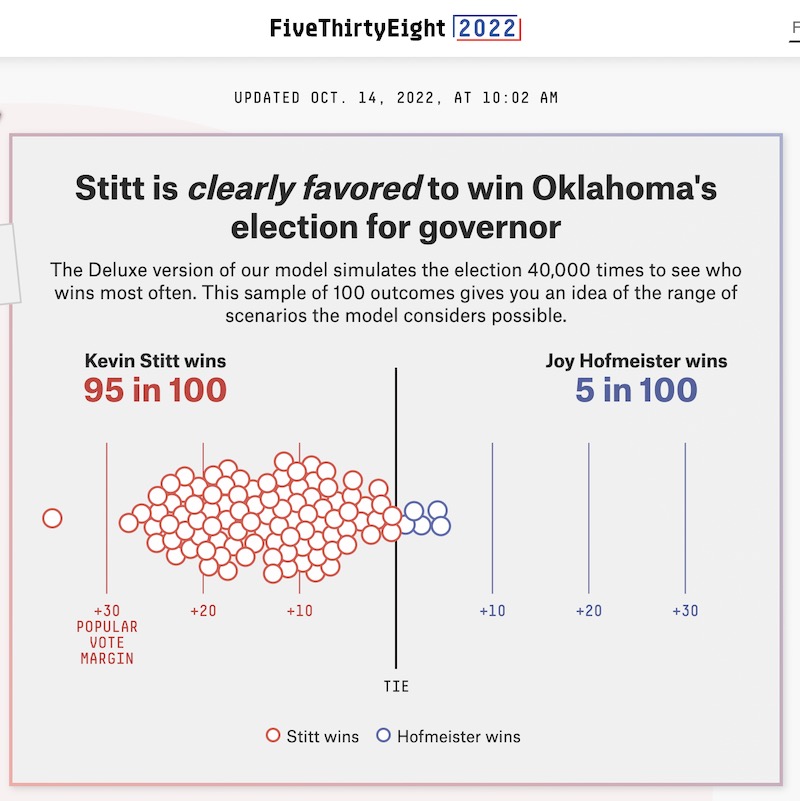 For giggles, I did a quick bit of research to see from what dark corner of the Evangelical Internet Stitt got his info that California and Colorado were considering allowing infanticide. I guess it originated from some whacko pastor in California.
Via FactCheck.Org:
A California bill that would protect parents from investigation and prosecution if they lose or choose to end a pregnancy has been spun into a falsehood that the state is set to "legalize infanticide."

The pastor of a southern California megachurch, for example, posted a message on Facebook claiming that the bill "would legalize infanticide!"

Other opponents have been posting similar claims, including Jenna Ellis — a member of former President Donald Trump's campaign legal team — who wrote on Facebook, "This is INSANELY evil. California Democrats are trying to legalize killing children up to the age of 28 days."

But there is no bill in the California state legislature that would make it legal to kill a person of any age. What these posts are referring to is Assembly Bill 2223, which is part of a slate of legislation supported by the Planned Parenthood Affiliates of California and the California Future of Abortion Council that aim to strengthen protection of abortion rights in California as some other states have reduced access.
Wow. Imagine that! Kevin Stitt is latching on to warped, obviously untrue right-wing rhetoric and spinning it as a fact! Who would have thought that a guy who was banned from banking in Georgia would sink to such lows?!
Anyway, with only a few weeks left until the election, it will be interesting to see what other right-wing lies Kevin Stitt latches onto to motivate his base. Could he follow in Shortey's footsteps and call for fetuses to be banned from the Oklahoma food supply? I guess we'll wait and see.
Stay with The Lost Ogle. We'll keep you advised.
Stay in touch
Sign up for our free newsletter