Everything Else
Abby Broyles finally achieves national fame…
12:57 PM EST on February 21, 2022
I hope everyone had a better weekend than Abby Broyles!
What started early last week as a few clandestine tips about her going full drunken mean girl at a tween Valentine's sleepover emerged into a national clickbait tabloid political scandal over the weekend.
Last night, I hopped on Fox News – a morbid Sunday night tradition where I take a glimpse at right-wing propaganda – and underneath the main story on the front page was this...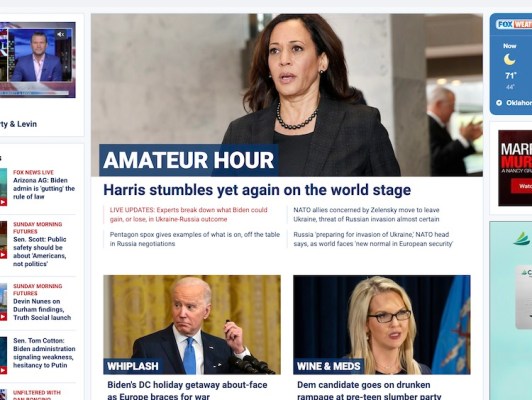 Yikes. This isn't the only place the scandalous story has emerged. It made the national tabloid news circuit, liberal and conservative political websites, and was the vaunted "Lede of the Day" in the Politico Playbook:
LEDE OF THE DAY — "ABBY BROYLES, an Oklahoma City Democrat running for Congress, said Friday that a combination of medication and alcohol led to a bizarre scene last weekend in which she allegedly insulted young girls at a slumber party and threw up at least twice," reports Chris Casteel for The Oklahoman.
In a Shakespearean tragedy type of way, you have to feel a bit sorry for Abby. She's dreamed of fame and notoriety her entire life, and now in a very cruel and ironic way, is finally achieving it! She desperately needs Russia to invade Ukraine and reset the news cycle.
Obviously, there's been a lot of developments to this story since our first go-around on Thursday night. Here's a recap and update...
Following the news reports that roared through the local news circuit like a raging drunk at a teenage party, Abby went into damage control mode on Friday night.
In a softball interview with KFOR's Kevin Franken-Ogle, she stumbled her way through answers and looked about as comfortable as a shady contractor being interviewed on In Your Corner. She chalked the whole thing up to anxiety, and the very responsible adult decision to mix alcohol with an unknown sleeping pill that her friend gave to her:
[My Friend] asked me to come over. She asked me to bring some wine. We had wine and sushi and a couple of hours later, we were upstairs in their theater room watching a movie.

For years I have struggled with stress and anxiety and insomnia. I took the bar exam on 2 hours of sleep. I mean, this is how far this goes back for me. And she knows that. And she gave me a medication I had never taken before. And I had an adverse reaction. Instead of helping me sleep, I hallucinated. And I don't remember anything until I woke up or came to, and I was throwing up in a hamper.
Yeah, that's right. She was just drinking some wine, popped an unknown pill that a lawyer friend gave to her, and started hallucinating, or as they call it in Deer Creek, a Friday night.
Overall, Abby's explanation of the events was about as compelling as a four-year-old denying they ate a cookie when chocolate is smeared on their face. She seemed nervous and some of her statements fell apart like hardened bits of dark vomit being scrubbed off a pair of pink shoes.
At the end of the report, KFOR even admitted they caught Abby lying to them about being misquoted in a Non Doc article. Abby reached back out to clarify with KFOR. Like most women who get phone calls from Tres Savage, she claimed she was terrified and caught off guard.
That phone call was terrifying and caught me off guard. I remember hearing the accusations and just repeating 'no, no, no' and then hanging up. I was happy to be in the TikTok video with the girls which was obvious proof of my attendance.
This would probably be a good time to mention that, once again, I reached out via text to Abby on Tuesday night of last week after I first heard about the accusations. She claimed she was out of town, so she couldn't have been too caught off-guard.
For what it's worth, there is actually a small fraction of left-leaning loyalists who think the whole thing is nothing but a political attack put on by the Bice campaign. The defies logic for a few reasons...
1. As if Stephanie Bice really needs to plant something on Abby to win the new and improved gerrymandered 5th Congressional District.
2. Even if it is a coordinated political attack, and maybe some of the moms of the tweens at the party are hardcore conservatives, Abby served this up to them like THC-laced Valentine's cookies on a silver platter.
As the fallout from all this continued, I started hearing reports via the Ogle Mole Network that Abby has made some drunk and obnoxious appearances at other recent events around town. For example:
To be clear, we're filing that as a rumor, but a credible one.
Who knows – maybe someone just made it up (unlikely), or maybe they got Abby Broyles confused for Meg Alexander (more likely) – but combined with some other confidential things I'm hearing, I starting to think that Abby's drunken tween sleepover rampage wasn't an accident or one-off thing, but part of what appears to be a troubling pattern of substance abuse and alcoholism interfering with her professional and personal life. Let's hope she gets some help soon.
Anyway, I guess we'll continue to follow this story and keep you up to date on things. If you have any tips or details to share, hit us up on social media or the Ogle tip line. Stay with The Lost Ogle. We'll keep you advised.
Stay in touch
Sign up for our free newsletter