Everything Else
Norman City Councilman accused of attacking 66-year-old woman at Louie's…
11:48 AM EST on February 2, 2022
Norman City Councilman Kelly Lynn is in the news again.
This time around, it has nothing to do with Kelly trying to hide an old drug arrest from Norman voters, or proudly coming out as a racist in a city council meeting. Nope, he's just accused of assaulting a 66-year-old grandmother during a Sunday Funday alcohol binge at his neighborhood Louie's.
Norman Ward 3 city councilor Kelly Lynn has been accused of assaulting a woman at a bar on Jan. 23, although no charges were filed in connection with the incident.

A letter submitted by a woman named Sally Little, 66, to the mayor and city council accused Lynn of lunging at her when she tried to shake his hand, grabbing her by the hair and clothes and dragging her toward the door of a restaurant. She also accused Lynn of calling her an "ignorant f—ing psycho b—" while the two were discussing who she would vote for in the upcoming mayoral election before the alleged assault.
Wow. Shocking, huh? It's hard to believe the political candidate who was endorsed by the folks who throw bricks at teenagers who are out getting takeout would stoop to such violent lows.
On Monday, Sally Little spoke more about the incident at a press conference.
According to the reporting of the Honorable William T.H. Archibald Tres-Trey Savage the III at Non Doc, Sally and her friend – Jeannie Taylor – claim a slobbery and belligerent Kelly started bothering them after he asked for a cigarette at Louie's. Kelly then invited himself to a seat at their table and started talking about Norman politics and other Facebook comment thread topics like defunding the police.
After a few minutes of bickering back and forth, Sally reached out to shake Kelly's hand so they could agree to disagree and move on. Kelly didn't shake it and made what Sally described as an aggressive move. This prompted Sally to not very wisely toss a deadly lime at Kelly. Then, before she knew it, Kelly grabbed her and, while screaming obscenities, pushed and shoved her towards the door of the establishment.
Via Non Doc:
"He shoved her around like a limp rag doll being ravaged by a German Shepard. Sally is all of 5'2" and weighs 107 pounds dripping wet, in addition to being 66 years old," Taylor said. "He was screaming at her to get the fuck out of the restaurant, that she was a fucking psycho bitch and a mother fucker — all the while pushing and shoving her toward the door. I was yelling at him to let go of her and she was screaming for help, saying she wasn't kidding that she needed help."

Both women said two other men and Louie's staff members intervened, "instantly" asking Lynn to leave.

"I remember the men trying to make sure I was OK and offering to pay my tab, and I remember the wait staff and the assistant manager were surrounding him and going out another door," Little told NonDoc. "I was just trying to get my stuff together to get out of there. I was kind of in flight mode, you know? Get me somewhere safe."

Little said the political discussion escalated to the physical confrontation quickly, in "about three minutes."
Wow. That sounds pretty serious, huh? Since there were witnesses who corroborated what happened and Little suffered some minor injuries, obviously, Lynn is going to face some sort of criminal charges and be held accountable by local law enforcement... right?
No, of course not.
In a not-so-surprising decision, Cleveland County DA Greg Mashburn – an authoritarian, partisan, political games-playing troll who's probably in the same underground militia as Lynn – decided not to file charges after a very brief investigation:
Little said she and Taylor reported the incident to Norman police immediately after it happened and that NPD Detective Thomas McGuire interviewed her the next day, Monday, Jan. 24. Little said she called McGuire back Tuesday to tell him she had gone to a physician because she feared she had broken ribs. (She was told she had pulled muscles in her side and strained ligaments in her shoulder.)

Within 24 hours, McGuire called back to inform Little that Mashburn — who is up for reelection in 2022 — had declined to charge Lynn after reviewing her assault and battery allegations.

"He just said that the DA said we were at 'dual fault' because I threw the lime and he grabbed me," Little said.
DA Mashburn's refusal to file charges is a big reason why Sally held the press conference to come forward and share what happened.
In an interesting subplot, Sally was joined at the press conference by Unite Norman co-founder / Norman mayoral candidate Nicole Kish.
She's the crazy-eyed insurrectionist optometrist who, fittingly enough, once hired Lynn – a fledgling Norman lawyer – to unsuccessfully represent her in frivolous libel lawsuits she filed against people who made fun of her on Facebook for attending the Insurrection Riot Jubilee on January 6th.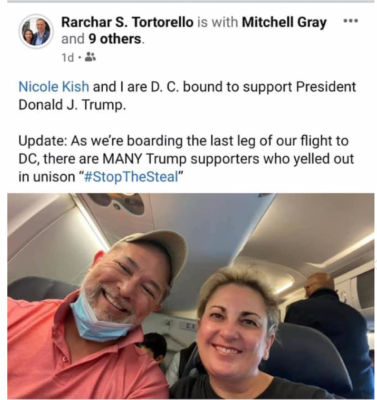 According to Non Doc, it appeared Kish tried to upstage the event by coming forward with her own "harassment" allegations against Lynn, who is now, I assume, her former lawyer:
Kish added her own allegation of "harassment" by Lynn, saying he has sent her "attacking" text messages "pretty late at night" and that Little's allegation against the controversial councilman is "quite serious and quite violent, if true."

"Women have the right to difference of opinion without fear of harassment, retribution, intimidation or physical assault," Kish said. "This is not an acceptable treatment of women."

As Kish and a campaign staff member read statements to the media and criticized another mayoral candidate for whom they said Lynn has claimed to be a close advisor, Little stood several feet away. Holding onto her husband's arm and a friend's hand, she mostly looked at the ground.
It must suck for Little to have her moment trivialized by a grandstanding MAGA-Karen looking to score some political points. That being said, at least Kish's previous associations with Lynn will let some Norman voters know that she's a terrible judge of character, and – in addition to being a right-wing MAGA-nut who's totally cool with the overthrow of American Democracy – probably shouldn't be mayor.
Anyway, I would say we'll continue to monitor this situation, but with DA Mashburn choosing not to press charges, I guess there's not a ton to monitor. Instead, I guess we'll all just wait for Kelly Lynn to screw up again and cover it when it happens, which I bet will probably be in the next few months.
Stay with The Lost Ogle. We'll keep you advised.
Stay in touch
Sign up for our free newsletter